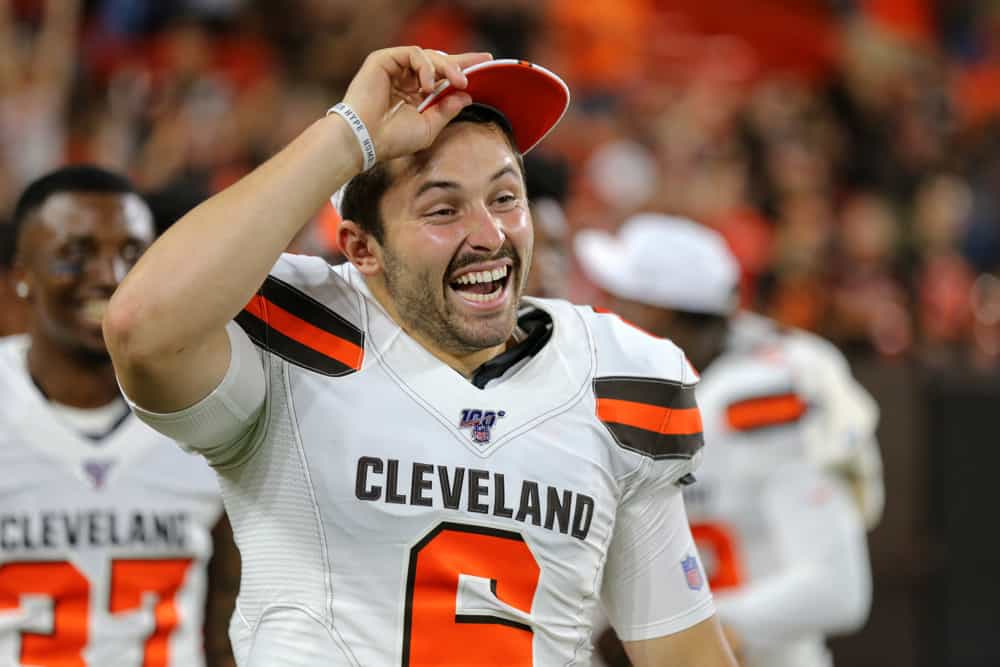 You know it is the offseason when news reports talk about Cleveland Browns starting quarterback Baker Mayfield having a potential UFO sighting.
No, this is not fake news.
Mayfield took to social media to share his "encounter."
Almost 100%, Em and I just saw a UFO drop straight out of the sky on our way home from dinner… we stopped and looked at each other and asked if either of us saw it… Very bright ball of light going straight down out of the sky towards Lake Travis. Anybody else witness this?

— Baker Mayfield (@bakermayfield) March 4, 2021
Reaction To Baker's Twitter Post
As with most things related to Baker Mayfield, a mixed reaction can be expected.
This is no exception.
There were those who thought they saw it too.
No way, I thought I was the only one!! I live on a lake Travis and my parents called me crazy when I ran to tell them. No way you saw it too!!!!

— david (@david08076439) March 4, 2021
Then, of course the wise guys had to weigh in.
The Browns finally get a franchise QB and the government is about to take him away from us.

— Robert Kevern (@RAK92084) March 4, 2021
That was just Chad Henne

— Hudi Productions (@hudsononeill15) March 4, 2021
It was just Cowherd spying on you he dropped his flashlight

— Sir Yacht🛥 (@SirYacht) March 4, 2021
What He Saw Was Likely SpaceX
We know that SpaceX's high profile Mars-bound spacecraft landed in Boca Chica, Texas yesterday.
Boca Chica is less than 400 miles from Austin.
Approximately 8 minutes after the successful landing, it exploded.
SpaceX activity is likely what Baker and his wife Emily saw, but no one can know for sure.
Baker's Offseason
Aside from this event, Mayfield's offseason should be much quieter than previous years.
He will get a second year to settle into Coach Stefanski and offensive coordinator Alex Van Pelt's system.
That is a first for him as he has always dealt with a revolving door of head coaches and coordinators.
He is entering the fourth year of his rookie contract.
There has been no indication from the Browns if they plan to exercise the fifth year or talk extension with him at this point.
Baker will keep working his fitness which was greatly improved in 2020 and hopefully stays safe in Texas since there has been a crazy amount of activity in Texas lately with the weather, power outages, and now potential UFO sightings.
Fans Respond To Baker
Even in the offseason, fans respond to Baker.
They either love or hate him; it hardly seems to be anyone in between.
He is a charismatic, energetic young guy that seems to elicit both reactions from people.
What he can do to increase his fanbase is play well and lead the Cleveland Browns to the Super Bowl next year; many believe the team is very close to taking that next step.