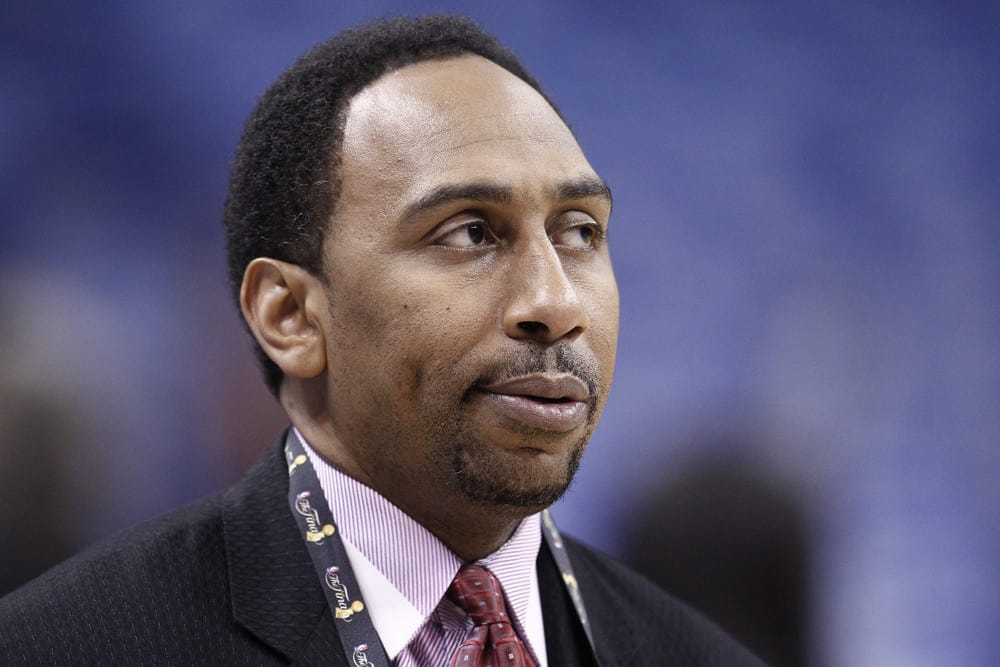 The upcoming week will be laden with discussion about Cleveland Browns QB Baker Mayfield.
After his impressive performance leading the Browns to a win over the Tennessee Titans, many will talk about the 4 TDs in the first half.
Some may have to eat their words leading up to the Titans game.
Mrs. Baker Mayfield, aka Emily Wilkinson Mayfield, decided to get that party started by trolling ESPN's Stephen A. Smith on Twitter after the game.
This aged well…. 👀🤭 https://t.co/LU1PQi7gFa

— Emily (Wilkinson) Mayfield (@emilywmayfield6) December 6, 2020
To his credit, Stephen A. acknowledged Baker's great game as it was happening.
Okay y'all. @bakermayfield is balling right now. 3 TD's and 186 yards passing and it's still the first half. He's doing it right now. Gotta give credit where it's due

— Stephen A Smith (@stephenasmith) December 6, 2020
Frankly, I am shocked she didn't also set her sights on trolling Colin Cowherd who has made a living out of criticizing Baker.
The book is in on Baker Mayfield:

"He's just not that special. He's not as accurate as Tua & doesn't have the natural gifts of Josh Allen or Justin Herbert." — @ColinCowherd pic.twitter.com/MJF1Kjj7eL

— Herd w/Colin Cowherd (@TheHerd) November 20, 2020
Has Baker Turned A Corner Today?
The question has finally been answered.
That was, could Baker win a big game?
Could his arm bring a team win against a good opponent?
The answer was yes.
But the Cowherds of the world will find flaws in either Baker or Tennessee.
Expect to hear that Tennessee is not a good pass rush team so Baker benefitted from that.
Also, expect to hear that one game does not change a reputation.
To be a franchise quarterback, the media and fans will say it has to be a repeated and expected outcome.
Baker should begin to deliver this caliber of performance.
Maybe not the crazy stats, but he will be expected to carry and lead this team in other difficult games.
Starting next week.
On December 13, the Browns get the Ravens on Monday Night Football and want to avenge the 38-6 demoralizing loss they suffered in Week 1.
The trajectory for these two teams seems to be going in different directions.
Cleveland is starting to peak, and Baltimore is starting to fade.
So Baker gets his second test in two weeks.
The celebration of the Tennessee win will be fun for about a day.
Then Baker will be back at work again trying to prove himself yet again.
Kudos to Kevin Stefanski
He might get edged out of Coach of the Year honors by Pittsburgh's Mike Tomlin, but Stefanski has been a rookie wonder with this Browns team.
Consider that he took on a team that has made losing their pastime for years and turned it around into a winner in the middle of a pandemic where practices and meetings often were held virtually in preseason and beyond.
He's not an "in your face" type of guy so he will never tout his own accomplishments, but everyone in the NFL has to take notice and agree that he has done a phenomenal job with this team.
Also worth noting is the performance of former quarterback and current offensive coordinator Alex Van Pelt who has consistently shown faith and confidence in Baker Mayfield.
This coaching staff deserves a lot of credit no matter how little or far the Browns advance in the playoffs because they are working to make the Browns a force to be reckoned with in the NFL in 2020 and beyond.