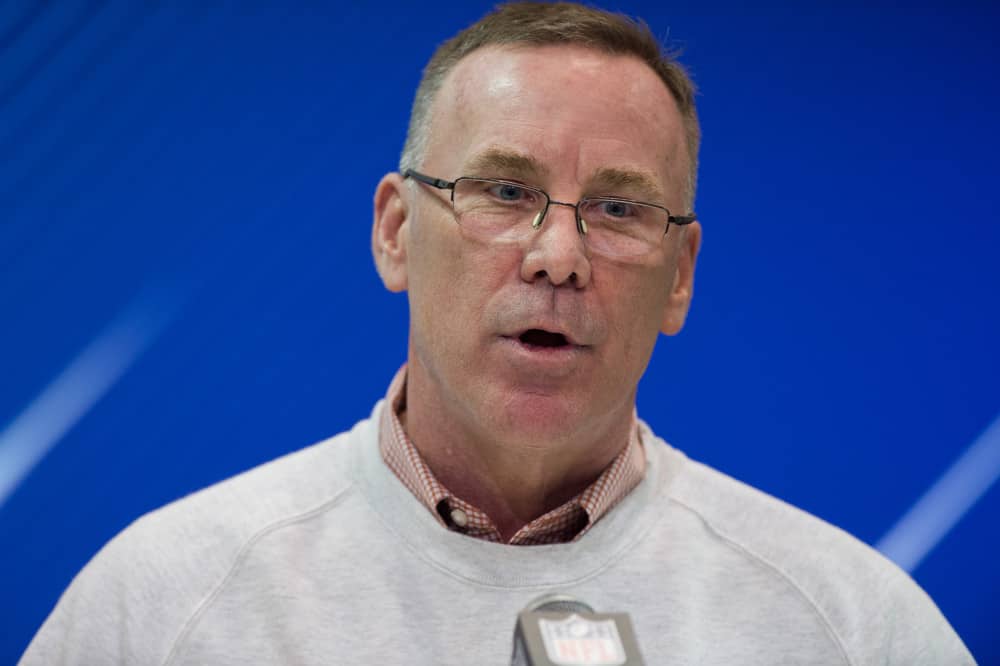 Who's ready for more John Dorsey, buddy boy?
No, the former Browns General Manager is not making some triumphant return to Cleveland.
After firing head coach and general manager Bill O'Brien earlier this season, the Houston Texans now appear to be interested in Dorsey, per Jason La Canfora of CBS Sports.
Former Browns and Chiefs GM John Dorsey has key support for Texans opening https://t.co/rja7Gkzbhl

— Jason La Canfora (@JasonLaCanfora) December 6, 2020
Houston isn't the only team rumored to be interested, as the Lions have reported interest as well.
Dorsey has been quiet since his departure from northeast Ohio.
Now, with GM positions starting to open up around the league, could we see a return to the NFL for Dorsey?

Dorsey to Houston?
The Texans have been a mess to this point this season.
Even before this year started, going back to the DeAndre Hopkins trade, things have been ugly.
It was no surprise to see Bill O'Brien let go.
Dorsey's connection to Houston resides in the form of Jed Hughes, the vice chairman of Korn Ferry, a global organizational consulting firm.
Hughes and Korn Ferry have helped Dorsey land general manager jobs before, including his position in Berea.
However, Dorsey's departures from his various organizations have all been a bit ugly by the end of things.
His final days in Cleveland certainly fit that bill.
Still, it appears Hughes and his company are willing to get behind Dorsey to help find him another spot in the NFL.

Piecing Together a Staff
Let's assume that Dorsey is offered the job in Houston and accepts it.
On the surface, the current situation for the Texans is less than ideal.
Still, there are moves that can be made.
One immediate target for Dorsey should be Chiefs offensive coordinator Eric Bieniemy.
He was at the center of a number of head coaching rumors last offseason but ultimately returned to his same role in Kansas City.
He'll certainly be getting that kind of attention again this winter, and it might be time for the Texans to pounce on that opportunity.
The Texans not hiring Eric Bieniemy would be profoundly stupid. It's the perfect fit.

— mike freeman (@mikefreemanNFL) October 5, 2020
If Eric Bieniemy isn't the coach of the Texans next year I'm starting a riot out front of NRG Stadium.

— Torrey Smith (@TorreySmithWR) October 6, 2020
Bieniemy isn't the only name being tossed around social media.
Former Lions coach Jim Caldwell, who has been out of the NFL since getting fired from Detroit, seems to be getting some attention.

Treading Lightly
As La Canfora mentions in his report, it is not every day a GM gets a third opportunity with a new team.
Usually, after failing twice at that kind of position, teams stay away.
However, that may not be the case come 2021.
The Texans are desperate (at least they SHOULD be) to capitalize on what is the prime of Deshaun Watson's career.
However, Dorsey might not be the right guy to help lead things.
He did get the Chiefs to the playoffs during his time in KC, but that's been done in Houston.
They need to get over the top somehow, and as his days in Cleveland might indicate, Dorsey struggles to do that.
Again, something needs to be done in Houston.
My personal advice to them if they do decide to bring Dorsey aboard: be careful.