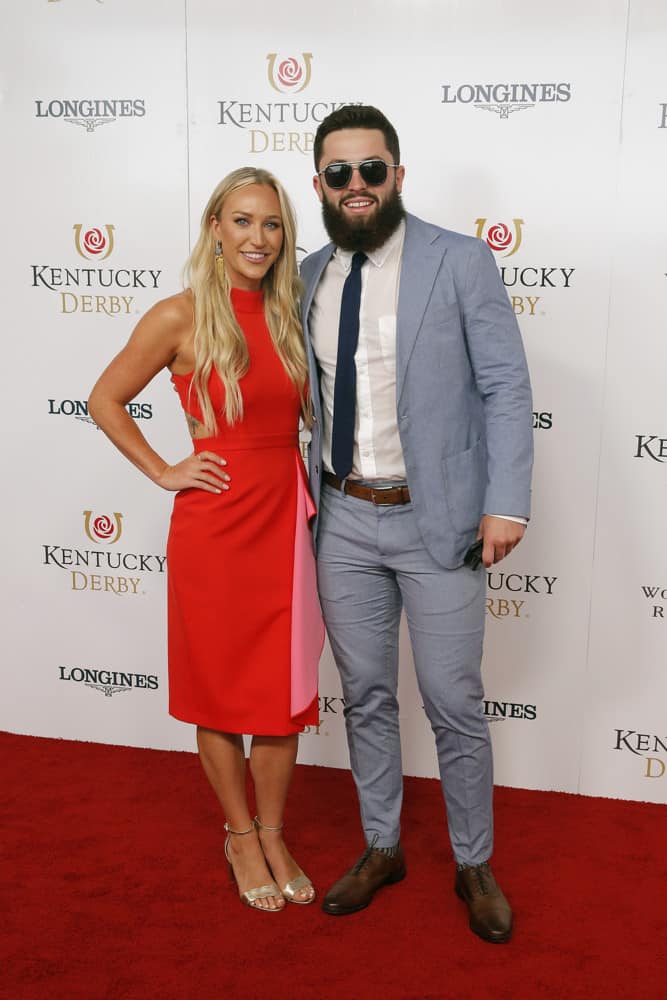 Anyone who follows Baker Mayfield on social media has seen plenty of pictures and videos featuring his wife, Emily Wilkinson.
The young man is clearly enamored with his wife and their backstory shows that and more.
She of course now goes by "Emily Mayfield."
Mrs. Mayfield is not just famous for being married to the Cleveland Browns quarterback.
She has 203,000 followers of her own on Instagram and had built up a following before her marriage.
The two got married before the 2019 NFL season and while Baker struggled on the field, Emily began working for WKYC in Cleveland and seemed to have quite the great year.
She may have had to hide her own joy on Sundays during the season.
A good love story is something most people can get behind.
The only exception is those who spend their days typing in all caps at athletes and celebrities on social media.
Some people will just never be happy.
So who is Emily (Wilkinson) Mayfield?
To avoid confusion with Baker, she will be referred to by her maiden name of Wilkinson throughout this piece.
Who is Emily Wilkinson?
A quick Google search shows that Wilkinson is a few years older than her husband.
She just celebrated her 29th birthday at the start of April, while Mayfield will turn 25 years old later this month.
Wilkinson grew up in Omaha and one fun fact is she may not even be the most famous member of her family.
That title belongs to her brother who goes by "Sammy Wilk" on social media.
He has amassed a following of 1.6 million people on Instagram and gained his initial fame on Vine.
If what I just wrote means nothing to you, that is just fine.
Fame is relative and plenty of people have carved out multi-million dollar careers geared toward specific audiences.
The same way Baker Mayfield is a household name to football fans, but may be unknown to those who don't watch sports at all.
A crazy concept indeed.
Back to Emily, she graduated from the University of Nebraska-Lincoln in 2013 when Baker was just beginning his college career at Texas Tech.
A move to California came later and that is where she ended up meeting Baker.
That meeting helped her surpass her brother's level of fame, at least in this part of the country.
When Did Wilkinson Meet Baker Mayfield?
The future couple had apparently been set up by mutual friends and had some contact on social media before finally meeting in person.
ESPN's Mina Kimes recounted the story of how the happy couple started dating.
The quarterback and his fiancée, who is from Nebraska, were introduced in 2017 by a mutual friend. At the time, Wilkinson was living in Los Angeles. She says she was wary of dating a "punk football player" and ignored Mayfield's advances for months: He repeatedly followed and unfollowed her on Instagram, trying to attract her attention. Finally, in late December, they exchanged messages. He begged her to meet him before the Rose Bowl, his final college football game. She reluctantly agreed to grab lunch.

"I was assuming he'd be the typical playboy athlete," says Wilkinson, who is four years older than Mayfield.
The two hung out for the first time before the 2018 Rose Bowl, in which Oklahoma fell to Georgia.
Losing in his final college game did nothing to ruin Mayfield's spirit as he was clearly in love.
It was love at first sight between the two.
Things moved quickly after their first date and they were living together within a week.
When you know, you know.
Right?
Mayfield and Wilkinson sure seemed to know and got engaged later that year.
The pair then got married in July 2019.
She was a plastic surgery patient coordinator in beautiful California.
He was an Oklahoma football star.
When he got drafted by the Browns both of them headed to Cleveland.
She must really love him.
Emily Wilkinson's Instagram
We are diving deep into Wilkinson's Instagram account in this post.
That is where she has built a massive following, compared to Twitter where she has 41,800 followers at the time of writing this piece.
Her first post came all the way back in 2012.
If you wonder how people build a large following, starting early surely helped.
We will not share the first post because it is not relevant and a lot of the comments are not too nice.
Her account started to gain some traction a few years later and she was able to use her name to post some ads.
Extra money or products is never a bad thing when all it takes is a simple post on social media.
Making money to take a picture drinking some Smirnoff?
Sounds like the ideal way to make some extra cash.
She may not have been a major Instagram influencer, but she was obviously contacted to do some ads on the platform.
That is not something that just happens for anyone.
The only tough thing to do now is figure out how many likes these posts had before her name changed and her account went to a whole new level.
The above post has over 4,000 likes and the top comments are from years ago.
That at least provides some initial evidence she had herself a nice following back in 2016.
For those who don't use Instagram, getting 4,000 likes is no easy task.
Her feed is also filled with plenty of professional pictures that helped build her following.
Let's jump to when Baker started showing up in the pictures.
We know they met at the start of 2018 and they moved in together just days later.
It only took until January 5 for Baker to show up and the rest is history.
Baker continues to show up quite often since that initial post and his wife continues to support him and be his biggest fan.
As a quick aside, there is plenty of negativity on social media in general.
Wilkinson's comments are filled with far too many people saying nasty and just flat-out mean things.
Don't be one of these people.
There is no need to attack strangers on social media for just living their lives.
A woman posting a picture of herself with her husband does not warrant people making assumptions about their relationship and their lives.
Rant over, but remember to just be nice!
Emily Wilkinson's Work on TV
Wilkinson's seemingly great life received another boost this past October when she joined the WKYC news team in Cleveland.
Welcome to the 3News family, @emily_wilk!

Emily Mayfield to join WKYC Studios as a special correspondent this fall https://t.co/o7JN09pDqV pic.twitter.com/ebvl0BssBF

— WKYC 3News (@wkyc) October 21, 2019
Her official role was "special correspondent" and she has done a handful of stories since taking on the news role.
The stories are more soft news pieces that focus on fun and lighthearted topics such as meditation, fitness, and personal style.
Still, she got herself an awesome gig that seems to provide a fun outlet for her both to share her own interests and to discover new ones.
Is there shade online about her landing this job?
Of course there is.
One common complaint is that she is stealing a job from a journalist.
That is just a misguided opinion.
She is not out reporting on hard news or trying to pretend to be some sort of investigative journalist.
Her stories are lighthearted in nature and add to a broadcast in a necessary way.
So goes the business and all Wilkinson can do is keep working and enjoying what she is doing.
The job sure looks like a fun one and it is hard to expect her to turn down such a cool opportunity.
Wilkinson in the Community
The Browns obviously had a tough season in 2019.
Mayfield regressed at quarterback and it would have been easy for him to basically go into hiding and avoid any public events.
Yet, him and his wife have not hidden from the spotlight and have done great things for the community as a duo.
The most recent was giving a more than generous donation to the Cleveland Food Bank.
Baker and Emily Mayfield donate $50,000 to Greater Cleveland Food Bank to help coronavirus relief effortshttps://t.co/PAOwQ2jBmr

— WKYC 3News (@wkyc) March 19, 2020
The two stayed on theme with giving out food back in November during the "Feed the Need" event at TownHall in Cleveland.
A "sweet" moment – Browns QB Baker Mayfield and his wife Emily served pumpkin pie at TownHall's Feed the Need event Tuesday and even took time to take some selfies 📸 pic.twitter.com/dayP3sNFkH

— clevelanddotcom (@clevelanddotcom) November 26, 2019
The event saw the Mayfields and other Browns players team up to serve thousands of hot Thanksgiving dinners to those in need in the city.
This came in the midst of a rough time for the Browns and everyone, including Wilkinson, showed up to help those who need help the most.
That was an awesome gesture and easily won her some respect in the city.
The Mayfields were a key part in putting on the event in general.
Hopefully, everything will get back to normal in the world soon and the couple can be prominent in this event on an annual basis.
That does depend on Mayfield's play at quarterback, so we shall see if he can pull through and help his wife's career in Cleveland continue to thrive.
The Progressive Commercials
There was nothing more painful in 2019 than when Mayfield would make a critical mistake, such as throw an interception, only for his face to show up on the first commercial during the break.
Progressive invested heavily in an ad campaign featuring the young Browns quarterback and his regression last year did not make for a fun viewing experience.
However, Wilkinson's appearance in one of the ads was just fine.
This put Wilkinson on the national stage for anyone who did not know her before.
In case you were wondering, or have a ton of time on your hands, there are even behind-the-scenes exclusives for these commercials.
The insurance company put the couple in the forefront of its advertising during the 2019 NFL season.
While Baker had a rough year, there was no reason to get mad about his wife's inclusion in the ads.
Angry Browns fans were not yelling at her to spend more time reading the playbook and less time doing commercials.
That luxury belonged to her husband.
She just got to enjoy the fact she was in a national advertising campaign.
Perhaps she even got to meet Flo or get some free car insurance.
Why Should We Care?
There is a group of Browns fans who refuse to discuss anything other than the game itself.
The mention of wives or girlfriends brings out anger, for some unknown reason.
Those people may not care about Wilkinson or any significant other of a Browns player.
But she is clearly more than just the wife of a Browns quarterback.
She is out in the community and has embraced Cleveland like all those who live in and around the great city.
Wilkinson could have easily stayed in California or somewhere outside of Ohio during the NFL season.
Staying in a different location is not out of the ordinary for the wives or families of professional athletes.
Yet, she moved here and began focusing on charity work, bringing news stories to the community, and defending Baker on social media from his critics.
Mrs. Mayfield defending her husband from certain members of the Cleveland media should be enough to win over some of the most bitter Browns fans.
She even showed off her acting chops in the Progressive campaign.
There is really no reason not to like Wilkinson.
You don't like Baker Mayfield?
That is one thing, but his wife has not shown up to Cleveland and done anything remotely bad.
The hope is that Baker turns things around in 2020 and proves to be a reliable quarterback to build around as the future of the Browns franchise.
Thus, both members of the Mayfield duo may have their future in Cleveland decided in 2020.
Wilkinson has only boosted her own career since moving to Northeast Ohio.
Her husband switching teams in a few years means a move for her as well.
There is no doubt she will land on her feet and continue her own career in media if they have to leave.
However, Wilkinson being a face in Cleveland for the next decade would be amazing.
Why?
Because that means Baker Mayfield has become the Browns' savior at quarterback and fans can smile when seeing him in Progressive commercials instead of shaking their heads in disappointment.
The longer the couple remains in Cleveland should correlate with some actual success for the team.
It is hard to root against a happy marriage.
Rooting against a happy marriage between a successful Browns quarterback and his wife who has embraced the city is an impossible task.