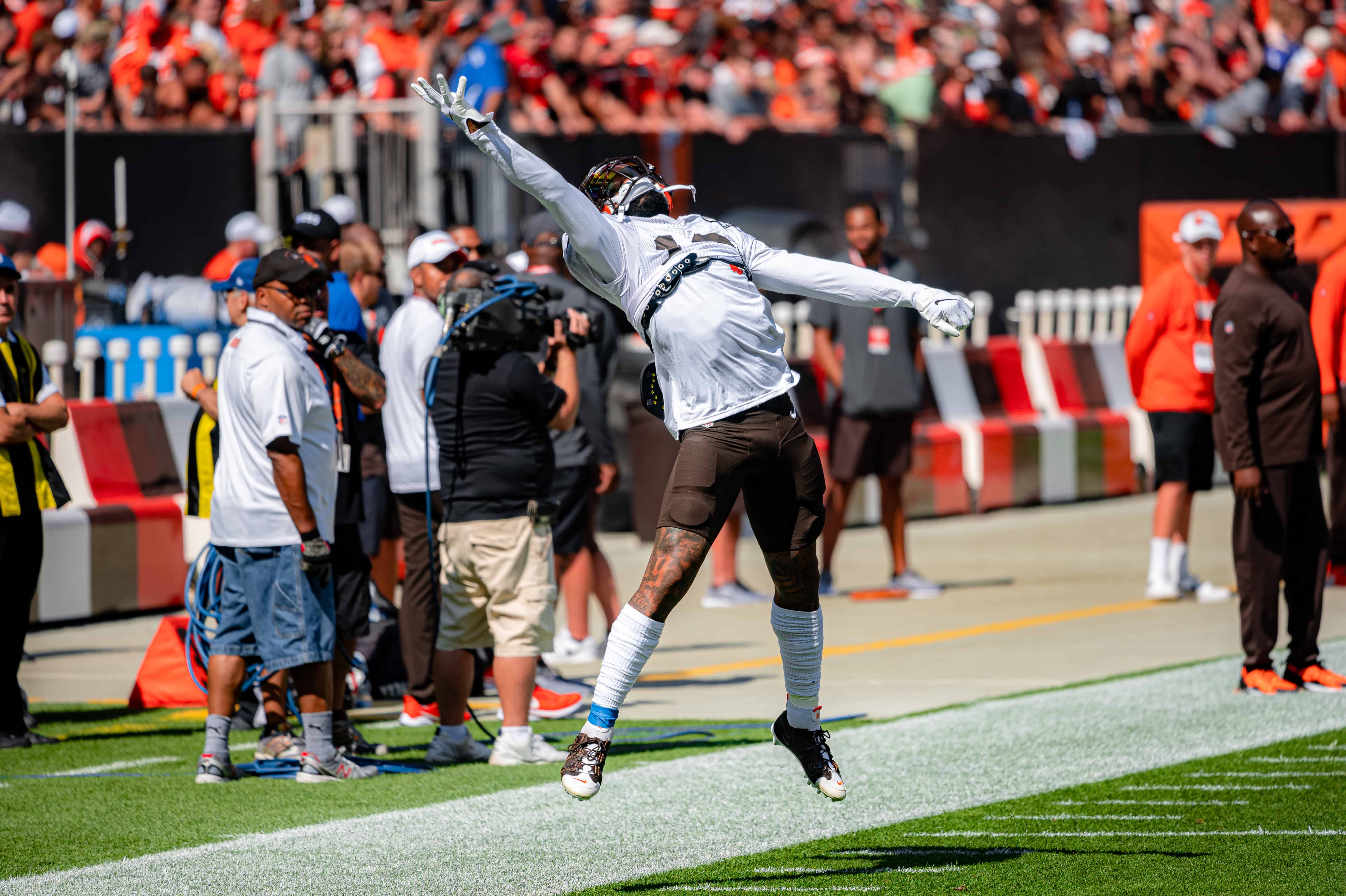 After an impressive rookie season, Baker Mayfield is struggling to find his groove in Cleveland. The Browns' offensive woes are compounded by their offseason acquisition of Odell Beckham Jr.
In 2018, Mayfield threw for over 3,700 passing yards, 27 touchdowns, and 14 interceptions. His touchdown percentage surpassed 5, he gained over 265 yards per game in the air, and his quarterback rating eclipsed 90 for the year.
In 2019, with a sack percentage almost double what it was in 2018, Mayfield is underperforming all expectations. His touchdown percentage fell to 2.6, his yards per game to 241.4, and his quarterback rating to 67.8.
The Browns' struggling offensive line is partially to blame for Mayfield's poor performance in 2019, but it isn't the full story. Mayfield is having trouble making quick, accurate reads during his drop backs.
This INT by Baker Mayfield was the Browns' third turnover … in the FIRST QUARTER 😳

(via @NFL) pic.twitter.com/ZYCS64Sw86

— SportsCenter (@SportsCenter) October 27, 2019
With Mayfield struggling, OBJ is also underperforming. So far this season, Beckham gained slightly under 500 receiving yards and 1 lonely touchdown. His catch percentage, yards per target, and yards per game are all down from 2018.
Eli Manning took his fair share of criticism over the last few years, and Browns fans thought OBJ would excel with an athletic, young QB.
Despite all their hardships, Beckham and Mayfield have each other's backs.
Speaking on Mayfield, Beckham said,
"You can't sit here and say it's all on him. You have to take a look at everything going on around him. Obviously, he has to play better. I have to play better. We all need to do better. [We] can't sit back and be like, 'It's Baker's fault.' I feel like that's the easiest thing for us to do. I've been in situations where one person is getting the blame, and the rest of the people are quiet to kind of stay out of the fire. I'm going to jump in the fire with him. I'll be the first one. Some of these losses are on me. I need to be in the right place at the right time. I'm going to do better. And that's what I plan to do for the rest of the season."
He continues,
"I'm going to be the first one here to defend him every single time. I've always got his back. I know what it's like. I've been there. I understand how we're looking for the negative. But he wants to win. He's upset he's not winning, or he hasn't done the best of his ability. That's upsetting. Just upsetting. We want to be great."
OBJ says he's going to jump in the fire with Baker Mayfield: "Some of these losses are on me." #Browns pic.twitter.com/YQVNLwmtu5

— clevelanddotcom (@clevelanddotcom) October 31, 2019
With Beckham's full support, it seems that Mayfield's starting QB job is secure. Freddie Kitchens will likely end up as the scapegoat, if the Browns don't turn this season around (perhaps, rightfully so).
Unfortunately, Beckham and Mayfield can play as well as the best WRs and QBs in the league, but if the offensive line can't pass protect, the Browns are not going to win.