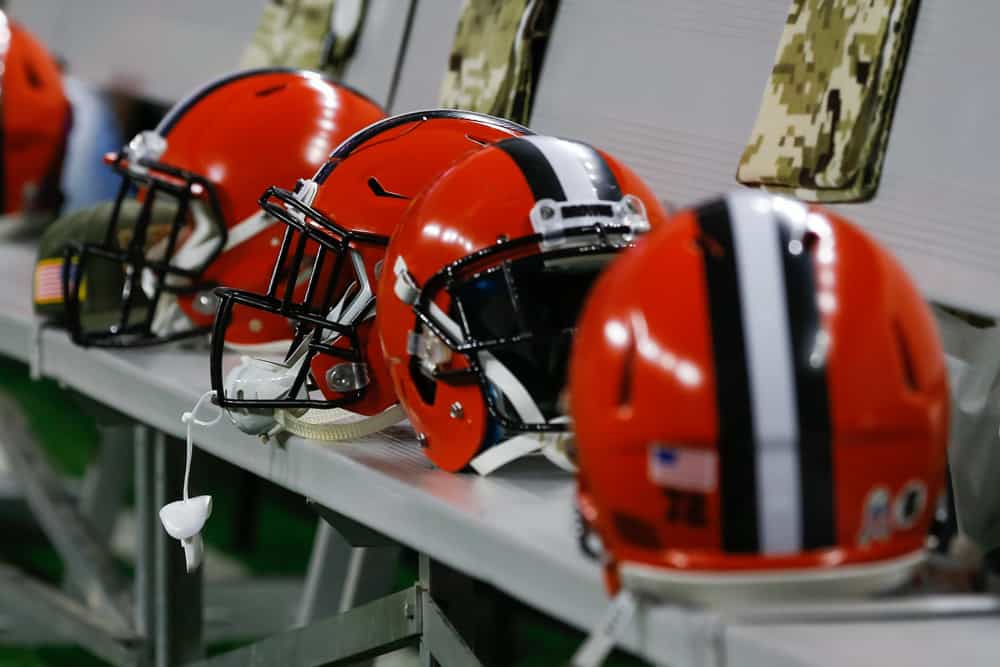 Last season, the Cleveland Browns had one of the most well-assembled rosters across the NFL.
Well, on paper, that is.
The roster yielded more holes than initially thought, and sub-par coaching tends to expose those flaws even further.
Heading into 2021, the Browns roster still has plenty of talent, as reflected in the latest ratings for Madden 21.
Sheldon Richardson – 81 Overall
Madden 20 Rating – 84 Overall
This year's early Madden ratings have sparked a ton of controversy.
No one is fighting over Richardson dropping three overall points, but maybe they should.
Sheldon forced 3 fumbles last season along with 62 total tackles, both increases from the season prior.
However, Richardson was slightly less productive in the backfield, seeing decreases in sacks, tackles for loss, and quarterback hits.
The game updates ratings regularly throughout the season, and I would expect Richardson to see a boost at some point if he produces as expected.
Olivier Vernon – 82 Overall
Madden 20 Rating – 85
Among the non-controversial drops for this team is Vernon's.
Olivier appeared in just 10 games last season and saw statistical declines across the board.
He'll be back for another season alongside Myles Garrett to try and prove he is still among the best defensive ends in the league.

Jarvis Landry – 85 Overall
Madden 20 Rating – 84 Overall
Landry's success throughout the 2019 campaign was well-documented, and the Madden developers took note.
Some would argue he deserves better than an increase of just one overall point.
Jarvis caught 83 passes last year for a career high 1174 yards.
He also did that on top of a hip injury that Landy admitted hindered his ability throughout the 2019 season.
Similar to Richardson, don't be too shocked to see a ratings boost at some point this season for Landry.

Joel Bitonio – 86 Overall
Madden 20 Rating – 87 Overall
Offensive linemen don't really have "stats", making it hard to judge them without watching hours upon hours of film.
That's why so many fans of the game look at PFF's ratings for those in the trenches to get a better understanding of what they provide for their team.
Bitonio, the two-time Pro Bowl guard, may have a gripe with his rating decrease this season.
Since coming off the bye in Week 9, #Browns Joel Bitonio has 300 pass-blocking snaps.

He allowed THREE total pressures and ZERO sacks.

His 99.5 pass-blocking efficiency is 2nd in the NFL over that span.

— PFF CLE Browns (@PFF_Browns) December 26, 2019
Denzel Ward – 86 Overall
Madden 20 Rating – 88 Overall
After a stellar rookie season, it was easy to see how Ward would enter last year's game with an 88 overall.
However, last year saw Denzel stumble a bit.
After a member of Bleacher Report released their list of top cornerbacks in the NFL that did not include Ward, the former Buckeye took note.
"I see we need to earn our respect out here in Cleveland," said Ward.
Denzel was still very good in 2019 and those close to the game understand his talent.
Ward could very well make his way back up to an 88 overall, if not better, by the end of the season.
Kareem Hunt – 87 Overall
Madden 20 Rating – 90 Overall
Being a part of the 90 overall club in Madden must be a cool feeling.
For Kareem Hunt, unfortunately, he will have to earn that title once again.
Hunt missed half of 2019 due to suspension but was still productive when he returned to action.
Regardless, it's hard to argue against a rating decrease when you only play in eight games.
Like many of his teammates though, Hunt has a golden chance to get that first digit back over nine.

Austin Hooper – 89 Overall
Madden 20 Rating – 85 Overall
Hooper's production last year wasn't exactly surprising for those who watched Falcons football the previous three seasons.
He set new career highs in targets (97), receptions (75), yards (787), and touchdowns (6).
Hooper continues to prove that he is among the league's best tight ends, a welcomed sight to the eyes of Baker Mayfield and the Browns offense.
With David Njoku asking for a trade, Austin Hooper's reliable hands are primed for a larger role:

Hooper (drops/catchable targets/rank)
2018 (2/73/6th best out of 41)
2019 (2/77/6th best out of 44)

Njoku (drops/catchable targets/rank)
2018 (8/64/41st out of 41)
2019 (2/7/NA) pic.twitter.com/my9k3c7I5Z

— PFF CLE Browns (@PFF_Browns) July 3, 2020
Odell Beckham Jr. – 91 Overall
Madden 20 Rating – 96 Overall
Here's the big increase you knew was coming.
Look, blame for OBJ's 2019 season can be pointed at about 100 different people.
At the end of the day, he was brought to northeast Ohio for a reason: to be a superstar wide receiver and help the Browns win football games.
Neither of those things happened in 2019.
The talent and ability are still there, now it comes down to producing on the field.
With some added talent to the offense this offseason, OBJ has a perfect chance to do just that.

Nick Chubb – 93 Overall
Madden 20 Rating – 91 Overall
The NFL has no choice but to continue to notice the dominance that is Nick Chubb.
His 1,494 rushing yards was good enough for 2nd among running backs last season as Chubb continues to create the argument for him being the best in the league right now.
Running backs who've earned 90+ PFF grades since 2017:

Nick Chubb (91.4)
Christian McCaffrey (90.8)
Aaron Jones (90.6)
Alvin Kamara (90.5)
Austin Ekeler (90.4)
Kareem Hunt (90.1) pic.twitter.com/lpcX1L6bYr

— PFF CLE Browns (@PFF_Browns) July 23, 2020
Barring an injury of some sort, there's no reason for Chubb to not have an even better campaign in 2020.

Myles Garrett – 93 Overall
Madden 20 Rating – 91 Overall
Ok, so, maybe someone CAN see their Madden rating increase after half a season.
Kareem Hunt didn't lead the league in sacks before his suspension hit though.
Myles Garrett did.
So, there seems to be justification here for the ratings increase.
Real-life broadcasts for the Browns will talk about his incident with Mason Rudolph ad nausea this year.
That doesn't mean Madden broadcasts will though, so Browns fans will enjoy his virtual dominance in peace.