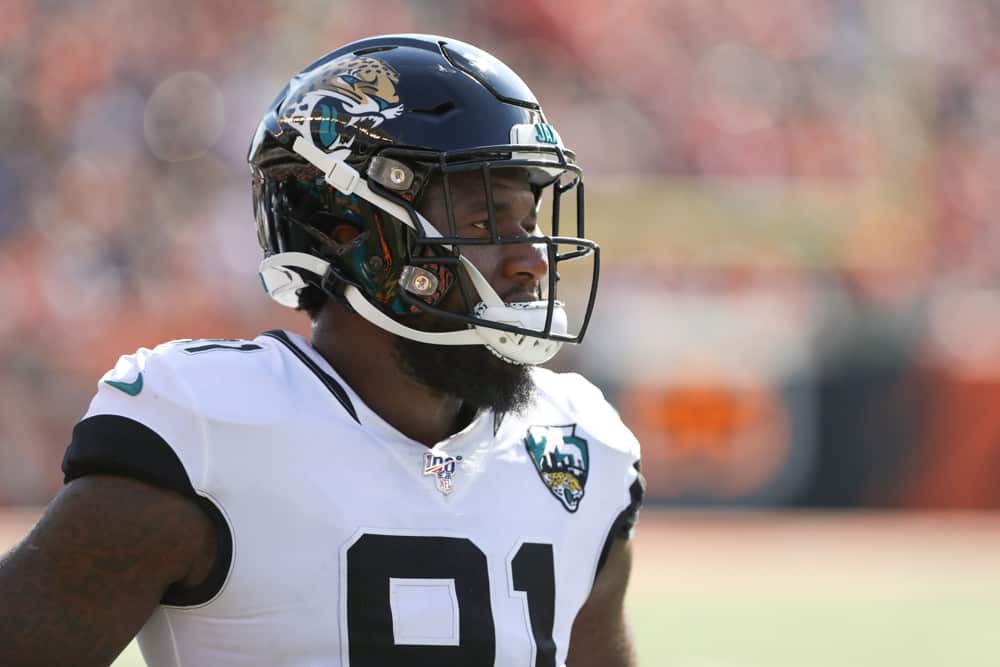 Free-agent pass rusher Yannick Ngakoue has told the Jacksonville Jaguars that he wants to play for a different team in 2020.
CBS Sports' Pete Prisco said recently that Jaguars owner Shad Khan does not want to trade Ngakoue.
But, with the NFL draft just days away, they appear to be more open to dealing the star DE.
The #Jaguars are beginning trade discussions involving franchise-tagged DE Yannick Ngakoue at a 1st-round pick and more, per @JordanRaanan.

— NFL Update (@MySportsUpdate) April 2, 2020

NFL Network reported in late March that the Jaguars had begun fielding interest from other teams for a possible Ngakoue trade.
ESPN's Adam Schefter recently talked about the situation on Wednesday during an appearance on 97.5 The Fanatic.
"There will be people in the organization, like the owner, who will not want to move him," Schefter said, "which means that they'll be firmer in their price. But if they don't trade him, they've got a mess on their hands."

"I still think the team (will) have to move him during the draft — the week of the draft, during the draft," Schefter added. "These are usually deals that are made, often, while teams are on the clock."
Who are the teams that could be interested in Ngakoue?
Schefter speculated he would include the Cleveland Browns, Las Vegas Raiders, New York Giants and Seattle Seahawks.
The Browns would make sense from a financial standpoint as they are among the league leaders in salary cap space available.
They could certainly absorb Ngakoue's franchise tag figure of over $18 million.
However, the reported price to acquire Ngakoue is a first-round pick plus additional assets.
This would mean that the Browns would have to surrender the 10th overall pick in the draft and possibly more.
With the Browns having struggled to replace the left tackle position since Joe Thomas retired, this trade might not be in the best interests of the organization.
If the Browns didn't have a hole at left tackle, this trade might have already been done.
If they did decide to do the trade, they would certainly be bringing in a nice compliment to Myles Garrett.
In four NFL seasons, Ngakoue has 37.5 sacks.
Yannick Ngakoue's Career Stats

• 4 Seasons (63 Games)
• 122 Tackles
• 85 QB Hits, 42 TFL
• 37.5 Sacks
• 14 FF, 3 FR
• 9 PD, 2 INTs, 2 TDs
• 2017 Pro Bowler pic.twitter.com/SuKt3bE8E3

— NFL Stats (@NFL_Stats) April 8, 2020

The Browns have also been linked to free-agent defensive end Jadeveon Clowney.