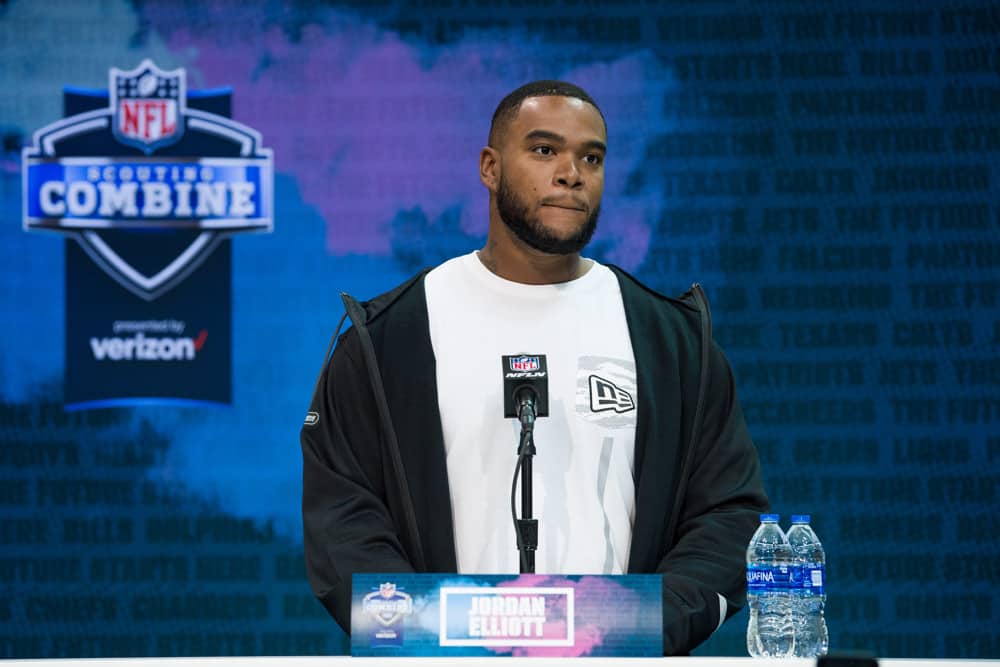 With the No. 88 overall selection of the 2020 NFL Draft, the Cleveland Browns selected defensive tackle Jordan Elliott.
After selecting offensive tackle Jedrick Wills with the No. 10 overall pick, the only other lineman that the Browns selected was Elliott in the third round
Elliott had a very interesting college career at the University of Texas and the University of Missouri, and he had a career year in his junior season in 2019.
The 302-lb, 6'4″ Texas native was a top-100 recruit and wore No. 55 with Texas.
His first and only season as a Longhorn was shortened to just six games due to an MCL injury.
The 2019 All-American, who was projected to go in the second or third round by NFL.com, and may be a steal for the Browns.
1. Elliott Grew Up in Missouri City, Texas and Attended Both Texas and Missouri
By transferring from Texas to Missouri, he followed his former defensive line coach Brick Haley.
Texas DL Jordan Elliott posts on Snapchat he's going to transfer from UT. #HookEm pic.twitter.com/huvlsMVneY

— Justin Wells (@justinwells2424) May 18, 2017

Even during his redshirt season in 2017, Elliott was the defensive scout team player of the year.
With his impressive work at strength and conditioning, he was also the team's lifter of the year.
2. He Made All-SEC Teams in Both His Years at Missouri
Among his many accolades as a Tiger, he was named to multiple All-SEC teams.
The two-time All-SEC Team player, who wore No. 1 at Missouri, also was named a Pro Football Focus 1st-Team All-American in 2019.
Mizzou's Jordan Elliott made PFF's First Team All American pic.twitter.com/ytjN1dX7sC

— Shaun Newkirk (@Shauncore) December 2, 2019
Also in his junior season, the Associated Press had Elliott as a 2nd-Team All-American.
During the season, he had a team-leading 10 tackles for loss.
Although 2019 was a down season for Missouri, Elliott shined for the 6-6 Tigers.
3. He Forewent His Senior Season to Enter the NFL Draft
The NFL-ready defensive tackle forewent his senior year at Missouri, and it seems to have been the correct decision for the redshirt junior.
He has a long history of playing on national television, as he was even playing in front of large audiences in high school.
During his senior year, he participated in the U.S. Army All-American Bowl, which was played on NBC Sports.
He then received more than 40 scholarship offers, and he chose to stay close to home.
Elliott selected the University of Texas and noted that being a Michigan Wolverine was his second option.
The 5-7 season in 2016 may have been part of the reason that Elliott transferred from Texas to Missouri.
His only college bowl game was the 2018 Liberty Bowl on New Year's Eve.
The No. 24 Missouri Tigers lost, 38-33, to the Oklahoma State Cowboys.
Elliott had three tackles in the rollercoaster contest.
Then, in what became Elliott's final year at Missouri, he finished the season very well.
In two of the final three contests of his 2019 season, Elliott had either a sack or a pass defended.
Elliott carried the strong end of his collegiate career into an impressive showing at the combine, and he hopes to be a strong contributor right away in 2020 for the Browns.