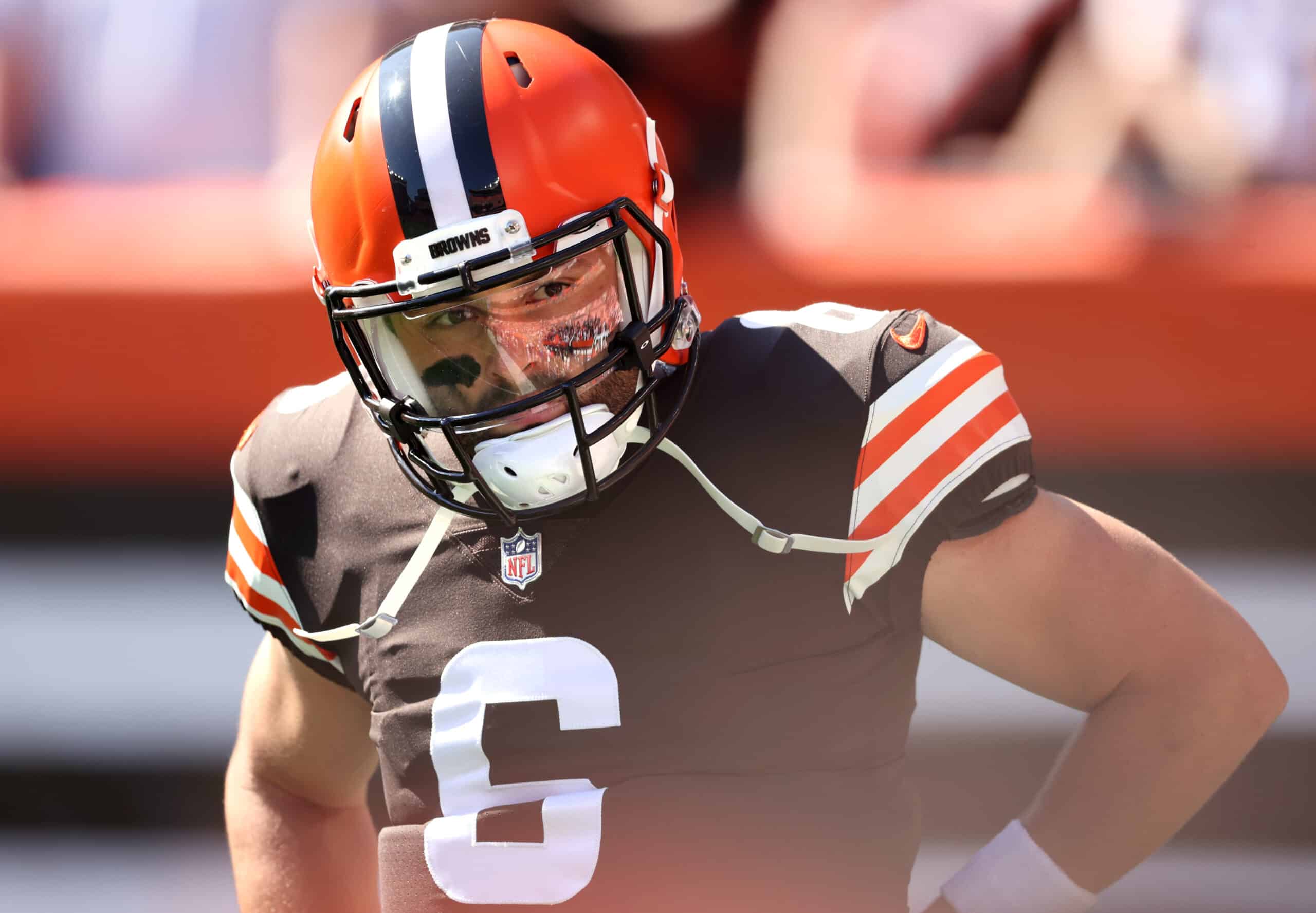 Kevin Stefanski told reporters this morning that the Cleveland Browns medical staff cleared Baker Mayfield to play.
That means Mayfield will take the field with a chance to beat the Pittsburgh Steelers for a third straight time.
Stefanski says Mayfield has enough range of motion in his injured shoulder to be effective.
QB Baker Mayfield WILL start Sunday against the Steelers, coach Kevin Stefanski just announced #Browns

— Jake Trotter (@Jake_Trotter) October 29, 2021
Although Mayfield's torn labrum is in his left (non-throwing) shoulder, it can affect his passing.
Mayfield practiced on consecutive days and showed improving fluidity as the week went on.
On Wednesday, it appeared he was forcibly holding his left arm to his side.
That made for more stress on his throwing arm and inconsistent power.
Source: #Browns QB Baker Mayfield received medical clearance last night to play and is expected to start Sunday, despite a torn left labrum & shoulder fracture. With full range of motion in his shoulder & his strength back, the medical decision was made. The fracture is healing.

— Ian Rapoport (@RapSheet) October 29, 2021
But as he got used to his newest brace and regained a feel for his motion, he got looser.
By Friday morning, witnesses reported more zip on the ball and a noticeably more comfortable Mayfield.
With the medical staff on board, it appears Mayfield experienced no additional swelling or pain, either.
What It Means To The Browns Offense
Noticeably absent from any practice assessment was Mayfield's long-passing capability.
Although reporters don't get to watch every minute of practice, nobody mentioned Mayfield cutting it loose.
Cleveland's offense does not go deep with much frequency.
Baker Mayfield will attempt to become the first #Browns QB to win three straight against the Steelers since Bernie Kosar ('88-89)

— Jake Trotter (@Jake_Trotter) October 29, 2021
But the threat of the deep pass keeps opposing secondaries honest.
Baker Mayfield isn't likely to see safeties running deep to back up corners if they know he can't throw long.
And his two deep-passing wide receivers, Jarvis Landry and Odell Beckham have injuries of their own.
Fortunately, Cleveland's running game, screens, and short passing game are above average.
Baker Mayfield's arm looks as good as ever in practice. A lot of zip. Was only player wearing shoulder pads today, trying to get used to what is likely a new harness under those pads. #Browns

— Hayden Grove (@H_Grove) October 28, 2021
Even if a team sees them coming, Nick Chubb and D'Ernest Johnson boast escapability and power.
Cleveland's attack might look more conservative this week, but it will be just as effective.
And we can't under-emphasize the emotional lift of a returning Mayfield to the squad.
Is Baker Mayfield Safe On the Field
Just because the medical staff cleared Mayfield to play doesn't mean there won't be some nervous moments.
Throwing is just part of the game for the Browns' quarterback.
Stefanski will adjust his game plan to match what Mayfield is most comfortable doing.
#Browns Baker Mayfield back for his third straight day of practice. His left arm looked more comfortable today than it has in awhile. pic.twitter.com/5nMUFmskIQ

— Camryn Justice (@camijustice) October 29, 2021
And he can use some trickery on top of the running game to keep defenders from focusing on Mayfield.
But even with all the Browns starting offensive linemen expected to play, Mayfield is bound to get hit.
And he is bound to get knocked down, which is probably the bigger risk.
Mayfield will be painfully aware of his damaged parts as the game goes on.
#Browns Alex Van Pelt said Baker Mayfield is "mentally tough as anyone I've been around."

— Camryn Justice (@camijustice) October 28, 2021
He will do his best to shield himself from injury, hopefully getting rid of the ball quickly and sliding.
But sometimes instinct takes over, like when he purposefully rolled to his left as he fell on the sack in the Arizona game.
Protecting the throwing arm comes naturally, and that can leave Mayfield's left shoulder open to some impact.