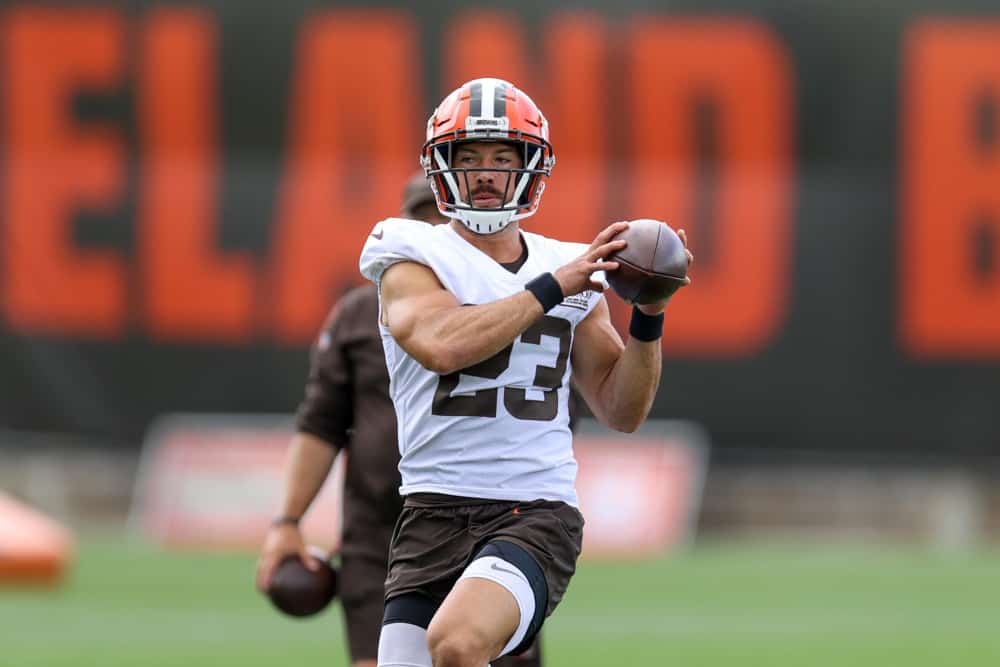 The Cleveland Browns were able to capture the victory on Sunday and move their record to 4-1 on the season.
It wasn't easy, but the Browns rallied together and beat the Indianapolis Colts in a tight contest.
Despite that, Browns fans were still furious at safety Andrew Sendejo.
They were angry enough to start a petition to get Sendejo out of Cleveland.
It seems a little harsh, but if anyone has watched the Browns this season they'd understand.
The 33-year-old safety has not been cut, but the petition can be found here.
NFL: Get Andrew Sendejo Out of Cleveland – Sign the Petition! https://t.co/uYnhFCGytf via @Change

— DollarDog Nick @BIGPLAY (@DollarDogSports) October 11, 2020
Has Sendejo Really Been That Bad?
Yes, the answer to that question is 100 percent yes.
It's honestly baffling how bad Sendejo has truly been in a Browns uniform.
Imagine if the browns didn't have Andrew Sendejo and had literally any other starting safety in the league. Trash

— Kenzie Caudill (@kenziecaudil) October 11, 2020

The more surprising part is the Browns continue to run him out there every Sunday.
Sendejo couldn't even get in position for the team photo https://t.co/OBBGakclUq

— Jimmy Mac (@Its_JimmyMac) October 12, 2020

Maybe I'm being too mean to him, but here is some video evidence of how bad he's truly been with Cleveland.
What was #Browns Andrew Sendejo doing on this touchdown?pic.twitter.com/5LbjJIF16Y

— Dov Kleiman (@NFL_DovKleiman) October 4, 2020
It feels like at times he's actually trying to troll the Browns defense.
He looks like he's trying his best out there, but his best is just really bad.
Let's talk about that fake punt. It was executed perfectly and should've been an easy 1st down… except for Andrew Sendejo's "Olé!" block. And although it didn't matter, he also gave up on securing the fumble. Not a great way to endear yourself to your new teammates.#Browns pic.twitter.com/xrJOI2My55

— Roberto Shenanigans (@Rob_Shenanigans) September 14, 2020
Maybe the veteran safety will turn it around.
That was a tough one to say with a straight face.
Browns fans have given Sendejo a chance, but his time is quickly running out.
Other Options At Safety
Browns fans can be hopeful for an early Christmas present and Sendejo actually gets benched.
Sadly, rookie Grant Delpit is out for the season after suffering an injury in training camp.
That doesn't leave the Browns with many options behind Sendejo.
The next best player would be second-year safety Sheldrick Redwine.
The former fourth-round pick was actually fairly solid for the Browns last season.
He recorded 42 tackles and two pass defended through 12 games (five starts) in Cleveland.
Redwine is not a long term solution at safety, but there's absolutely no way he's worse than Sendejo.
Cleveland needs to give Redwine a chance because Sendejo is basically helping the opposing offense when he's on the field.
Hopefully, the coaching staff gives someone else a chance because Browns fans are done with Sendejo after Sunday's contest.