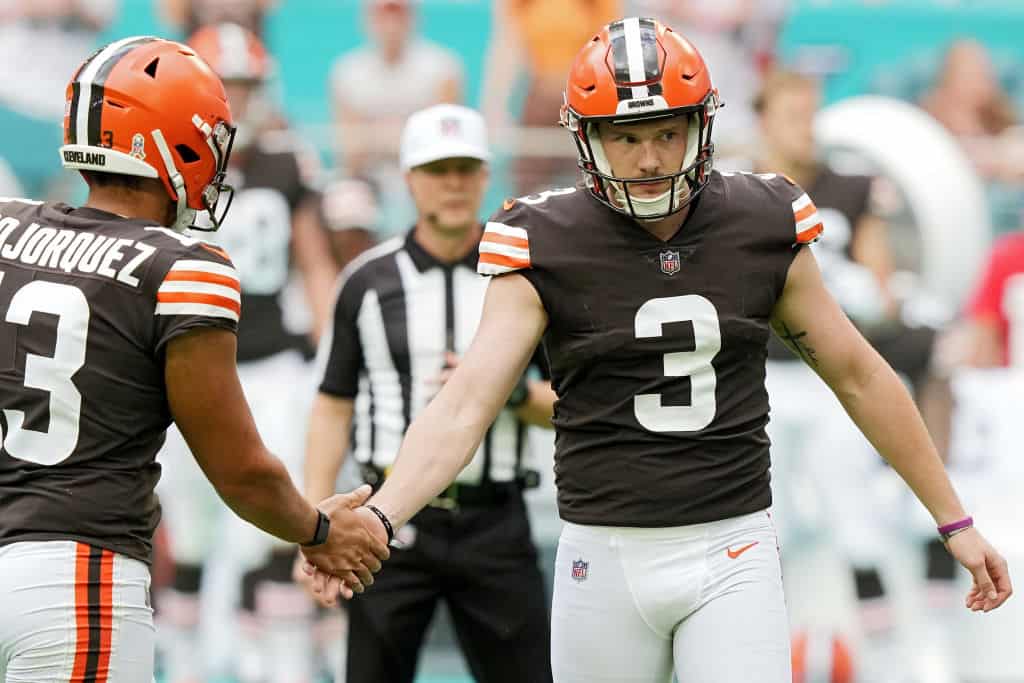 Was Saturday's woeful preseason performance from Cade York enough to end his time with the Cleveland Browns?
Maybe.
Per a tweet from Browns insider Brad Stainbrook, the Browns have told York he will be cut and will not be on the roster for Week 1.
Source: #Browns have notified K Cade York that he's being cut and will not be on the roster week one. pic.twitter.com/QVEOlNh1Um

— Brad Stainbrook (@StainbrookNFL) August 28, 2023
This is a move that many fans have called for after a shaky preseason from York.
He's struggled to find consistent accuracy despite having a strong leg.
That inconsistency may have just cost York his job in Cleveland.
In his Sunday press conference, head coach Kevin Stefanski opened up about York's final miss against the Chiefs being "disappointing".
Some Browns fans may have some other choice words to describe York's preseason.
From winning last year's opener in Carolina to this, it's been a free-fall for York's career as a Brown.
A year ago we were so excited!!! Cade York kicked a 58 yd game winner to start the season.

York went on to go 75% on the season…
5 for 5 from 20-29
9 for 12 from 30-39
6 for 8 from 40-49
4 for 7 from 50+

Now we're wondering and arguing whether he should even be on the team. 😫 pic.twitter.com/irmc2sfATR

— 🇺🇸BROWN SPIDER ADVENTURES!!!🇱🇷 #D4L (17-0) (@BrownSpiderCLE) August 28, 2023
The Browns appear to have already made a move to replace York.
Per this report from Ian Rapoport, Cleveland has traded for Chargers kicker Dustin Hopkins, who did not win the starting kicking job in Los Angeles.
Source: Cameron Dicker won the #Chargers kicking job and… Dustin Hopkins is being traded to #Browns.

— Ian Rapoport (@RapSheet) August 28, 2023
After the trade with the #Chargers for Dustin Hopkins, Cleveland is releasing K Cade York, source confirms (as @StainbrookNFL first reported). https://t.co/ViGc7M8XF9

— Ian Rapoport (@RapSheet) August 28, 2023
It's clear Andrew Berry and the front office had seen enough.
York cost Cleveland two games this preseason alone with his inaccuracy.
The front office refused to allow that to carry into the regular season.
Hopkins may not be a long-term solution.
He'll be an upgrade in the short-term at the very least.
Last year, York converted on just 75% of his field goal attempts, near the bottom of the league.
For his career, Hopkins has nailed 84% of his attempts including going 9 for 10 last season.
Despite losing out to Cameron Dicker in Los Angeles, he'll get a fresh start in Cleveland as he takes over for York.