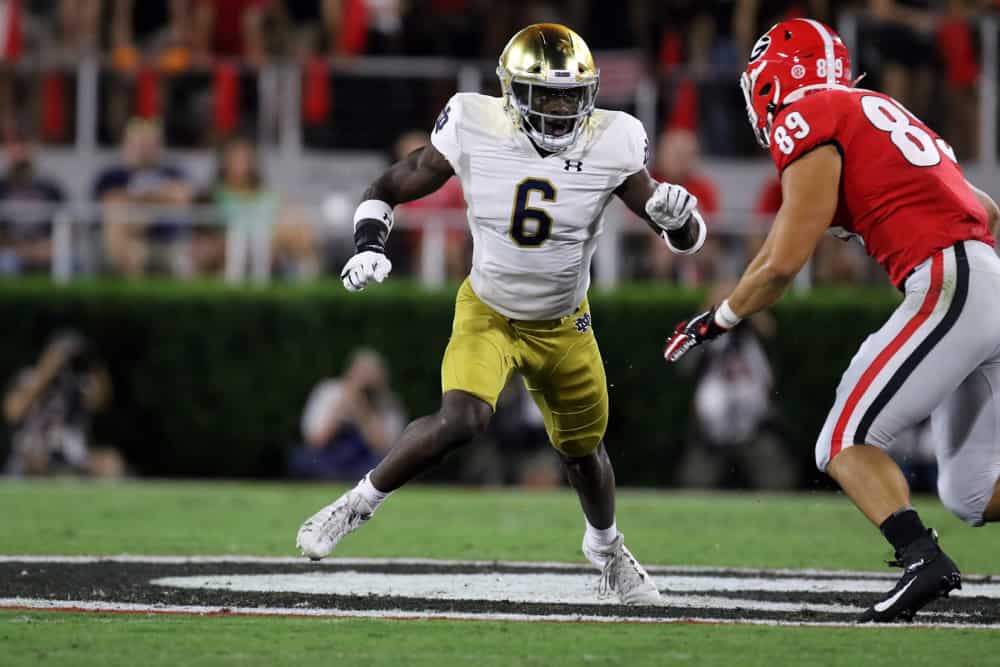 The Cleveland Browns received surprising news yesterday as players began reporting to camp and undergoing COVID-19 testing.
Rookie linebacker Jeremiah Owusu-Koramoah, also known as JOK, tested positive for the virus and was placed on the Reserve/COVID-19 list.
We have placed LB Jeremiah Owusu-Koramoah on the Reserve/COVID-19 list. pic.twitter.com/5spjI5tNKQ

— Cleveland Browns (@Browns) July 25, 2021
JOK, the second-round draft pick out of Notre Dame, is expected to compete for a starting role on the Browns defense.
For the moment, those plans will be put on hold as he will miss the opening of training camp.
He Is Asymptomatic
I'm feeling just fine. APTTMH. Thank you everyone. Peace be unto you all. 🙏🏿

— J. Owusu-Koramoah (@j_owuu) July 26, 2021
The good news is that JOK is feeling well and is asymptomatic.
(As a side note, APTTMH is a religious reference.)
We saw firsthand the ravages this virus put on Myles Garrett last season who was not fully recovered from it's effects when he rejoined the team.
Is JOK Vaccinated?
It is unclear at this point if JOK is vaccinated.
Depending on how quickly he is able to return, we may be able to figure it out.
Under the NFL's 2021 COVID-19 plan, vaccinated players testing positive can return to practice and games if they have two negative tests that are 24 hours apart.
Unvaccinated players who test positive will be subjected to the 10 days of isolation/quarantine that was enforced in 2020.
COVID-19 Is Hopefully Minimal In 2021
Everyone hopes that COVID-19 is not an adversary to NFL teams as it was in 2020.
Not only did the virus cause players to be ill, but it also closed the doors of the stadiums to full fan participation.
In 2021, NFL teams are planning open practices with fan attendance, and many are hoping to have full stadiums for their home games beginning in September.
The Browns' first open practice is scheduled for this Friday, July 30.
As of right now, it is not clear if the return to normalcy will become a full-blown reality for the NFL in 2021.
In the meantime, we hope there are no more Browns players testing positive or getting ill from the virus.