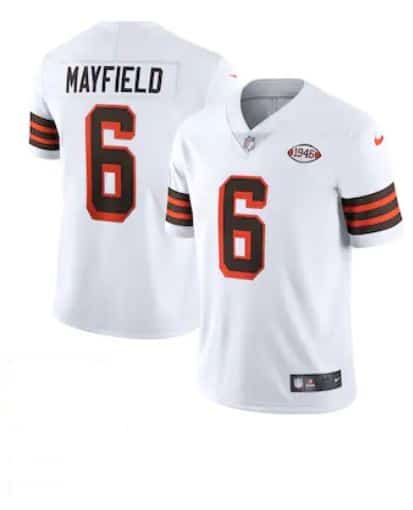 By now, everyone has seen the 75th-anniversary limited use Cleveland Browns jerseys after the big social media reveal on July 24.
As part of the jersey reveal, Haslam Sports Group President and Browns Partner JW Johnson described the design in a press release.
"The Browns are one of those iconic franchises in all of sports, not just the NFL. We really wanted to give a nice nod to the past and the players that have paved the way for the team we have here today. It's just a nice thank you to them for everything they've done for this league and for this team and for this city."
The Cleveland Browns have unveiled their 75th anniversary uniforms.

The @Browns wore identical uniforms during their inaugural season in 1946.

👍 or 👎? pic.twitter.com/iOMn9mMmWB

— The Athletic (@TheAthletic) July 24, 2021
The next logical question is where to buy them?
Here are a few locations where you can purchase one.
1. Fanatics.com
Fanatics.com is a great place to get the anniversary jerseys on sale now.
They offer a wide variety of players that include Baker Mayfield, Odell Beckham Jr, Jarvis Landry, Nick Chubb, and Myles Garrett
2. FirstEnergy Stadium Browns Pro Shop
Stocked and ready! 😤
▪️open from 10 am to 5pm
▪️free poster with purchase
▪️download the app to get a picture on the field #Browns pic.twitter.com/mGoUOLzSnN

— BrownsProShop @ FirstEnergy Stadium (@BrownsProShop) July 24, 2021
If you live in the Cleveland area, the Browns Pro Shop at FirstEnergy Stadium is fully stocked with all of the 75th-anniversary memorabilia.
This includes the official jersey and helmet as well as t-shirts, sweatshirts, hats. etc. that bear the anniversary logo and theme.
3. Sporting Goods Stores
Select sporting goods stores may also have stock in store or online depending on where you are shopping from.
These would include Dicks Sporting Goods and Nike.
This is not a comprehensive list but a good starting point for you in your quest to purchase a 75th-anniversary jersey or other related memorabilia.
Jerseys Available
Though jerseys can be customized, there are specific players' jerseys already available for purchase.
They are:
Nick Chubb (No. 24)
Baker Mayfield (No. 6)
Odell Beckham Jr. (No. 13)
Jarvis Landry (No. 80)
Myles Garrett (No. 95)
Men's, women's, and youth sizes are available.