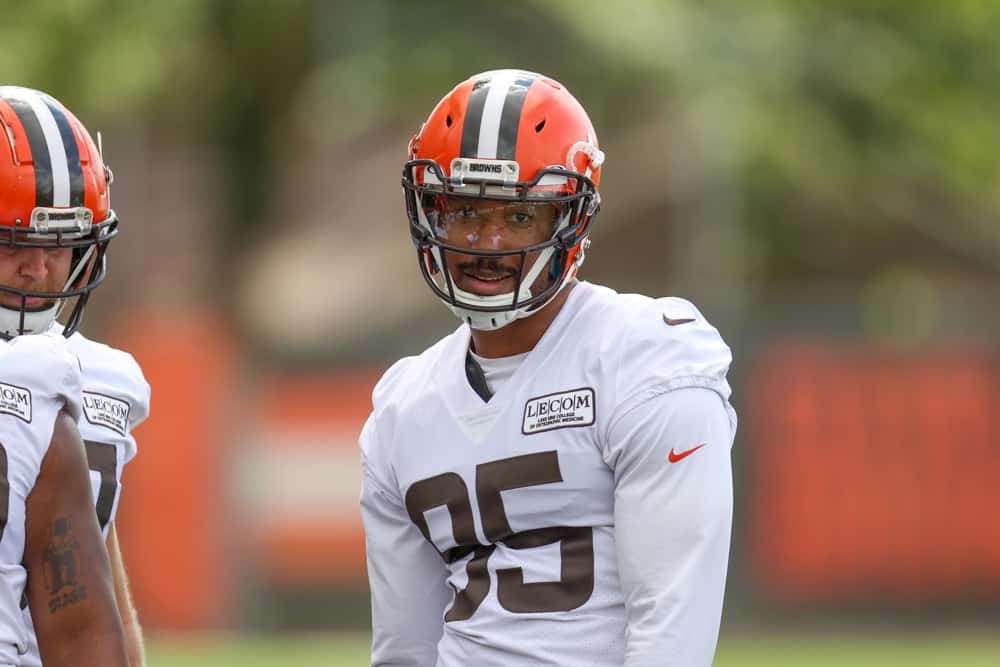 Jimmy and Dee Haslam announced Myles Garrett as the Cleveland Browns' Walter Payton Man of the Year.
The award recognizes Garrett's performance on the field and his dedication to the community.
During Super Bowl Week, the NFL picks the overall league winner from among each team's candidate.
Browns' DE Myles Garrett has been named the team's 2020 Walter Payton Man of the Year, recognizing the NFL's best players for their performance on the field and their dedication to the community.

— Adam Schefter (@AdamSchefter) December 10, 2020
In announcing their choice to represent the Browns, the Haslams made the following statement:
"We are incredibly proud of Myles and his strong passion for our team and community, which makes him truly deserving of our Walter Payton Man of the Year award. Myles is a phenomenal player and person who is consistently working to improve on the field with a team-first mindset while also identifying ways to improve the lives of other people, including through his dedication to Waterboys and important social justice efforts."
Waterboys is an organization dedicated to providing clean drinking water to residents of East Africa.
The brainchild of former NFL great Chris Long, the group named Garrett its active player captain last year.
In that role, Garrett traveled to Tanzania in January to help dig wells and see the impact of the organization.
But that is only a small part of why Cleveland gave him their Walter Payton Man of the Year award.
Garrett a Force On and Off the Field 
Garrett's on-field exploits are well known around the NFL.
Despite missing two games this season, Garrett is among the league leaders in sacks and forced fumbles.
He is also the first Browns player to have 10 or more sacks in a season three times in a row.
General manager Andrew Berry cited Garrett's contribution to the team while alluding to his community work.
"We stress the importance of having smart, tough, accountable players who prioritize the team and others above individual accomplishments," said Berry. "His performance on Sundays has been exceptional this season, but the socioeconomic work he has done in our community and abroad will have a more lasting impact."
Garrett, along with Cleveland Hope Exchange and local businesses, provided over 24,000 pounds of food to people affected by COVID-19.
Browns' Myles Garrett teams up with Cleveland Hope Exchange to provide community with 24,000 pounds of food https://t.co/DVPGgXXgDS

— News 5 Cleveland (@WEWS) March 27, 2020
Since joining the Browns, Garrett participates in team activities promoting education, youth football, and other volunteer initiatives.
He is an active member of the team's social justice committee, working hard to be a vocal leader of the group.
In the offseason, Garrett reached out to victims and families of police violence and helped raise awareness about other social issues, too.
Garrett's Bravest Act of Community Assistance 
Besides reaching out and raising awareness, Garrett quietly paid for funeral expenses for at least one violence victim.
He also came to the rescue of a random shopper who was short of the funds needed to fix a cell phone.
Garrett witnessed the interaction and quietly plunked down the cash to cover the repair.
Myles Garrett, Emily and Baker Mayfield and Christian Kirksey dish out Thanksgiving dinners at Feed the Need at Townhall Tuesday afternoon. pic.twitter.com/1cm6feytaM

— Jeff Schudel (@jsproinsider) November 26, 2019
But the bravest act of community assistance came after he heard a fire destroyed the home of some Browns fans.
It happened just a short time after the unfortunate incident involving Mason Rudolph and a helmet.
But that didn't stop Garrett from driving deep into Steelers fan territory to offer assistance and support to the family.
Garrett supports many of his teammates' community initiatives as well.
For example, he attends and contributes to their events, including several hosted by fellow lineman Larry Ogunjobi.
Garrett Appreciative of Payton Award 
Myles Garrett is a popular figure among fans and teammates for lots of reasons.
And his statement upon hearing the announcement will only enhance that status.
"It is an honor to be named the Walter Payton Man of the Year for my team," said Garrett. "It is of incredible significance just to be honored and have that kind of recognition because Sweetness was a hell of a man and a hell of a football player. He has been recognized and gone down in history for his off of the field passions and what he did for people in his community and all across the world. I would like to keep that going. He is one of my favorite running backs, as well as players. To be in the same sentence as him and the same breath is an honor in itself."
Cleveland will present the award to Garrett before the Browns' Monday Night Football game against the Baltimore Ravens.
Fans can support Garrett for NFL Man of the Year by participating in Nationwide's sixth annual Charity Challenge.
RTs = votes!

Help @MylesLGarrett win the #WPMOY Challenge to receive $25,000 for charity!#WPMOYChallenge + Garrett pic.twitter.com/0fmzWLSUl7

— Cleveland Browns (@Browns) December 10, 2020
Browns-backers can vote for Garrett on Twitter by using #WPMOYChallengeGarrett.
The three players whose unique hashtags are used most from Dec. 10-Jan. 17 receive contributions to their charity.
Each Monday, Nationwide will ask fans to respond on Twitter with their favorite nominee.
One randomly selected fan each will win a $100 NFL Shop gift card and $2,500 for their favorite nominee's charity.
Hashtag information and official rules can be found at nfl.com/manoftheyear.