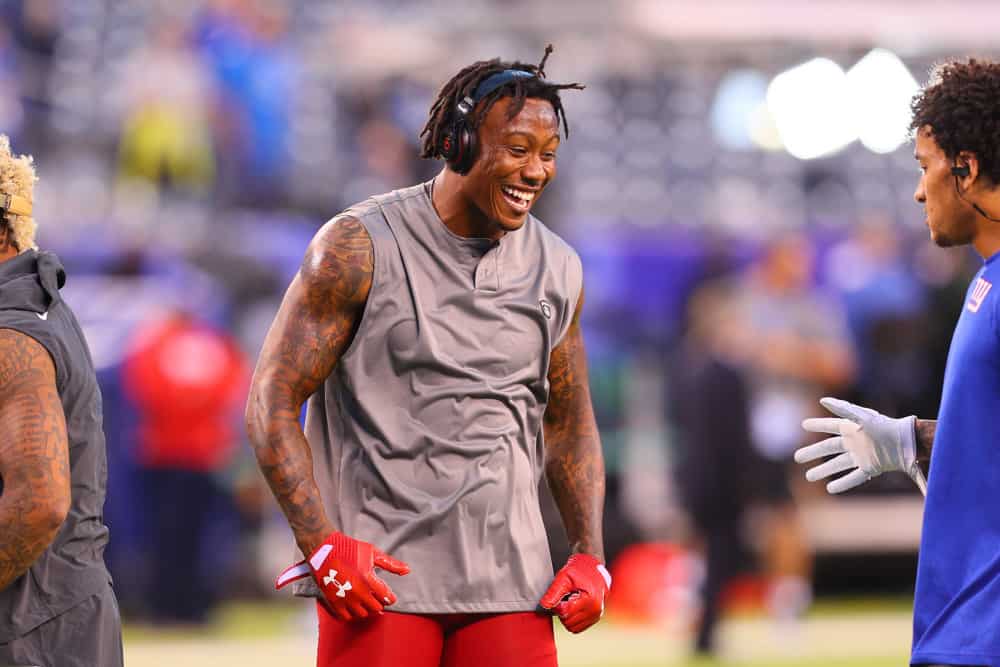 Baker Mayfield piled up accolades for his record-setting Week 13 performance against the Tennessee Titans.
But so far, it is not enough to win over former NFL wider receiver Brandon Marshall.
Highest single-game accuracy %:
🔸 Baker Mayfield vs. Titans – 89.7% pic.twitter.com/VXAdfMCbAB

— PFF (@PFF) December 9, 2020
Marshall sat down with former Cleveland Browns head coach, Hue Jackson, and a bevy of other formerly significant figures to assure us he still is not a Baker Mayfield fan.
To the panel of the I Am Athlete podcast, Marshall said,
"I don't know Baker. I never met Baker. I don't like his game, I wouldn't want to play with him. Until you prove it to me, don't be doing the talk… these players now, they make with the fame before the game.
Despite Mayfield's 4-touchdown dismantling of the Titans' well-regarded defense, Marshall can't move past his one critique of the Cleveland quarterback.
It's All About the Hardware
According to Marshall's logic, NFL players should not make commercial appearances until they win some professional recognition.
"You [are] the quarterback. You [are] the man, like, I give that to you. Cool. But right now, until you prove to me that you're a Pro Bowler, a real Pro Bowler, a real All-Pro player, win a Super Bowl or something like that… then I'm [going to] follow you." said Marshall.
Nevermind that Mayfield is a Heisman Trophy winner, or that he set the all-time NFL rookie record for touchdown passes and won the PFWA Rookie of the Year Award (although Saquon Barkley was the Pepsi ROY).
He needed to be a Pro Bowler or win a Super Bowl before he signed on to do commercials in Marshall's world.
Marshall, of course, never played in a playoff game, something Mayfield is likely to experience this season.
Your FedEx Air Player of the Week: @bakermayfield 👏

RT to congratulate Baker!

📰 » https://t.co/vc5SOTQNnX pic.twitter.com/c9LdbwbLBJ

— Cleveland Browns (@Browns) December 9, 2020
And while his 6 Pro Bowl awards are impressive, Marshall always had some unusual quarterback relationships.
Most notably was his open criticism of Jay Cutler during his time with the Chicago Bears.
That is the same Jay Cutler who once paid off Marshall's gambling debts for him.
Locker room relationships like that could explain why the talented wideout bounced around 6 teams in 13 years.
Marshall Started on Mayfield in November 
Brandon Marshall is a co-host of another podcast, First Things First, known for critiquing quarterbacks.
Hue Jackson might have invited Marshall to his own show after hearing him go off about Mayfield in early November.
That was when fellow FTF host, Nick Wright, defended Mayfield's play during the wind-affected game versus the Raiders.
Marshall angrily cut Wright off,
"I'm done arguing over an average quarterback. Why are we having this discussion? We're talking about Baker Mayfield. Like, why are we going back and forth? You're trying to defend Baker Mayfield."
This time, Marshall just laughed and reiterated his one standard for what makes a quarterback great.
"Nowadays, players put fame before the game," Marshall said. "I don't mind Patrick Mahomes doing a commercial for State Farm or whoever he does them for because he has won a Super Bowl. Baker Mayfield is 5-3. Let him win something on the field first and then do a commercial."
The way things are going for Mayfield and the 9-3 Cleveland Browns lately, Marshall might need a new anti-Mayfield argument next season.