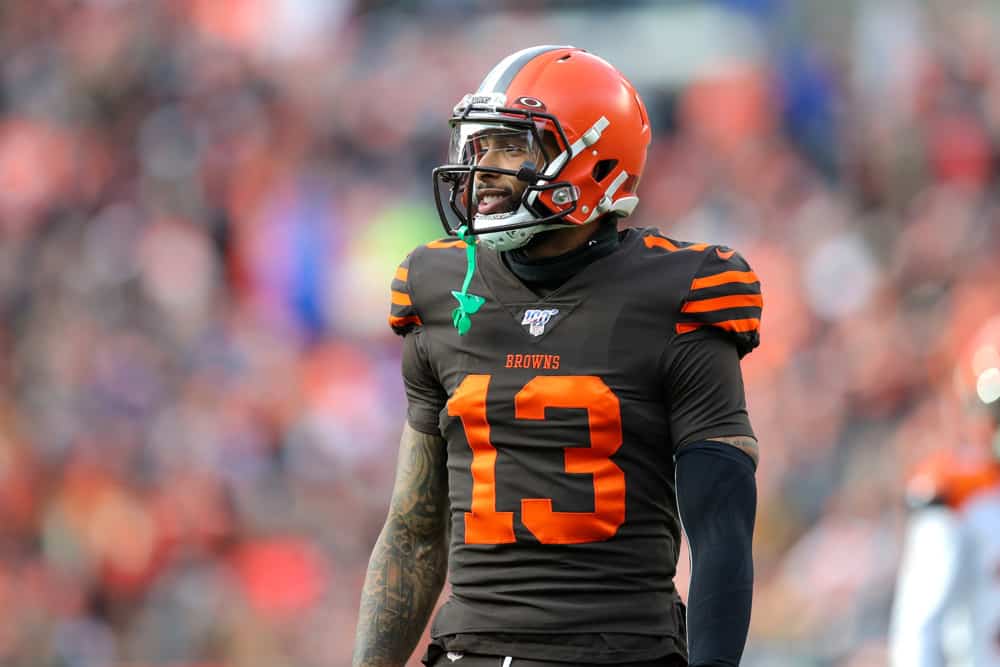 Obviously, wide receiver Odell Beckham Jr. didn't have the ideal first year in Cleveland.
He was acquired by the organization during a blockbuster trade with the New York Giants.
Sadly, Beckham was banged up from the start of training camp and never was able to get fully healthy.
He was able to put up fairly solid numbers despite his lingering injuries.
However, Beckham wants to make a statement in his second year with Cleveland.
He knows what he is capable of on the field and wants the ball in his hands more often in 2020.
Beckham Ready to Rebound
After the season, Beckham underwent surgery to repair his hip and groin issues.
It's unclear when he'll get back on the field, but is hopeful to be ready around August.
The superstar receiver posted a video on social media showing the progress he has made while rehabbing.
A little update on rehab post surgeryhttps://t.co/dyAVLt8kaL pic.twitter.com/soqCEOq0c7

— Odell Beckham Jr (@obj) May 4, 2020
"I would honestly say this is probably going to be one of my best seasons — bigger, stronger, faster,'' said Beckham.
The 27-year-old receiver believes that he can finally be fully healthy for the first time since breaking his ankle in 2017.
Now that he is healthy, Beckham wants to carry a heavier workload on offense, but we'll see if that actually happens.
More Targets for Beckham?
Beckham recently had a conversation with Mary Kay Cabot and mentioned he wants the ball in his hands more often this upcoming season.
"I want the same opportunities that all of these other receivers have in the league when they're getting 2,000 targets, ending up with 150 catches," said Beckham.
He continued saying that he wants to be put in a position where he can succeed and that football is much more of a team sport than basketball.
Beckham is not afraid to speak his mind and he wears his emotions on his sleeve.
He wants the same thing as every other receiver in the league, the ball in his hands.
However, it might not be that simple especially with everything that has happened to the Browns over the offseason.
Changes in Cleveland
New head coach Kevin Stefanski will be using a zone-blocking scheme in Cleveland next season.
A scheme that heavily utilizes play action, running, and often times two tight end sets.
Stefanski is a run-first guy, which could be a good thing with Nick Chubb and Kareem Hunt in the backfield.
However, it'll likely be a bad thing for Beckham's targets in 2020.
Last season under Stefanski both Stefon Diggs and Adam Thielen saw less targets than the year prior.
Minnesota Vikings quarterback Kirk Cousins fell under 4,000 passing yards for the first time since 2015.
These changes should be good for the Browns, but Beckham is most likely not going to be targeted as much as he originally hoped.
Beckham also needs to realize that he is not the only weapon on the Browns offense.
The Browns have Pro Bowl talent in Jarvis Landry and Austin Hooper who are going to see the ball in their hands quite frequently.
Last season, Beckham saw 133 targets, but that was without Hooper on the roster and before the new offensive scheme.
It's highly unlikely that Beckham surpasses that number in 2020, but as long as the team is winning Beckham shouldn't care too much.