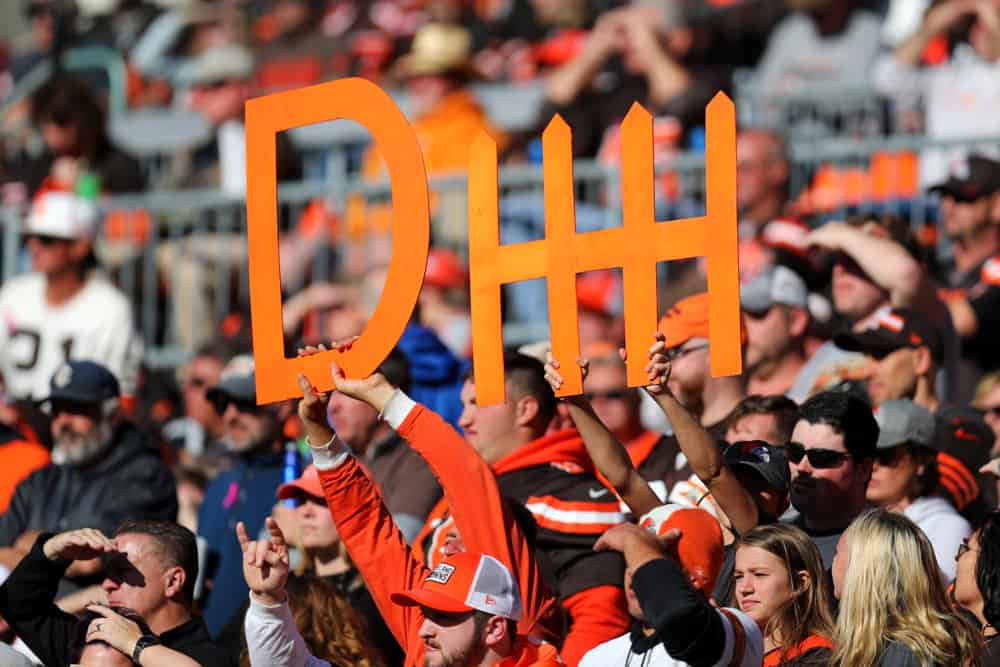 After weeks of endless rumors regarding a new defensive coordinator this past winter, the Cleveland Browns finally nabbed their guy in Joe Woods.
He comes to Cleveland off a very successful season with the 49ers as their defensive backs coach and passing game coordinator.
The Browns defense was not terrible in 2019, but it wasn't great either.
The team finished 20th overall defensively per Pro Football Reference.
Steve Wilks ultimately had to go along side Freddie Kitchens.
The question now becomes, what can we expect to see from Joe Woods?

1. He'll Use a 4-3 System
Woods has been involved in both 3-4 and 4-3 systems throughout his coaching career.
However, the new DC announced during his introductory news conference in February that he would be sticking with a 4-3.
"I think you want to make sure that you're putting the guys that you have in the right position to make plays. I know the personnel here is tailored toward a 4-3 scheme, which I'm very comfortable with. We'll stay with the 4-3 system here and focus on putting the guys in the right positions to make plays."
With the meat and potatoes of the defensive talent residing within that front four, keeping a 4-3 makes sense.
Myles Garrett and Olivier Vernon will once again man the end positions while Larry Ogunjobi and Sheldon Richardson will return on the interior.
This group is expected to take a step forward this season, and Woods should be able to help them do just that.
With Joe Schobert gone as the leader of the linebacker unit, young guys will need to step up.
Second-year guys Mack Wilson and Sione Takitaki should be locks as starters.
Ourlads.com lists rookie Jacob Phillips as the third starter.
Barring any surprises before the season, that should be who gets the nod.

2. He'll Bring a Winning Culture
As cliché as it can sound, it is important to have people on the staff who know how to win.
Whether they have been a part of a winning culture or just an overall great leader, this kind of personnel is essential.
Woods brings that winning attitude and background to Cleveland with him.
He helped lead the Broncos to a Super Bowl title in 2015 as a defensive backs coach.
Woods was also just one good quarter of football away from another ring last year with San Francisco.
In addition, he captured multiple division titles with the Vikings as well as appearing in an NFC Championship game.
Woods has also worked with some of the better football minds in the league during that time, including Mike Tomlin, Brad Childress, and his own head coach, Kevin Stefanski.
"I saw him from when he started out as an assistant to the head coach to where he is today."

New DC Joe Woods reminisces on his early coaching years with HC Kevin Stefanski pic.twitter.com/nbK0eWEHca

— Cleveland Browns (@Browns) February 19, 2020
It's no secret the Browns have a reputation of being a franchise where some guys can just go collect paychecks.
Even with the right talent, that kind of culture takes a lot of effort to change.
That all starts with a refusal to lose, and that's the mindset Woods brings with him.

3. The Secondary Will Improve
Realistically, improvements are expected to be made across the board.
The shortcomings of last season have been discussed in great length.
Many of the issues that plagued last year's team appear to be resolved.
One group that can really shine under Woods, however, are the defensive backs.
Last season, the 49ers defense gave up the least amount of passing yards and fewest net yards per attempt in the NFL.
Yes, Nick Bosa and the rest of their front seven provided a consistent pass rush all season.
However, that secondary did more than hold their own.
They were a dominant unit all season long and were physical with opposing receivers.
The Browns have plenty of athleticism in their own secondary.
Denzel Ward has progressed well and looks to take another step forward heading into his third season.
Excellent work here from Denzel Ward taking on the Guard+Fullback in the p/p scheme. Splits them, works through the hold, and gets Gore down before he's in the EZ.

This is the stuff that takes him to another level in 2020. pic.twitter.com/HjwzTt0KRc

— OBR Film Breakdown (@TheOBRFilmBDN) July 1, 2020
Opposite of Ward will be Greedy Williams. Williams struggled throughout his rookie season, but the physical attributes are still noteworthy.
He's under heavy pressure to be more consistent this season though.
His PFF grade at the end of last season was a pedestrian 54.6.
In addition to the issues in coverage, Williams was a bit lazy with his tackling.
Plenty of work to do this season for him.
As for rookie Grant Delpit, he'll be thrown right into that starting defensive unit next to Karl Joseph.
Similar to Williams, expectations are high for defensive backs out of LSU.
He'll have plenty of chances to prove himself early.
Overall, it's hard to find reasons why this defense cannot improve under Woods.
His inexperience as the signal-caller for the defense may rear it's head now and again.
But the ceiling is much higher for this defense under Woods than it was under Wilks.