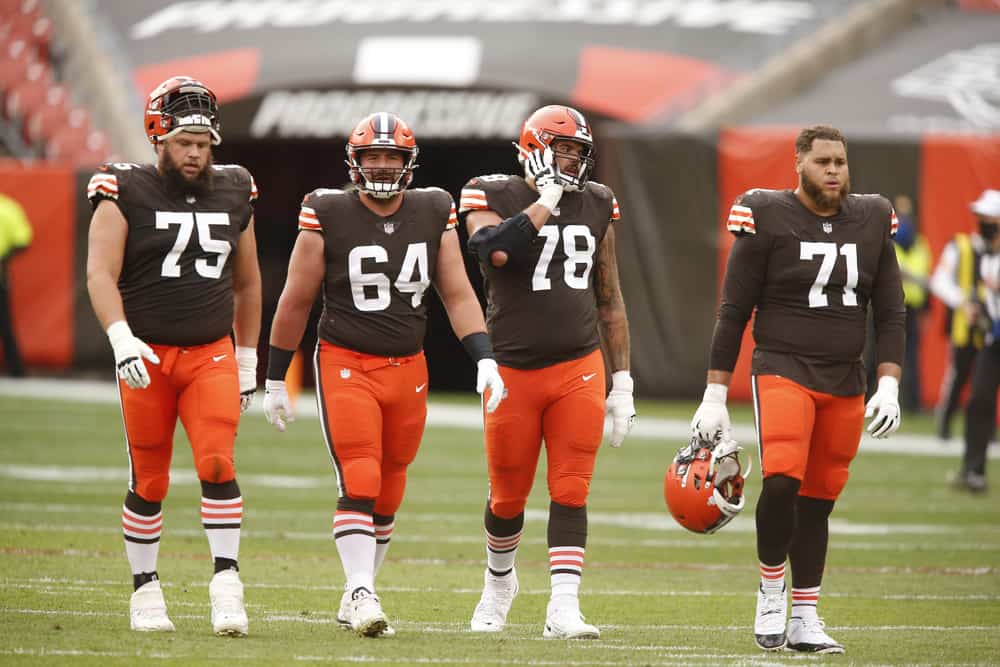 Cleveland's offense ran behind the best set of linemen in the NFL last season.
Even when injuries and Covid struck, Baker Mayfield remained upright and Nick Chubb found holes.
PFF reported the Cleveland Browns registered the best run-blocking and pass-protecting scores for the season.
1. Cleveland Browns
2. Green Bay Packers
7. Indianapolis Colts @PFF_Linsey's final 2020 NFL offensive line rankings ⬇️

— PFF (@PFF) January 6, 2021
It was the first time any team accomplished the feat during PFF's existence.
All five starters are projected to retain their roles in 2021.
And it makes sense that we would see those starters listed among the top-ranked PFF players.
In fact, it might surprise Browns fans to see one name missing.
The Cleveland Browns' new and improved offensive line🔥 pic.twitter.com/6qmwn3s8Yu

— PFF College (@PFF_College) April 29, 2020
Jedrick Wills performed well as a rookie but failed to make the cut for PFF's 2021 best tackles list.
This reflects how extended consistency plays a role in PFF's rankings as much as Wills' skills.
But there is a rookie on PFF's list, which should raise some questions from Wills fans.
Here is how the rest of the offensive line fared.
J.C. Tretter- 4th-Ranked Center 
According to PFF's Ben Linsey, few players can match JC Tretter's pass protection dominance.
And Linsey isn't just talking about Tretter's performance this season.
The PFF author says there are few payers with career NFL marks like Tretter.
I'll take no JC Tretter slander. Thank you #Browns pic.twitter.com/6fUE4pLi2g

— CleWest (@erjmanlasvegas) May 25, 2021
Including his years as a part-timer in Green Bay, Tretter has never had a pass-blocking score below 80.
And under Bill Callahan, Tretter earned the highest run-blocking grade (76.5) of his career in 2020.
It all tallied up to the second-best overall center rating in the NFL this year.
Which begs the question, why wasn't Tretter ranked higher in PFF's list?
Joel Bitonio- 4th-Ranked Guard 
Turns out Tretter isn't the only great pass blocker on the Browns' offensive line.
In fact, PFF's Sam Monson says,
"You can make a good case that Browns guard Joel Bitonio is the best pass-blocking guard in football."
Bitonio not only matches Tretter's 80+ PFF pass-ranking blocking ranking across his career.
Quenton Nelson: the best interior lineman in the NFL 👑 pic.twitter.com/mqDph53mWB

— PFF (@PFF) May 24, 2021
He hasn't fallen below 85 since the 2017 season.
Way back in Week 1 of the 2020 season, Bitonio allowed a Raven to sack Baker Mayfield.
No rusher got a hand on Bitonio's quarterback since then.
Wyatt Teller- 9th-Ranked Guard 
Browns fans might be surprised Teller is not ranked as high as Bitonio.
With so many crushing blocks and downright obliteration of defenders, how could he not be?
But as Monson points out, this season was quite a jump for Teller.
Wyatt Teller getting his money's worth on his pull pic.twitter.com/27FCQTpe6J

— Nate Tice (@Nate_Tice) May 24, 2021
He finished with one of the all-time high run-blocking grades from PFF (93.6).
And while he wasn't much of a liability in pass protection, he was a step or two behind his run performance.
Three sacks allowed on the season is not the end of the world.
But if Teller can improve his pass blocking skills to his run blocking level, he'll be the top guard by next year.
Jack Conklin- 12th-Ranked Tackle 
Jack Conklin was the most sought-after tackle in the 2020 NFL Free Agency period.
And it might surprise Browns fans that Conklin never landed a top-10 PFF score before his Pro Bowl 2020 season.
But PFF's Anthony Treash still listed Conklin as "only" the 12th best NFL tackle heading into 2021.
#Browns Kevin Stefanski on Myles Garrett and Jack Conklin making first-team All-Pro pic.twitter.com/BwajNZM4j0

— Mary Kay Cabot (@MaryKayCabot) January 8, 2021
Conklin blew open holes for Nick Chubb and Kareem Hunt in every type of designed run play.
He posted his best pass-blocking performance grade under Bill Callahan, too.
In fact, Conklin finished among the top 15 in each category (run-block and pass-protection).
And his 84.0 overall PFF score pushed him into the top ten PFF performance scores for tackles on the season.
What It All Means and Where's Jedrick? 
PFF uses a complicated and labor-intensive evaluation system to assess each player's performance.
Focusing on the player, they use a 4-point scale centered at "0" for expected results.
Less than expected means negative points and better than expected scores positive points equated to a 100 scale.
Jedrick Wills with a pancake block to clear a path for Nick Chubb #Browns pic.twitter.com/DURzjSSUUL

— MoreForYouCleveland (@MoreForYou_CLE) September 28, 2020
The results of the play are not taken into consideration so as not to penalize or artificially inflate a player's ranking.
Just like his teammate's scores do not reflect the level of the Browns' skill players, Jedrick Wills' score is on him.
The rookie left tackle played well over the course of the season, and mostly played to his draft level.
But 11 penalties and 4 sacks allowed mean he'll wait for another chance to crack PFF's top players' list.