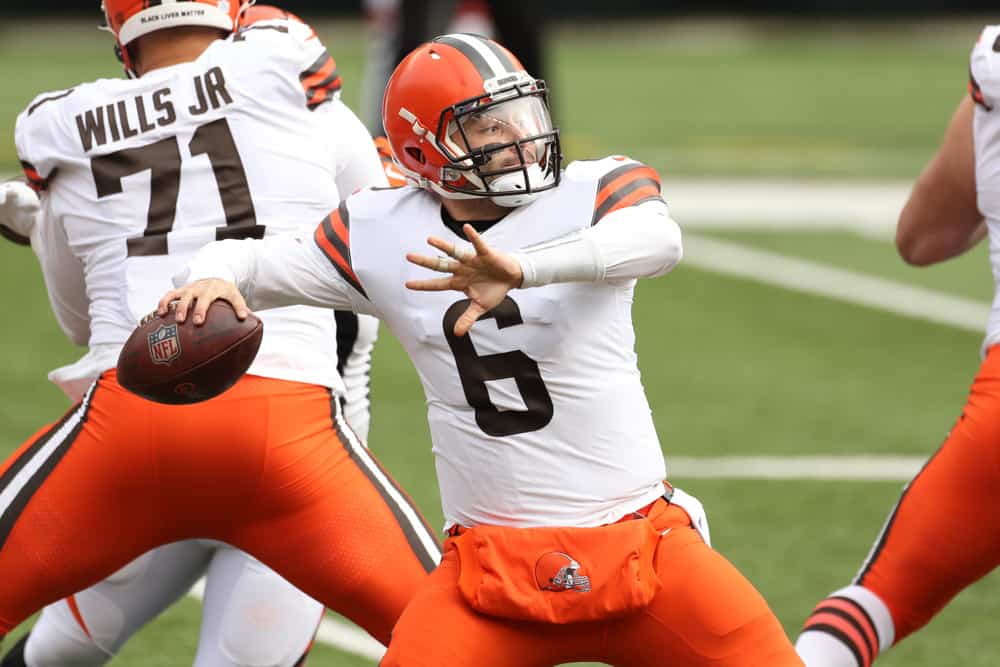 "Chicks dig the long ball" as the old saying goes in baseball.
They also love the "deep ball" in football, something Cleveland Browns quarterback Baker Mayfield excelled in throughout 2020.
The NFL, through NFL Next Gen Stats, released a top-ten list of deep-pass throwers last season.
Though Mayfield did not top the list, he did land at sixth, the highest of any AFC North quarterback.
Being able to take the top off an opposing defense is valuable for any offense in the NFL.
With Baker under center, Cleveland should be able to do that again in 2021.

Nothing New
This same top-ten list was created after the 2019 season as well when Baker appeared in the tenth and final spot.
That was during a rough year for both himself and the team, so it's not surprising to see him move up this year.
Even as a rookie, Mayfield's ability to chuck it while maintaining accuracy was well-documented.
In a rookie season for the ages – Baker Mayfield threw the 6th-most deep pass touchdowns last year pic.twitter.com/w9RjQI5dTE

— PFF Fantasy Football (@PFF_Fantasy) April 23, 2019
Throwing the football was done at nauseam within the Sooner's Air Raid offense while Mayfield was under center in college.
If you've ever sat down on a Saturday afternoon and watched a Big 12 football game, you know how high scoring those affairs can be.
With Baker a part of many shootouts as a Sooner, launching a deep ball should practically be second nature at this point.

Why Is This a Big Deal?
Even on a wide-open seam throw like this one, the accurate toss needs to be made.
Cleveland needs to throw the ball to beat Baltimore. The Ravens rank 27th against the pass and have allowed 723 yards passing the past two weeks. Expect Baker Mayfield to rip it deep Sunday, like this.

Story: https://t.co/F5PFjm8BeP pic.twitter.com/Mic3sXuW3X

— Ellis L. Williams (@BookofEllis) September 27, 2019
Jimmy Garoppolo essentially lost his team in the Super Bowl two years ago by overthrowing Emmanuel Sanders late in the ballgame on what should have been an easy throw.
Frankly, his career arc has turned south ever since that miss.
Rookie Trey Lance will be looking to steal his starting spot this summer, and the support of the fan base is behind Lance.
This breakdown from Matt Bowen of ESPN shows exactly how Mayfield's accuracy meshes within the Browns offense.
From today's @NFLMatchup Show…

We looked at the play-action pass game in the CLE offense — on a deep ball throw for QB Baker Mayfield.

• "Shot Zone" situation
• 1st down play-action
• Boot Flood + the DBL move
• OBJ's route running traits #Browns pic.twitter.com/DReC3Dbvek

— Matt Bowen (@MattBowen41) October 10, 2020
With a great offensive line and two dominant running backs in Nick Chubb and Kareem Hunt, Cleveland will do the bulk of their damage on the ground.
As any middle school football coach will tell you, though, that brings the defense up.
Eventually, defensive coordinators get tired of being run on all game and scoot the safeties up, load more in the box, etc.
That's when having a quarterback who can chuck it downfield becomes invaluable.
Baker Mayfield was accurate on 29 of 52 deep passes (55.8%) last season.

1st out of 31 quarterbacks. pic.twitter.com/ZL7HR4huUn

— QB Data Mine (@QBDataMine) March 21, 2021
Play-Action
Utilizing more play-action within the offense has done wonders for Mayfield, per Next Gen Stats.
"Mayfield racked up 426 deep passing yards on play-action passes, tying for second-most in the league. His 12 deep completions off play-action were the third-most in the league, driving home what we all observed in 2020: The Browns are at their best when they use a run-first foundation and catch the defense napping when going to the air."
Again, the ground attack keeps defenses honest.
Chubb and Hunt wear even the best defensive fronts down over the course of a game.
That's helped open things up downfield for Mayfield, who delivered accurate strikes throughout 2020.
Time will tell if he can replicate that in 2021.
With Odell Beckham Jr. back in the mix, I like his chances.