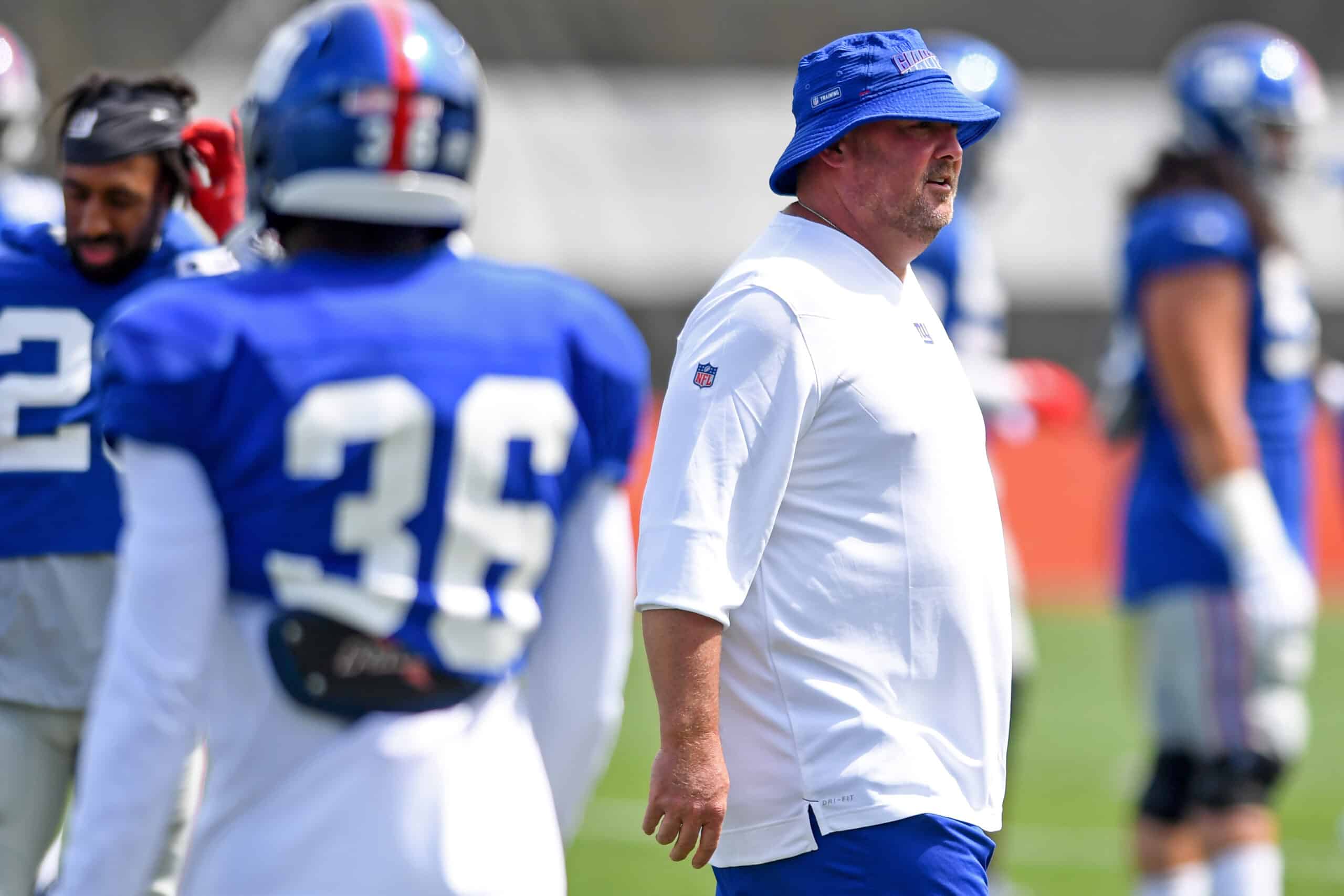 Freddie Kitchens might never be very popular among Cleveland Browns fans.
But judging from the reception he received in Berea this week, his former players have a more favorable relationship.
Myles Garrett was among the first Browns player to greet his former head coach.
The man of the hour. Freddie Kitchens is back in Berea. pic.twitter.com/9cDDv0NFKW

— Hayden Grove (@H_Grove) August 19, 2021
He briefly put an arm around Kitchens and chatted him up for a couple of minutes.
Kitchens head coaching prowess might not have impressed many.
But Garrett certainly remembers his support after the ugly helmet incident in Pittsburgh.
Kitchens actually wore a "Pittsburgh started it" tee-shirt before the Steelers rematch that season.
Happy Freddie Kitchens week. #Browns pic.twitter.com/IJyq4x4Ptb

— Brad Stainbrook (@BrownsByBrad) December 15, 2020
That season was 2019, a year that now seems like a speedbump in the Browns resurgence.
Kitchens never seemed to have a handle on the team as they struggled to a 6-10 record.
But for the players, there is more to the coaching relationship than on the field results.
Nick Chubb Calls Kitchens "My Guy"
Nick Chubb carries a reputation as a focused player and soft-spoken leader.
But he was open to talking about his relationship with Kitchens.
"That's my guy!" said Chubb before explaining how Kitchen's daily mantra stuck with him.

"Every day I stepped on the field he said, 'Make today your best day,'" Chubb said. "That stuck with me forever. Every time I go on the field, I think about that. I've got to get better today and nothing else matters."
Kevin Stefanski might be a better head coach.
Nick Chubb said he's "excited" to see Freddie Kitchens at today's Giants joint practice. More from Chubb on Freddie: pic.twitter.com/VWwnSJIQIB

— Jake Trotter (@Jake_Trotter) August 19, 2021
But if Kitchens is the inspiration behind Chubb's NFL career, he deserves more credit than he gets from fans.
Other players, including Sheldrick Redwine and Greedy Williams were reportedly among those who spoke to Kitchens.
Kitchens Appeared Comfortable in Cleveland 
By all accounts, Freddie Kitchens is the same affable guy he was before his Browns experience.
He spoke to everybody he made eye contact with in his typically jovial mode.
Kitchens even had a conversation that ended in a handshake with Browns EVP and part owner, J.W. Johnson.
On the field, he interacted with his new Giants charges with enthusiasm and encouragement.
Former #Browns coach Freddie Kitchens and current Giants Sr. Offensive Assistant watching offense (white shirt/blue bucket hat) pic.twitter.com/cxiGayvNoy

— Orange and Brown Rpt (@TheOBR) August 19, 2021
And he has the respect of the New York players, if Evan Engram's assessment is correct:
As reported by Marla Ridenour of the Akron Beacon Journal:
"Freddie's a real smart coach," per Engram. "His input on a lot of stuff helps us. He's been around ball a long time, he's been in every position room so he knows a lot."
Kitchens was hired by the Giants as a tight ends coach after being fired by the Browns.
In an ironic twist, he called plays against Cleveland when offensive coordinator Jason Garrett was on the Covid list.
Kitchens is a Valued Coach in New York 
Freddie Kitchens was not ready to run a team when John Dorsey named him head coach in 2019.
And his reputation could have taken a big hit for the chaos that was evident even to those outside the team.
But Joe Judge promoted Kitchens to a senior offensive assistant after just one season as a position coach.
His new position allows Kitchens to work with all the position groups.
Have to hand it to Freddie Kitchens.

He called his best game ever for the Browns! pic.twitter.com/bn3ST1FXHx

— Cleveland Sports Talk (@CLEsportsTalk) December 21, 2020
But his focus is on coordinating the offensive line and tight end blocking with the Giants game plan.
Judge fired the Giants offensive line coach mid-season in 2020 and hired a new coach this year.
Jason Garrett is reportedly on the hot seat, and Kitchens' elevated role makes him the next man up as coordinator.
But regardless of how that works out, Kitchens probably won't be the Giants head coach in 2022.