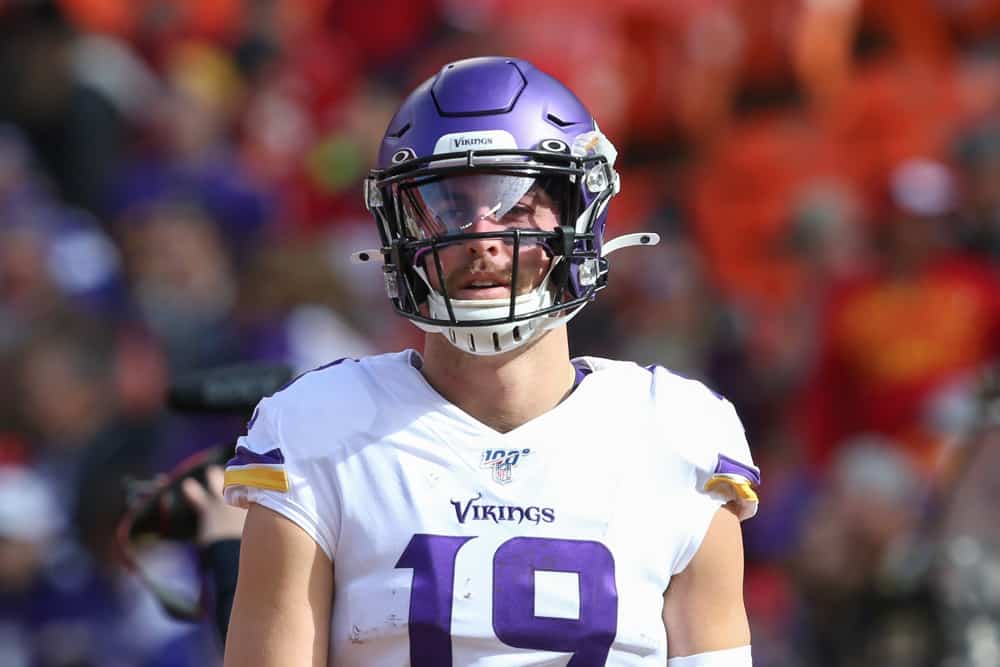 Well, the Cleveland Browns were able to pull away with the victory over the Cincinnati Bengals in Week 7.
It wasn't easy, but Cleveland was able to rally together and improve their record to 5-2 on the year.
Sadly, it isn't all good news for Cleveland heading into next week.
Superstar wide receiver Odell Beckham Jr. is done for the season after tearing his ACL.
Browns' WR Odell Beckham Jr texted @JosinaAnderson that he tore his ACL and his season is over.

— Adam Schefter (@AdamSchefter) October 26, 2020
The Browns biggest nightmare has become a reality after Beckham exited early during the matchup on Sunday.
Now, the Cleveland front office must quickly scramble to put something together before it's too late.
It could be time to give the Minnesota Vikings a call and see about the availability of Adam Thielen.
The Vikings Fire Sale
Saying things have gone poorly for the Vikings is an understatement.
They currently head into Week 8 with a 1-5 record on the year.
Minnesota desperately needs to open up cap space in order to rebuild their roster.
That means, they could have some big name players available for trade soon.
The Vikings are already beginning to ship out some of their players.
Vikings and Ravens finalizing a trade to send DE Yannick Ngakoue to Baltimore for a 2021 third-round pick and a 2022 conditional fifth-round pick, sources tell ESPN.

Vikings initially sent 2021 second-round pick and 2022 conditional fifth-round pick to Jags. Now get most back.

— Adam Schefter (@AdamSchefter) October 22, 2020
The biggest remaining asset on their roster is the two-time Pro Bowl receiver Adam Thielen.
Cleveland is obviously in the market for a star receiver after the OBJ injury.
Thielen is familiar with Browns head coach Kevin Stefanski since he was the offensive coordinator for Minnesota last season.
This deal seems like something that could realistically happen after the devastating injury to Beckham on Sunday.
Thielen to Cleveland?
As of right now, Rashard Higgins has been promoted to the No. 2 receiver in Cleveland.
He has shown promise in the past, but he doesn't have the skillset to be the second option on a contending team.
The Browns desperately need to bring in a player like Thielen to help this offense after the loss of OBJ.
Highest-graded in red zone (offense):
1. Russell Wilson – 95.5
2. Ryan Tannehill – 94.4
3. Adam Thielen – 93.4
4. Dalvin Cook – 92.6 pic.twitter.com/mwEfPN57bO

— PFF (@PFF) October 21, 2020
This season, Thielen has 32 receptions, 415 yards, and seven touchdowns through six games.
The 30-year-old receiver has been a productive player over the last five seasons.
Cleveland has the cap space for Thielen and plenty of draft picks to offer up for him.
This is the first time the Browns have been competitive in a long time.
It would be a shame to miss out on the playoffs because of injuries.
The Cleveland front office have enough assets in order to get a blockbuster trade done.
Thielen is familiar with Stefanski and his offensive play style, so he'd be an ideal fit for the Browns.
The Vikings desperately need to save some cap space and get draft capital.
Browns fans shouldn't be surprised if Thielen is wearing a Browns uniform by the end of the season.