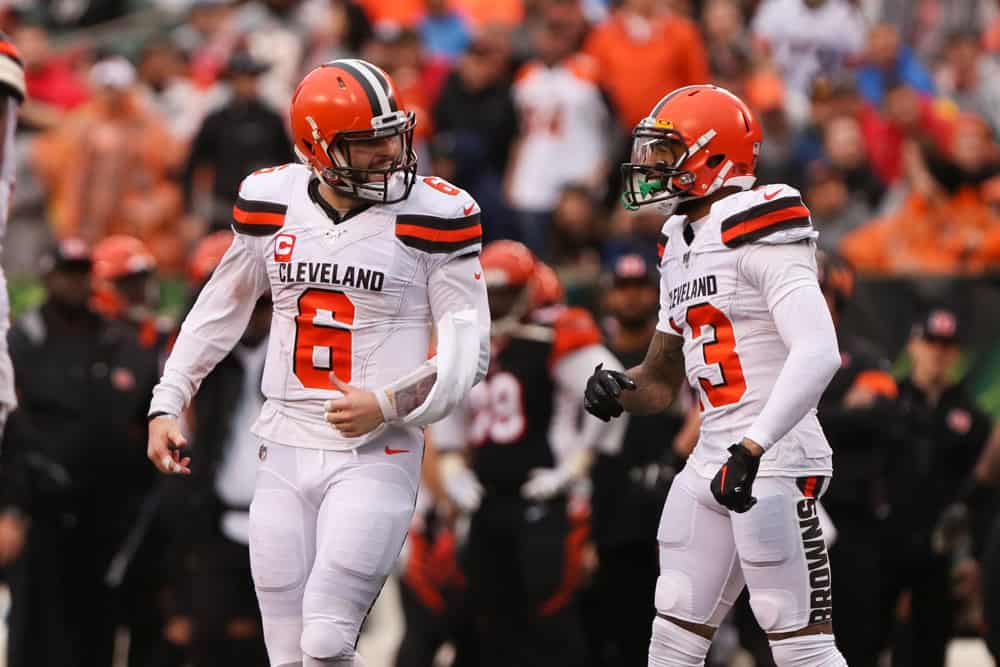 The Cleveland Browns scored a huge victory on Sunday over the Cincinnati Bengals.
With a final score of 37-34, Mayfield and company had to do it without OBJ who suffered a knee injury in the 1st quarter.
Because Baker was practically perfect for the remainder of the game and was far from it prior to OBJ's injury, it begs the question.
Is Baker better without OBJ?
PREDICTION: Instead of giving Baker credit for what he did, some shows will nearly instantly turn the discussion to:

"Did this game prove the Browns don't need OBJ/that OBJ is the problem in Cleveland?"

Bet on that. https://t.co/hmc5bHn2Yc

— nick wright (@getnickwright) October 25, 2020
Instead of drawing a conclusion, let's take a look at both sides of the argument because each has valid points.
And note that the 2019 season is not even entering this conversation.
That team was a mess, largely due to Freddie Kitchens.
Plus OBJ was injured part of the season.
So this discussion is focused on 2020 only.
Yes – Baker is better without OBJ.
1. Stats Don't Lie.
21 consecutive passes.@bakermayfield has set a new Browns record! pic.twitter.com/6yowGfyn5k

— Cleveland Browns (@Browns) October 25, 2020
The stats of the Cincinnati game show it.
He spread the ball around to his young receivers.
Hollywood Higgins is finally getting a chance to shine.
Rookie Donovan Peoples-Jones looked great too.
2. The Pressure Is Off.
Baker knows OBJ wants the ball.
When he is not in the lineup, Baker is relieved of the pressure to force the ball to him.
Baker probably feels pressured to get him the ball to keep him happy. Nothing to back this up but it's clear rookie year and today without OBJ on the field he's a different player.

— Tyler Johnson (@T_johnson_TJ) October 25, 2020
3. Have Baker and OBJ Ever Really Clicked?
There have been momentary glimpses and plays of greatness, but the consistency hasn't been there.
Dropped passes, miscommunication, overthrows, and interceptions have been part of their story too.
The Odell/Baker situation is one where they are both to blame. OBJ doesn't run the right routes and doesn't catch stuff that hits him right in the hands. Baker on the other hand misses OBJ when he's open and sometimes forgets he's out there.

— Nick Fink (@finkn23) September 15, 2020
No – Baker Is Not Better Without OBJ
1. OBJ is one of the best athletes on the field.
That athleticism cannot be replaced.
OBJ is capable of big game-winning plays and his signature one-handed catch at any point in the game.
And he draws a lot of attention, i.e. coverage from the opposing team's defense.
So in a way, his presence on the field can improve the performance of his fellow receivers.
2. OBJ is a deep threat.
This season, with the exception of the opening game against Baltimore, OBJ has averaged double-digit yards per reception. ranging from 11.6 to 18.5.
Even Jarvis Landry has not accomplished that.
Landry has had 3 games where his yards per reception were under 10 yards.
A legitimate deep threat opens up the field for the QB.
It was just three weeks ago he put the team on his back against Dallas. He caught a long TD vs. Cincy in Week 2. Baker hadn't played well since the first half of the Colts game until today. Seems unfair to blame that on OBJ.

— Ben Axelrod (@BenAxelrod) October 26, 2020
3. He is a proven talent.
Sadly, if he is out for a prolonged time with this knee injury, OBJ leaves behind a banged-up Jarvis Landry who has broken ribs.
And of course, Nick Chubb is not back yet.
Kareem Hunt is performing well while playing through a groin injury.
Austin Hooper is recovering from an appendectomy.
So who are the proven offensive superstars that will need to lead this team through the second half?
There aren't any.
Opposing defenses will be preparing for Hollywood Higgins, Donovan Peoples-Jones, and Harrison Bryant.
Two of those three players are rookies.
And while they played great this week, can they sustain that level of play for the weeks ahead?
That's the question.
Unfortunately, with OBJ's season-ending injury, the Cleveland Browns and its fans will find out.