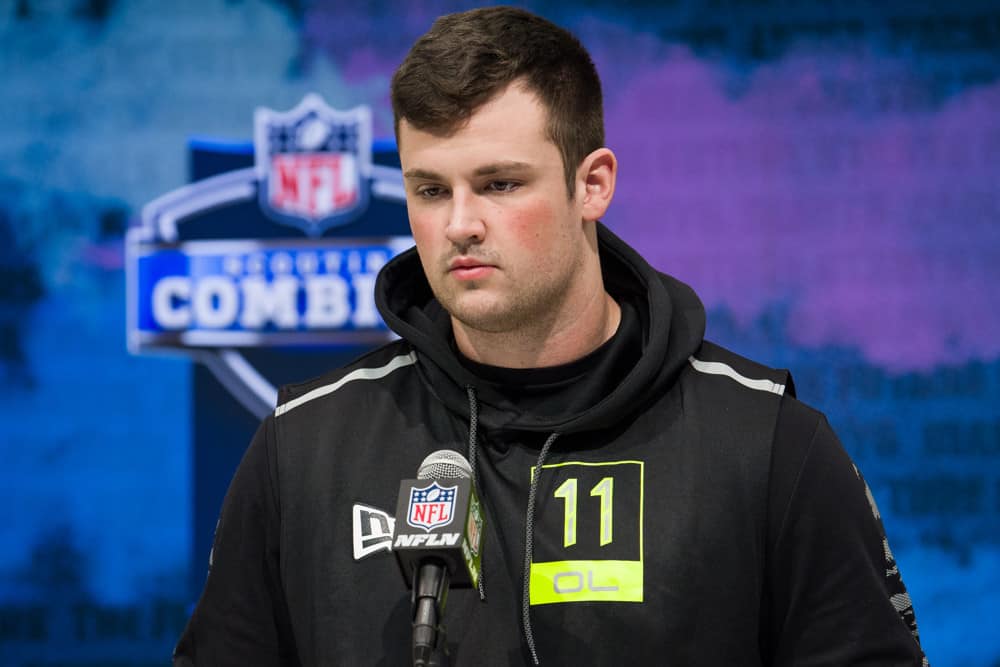 Ezra Cleveland needs to be a name Cleveland Browns fans get used to and it's not just because of his last name.
The offensive tackle out of Boise State is a candidate for the Cleveland Browns come this April.
Cleveland has had a combine formal, private workout, and private visit with the Browns.
#BoiseState OT Ezra Cleveland had an elite combine and the interest is heavy.

Combine formals: #Browns, #Colts, #Falcons, #Packers, #Eagles & #Lions.

Private workouts: #Cardinals, #Saints, #Browns, #Colts, #Buccaneers, #Falcons.

Private visits: #Raiders, #Browns, #Steelers.

— Justin M (@JustinM_NFL) March 11, 2020
Who Is Ezra Cleveland?
Cleveland is 6-foot-6 and 310 pounds out of Boise State, who plays in the Mountain West Conference.
At Boise State, Cleveland redshirted his freshman season in 2016.
In 2017, Cleveland started 14 games, and named All-Mountain West Honorable Mention.
He was an integral part of the line that led Boise State to the Mountain West's No.2 scoring offense.
That season, running back Alexander Mattison rushed for 1,086 yards.
Cleveland was named All-Mountain West First Team his sophomore and junior campaign.
In 2018, he protected Mountain West Player of the Year Brett Rypien as the Broncos finished 18th in the country for yards per game.
In 2019, Cleveland helped open holes for George Holani, who extended the program's streak of 1,000-yard rushers to 12 seasons.
According to The Draft Network, Cleveland's best trait is his flexibility, but his worst trait are his fundamentals.
Experts say that Cleveland needs more strength to be an effective lineman in the league.
For a full analysis of his combine stats, look down below:
Ezra Cleveland against Jack Conklin #RAS courtesy of @MathBomb pic.twitter.com/l6aZKPFriM

— Jay (@JASONOEF10) March 6, 2020
Cleveland's Fit In Cleveland
According to Pete Smith of Sports Illustrated, Cleveland is an ideal prospect to fit the Browns.
Smith writes that Cleveland is a "prototypical zone tackle," among other components related to his game.
"He has ideal length and movement skills for the position. Though he never played tight end, he looks the part of someone who was a tight end and then bulked up into a tackle. There are areas he can improve in the NFL, but so much of Cleveland ultimately comes down to how badly he wants to be great. If he does, he can be a franchise tackle. If not, he could be a solid but unspectacular player that always leaves people wanting more."
A Running Backs' Best Friend
Boise State has gone 12 straight seasons with a running back over 1,000 yards for a reason.
Members of the offensive line prove to be one of those key reasons.
With the Browns boasting the NFL's second-best rusher (Nick Chubb) in the league in 2019, bringing another blocker could be integral to more success.
While in college, Cleveland was used to creating holes for his teammates.
I came out really impressed with Boise State OT Ezra Cleveland (#76). I believe he is going to be a Combine winner and garner top-50 consideration.

Look at the man get out in space and demolish the defensive back. pic.twitter.com/G9eOgu5pGA

— Gavino Borquez (@GavinoBorquez) February 5, 2020