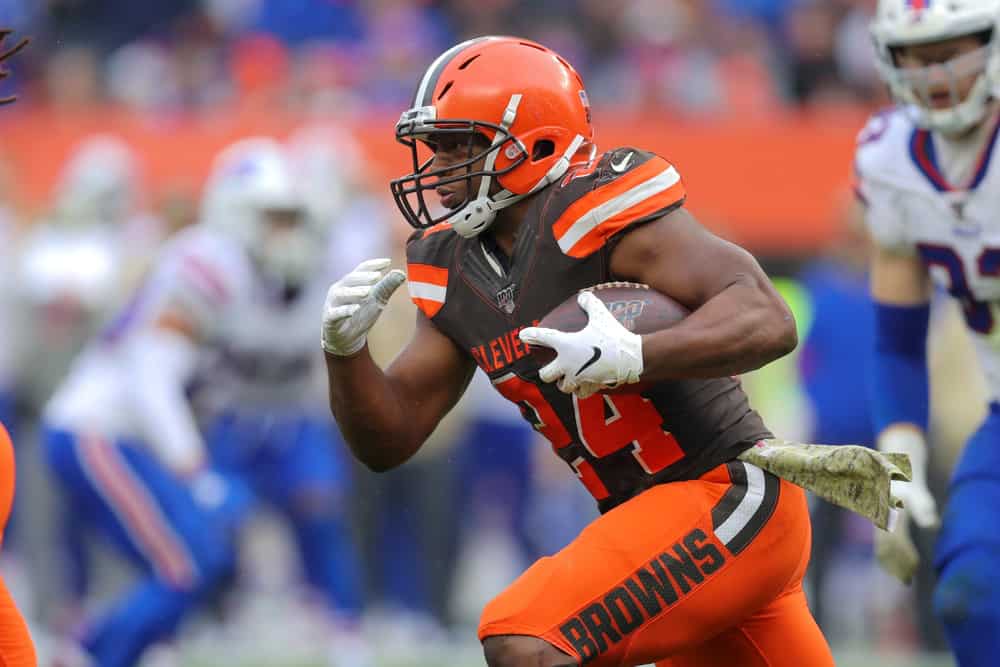 When the Browns' Nick Chubb emerged from last week's game leading the league in rushing yards, it looked like Cleveland would see its first rushing title since 1968.
After being held to 45 yards by the Ravens, Chubb still owned a 92-yard lead on Christian McCaffrey heading into the final week.
Nick Chubb enters Week 17 leading NFL in rushing with 1,453 yards; would be #Browns' 1st rushing champion in 51 years when Leroy Kelly ran for 1,239 in 1968. Chubb is 75 yards shy of climbing into the top-3 all-time rushing seasons in franchise history & 92 yards from No. 2

— Daryl Ruiter (@RuiterWrongFAN) December 29, 2019
Cincinnati's generous rushing defense was on tap for Chubb.
They were sure to make Chubb's drive to the title that much easier.
Sure enough, the crowd in Cincinnati was treated to an excellent display of rushing.
But that wasn't Chubb going off for 162 rushing yards and 2 touchdowns.
It was Joe Mixon capturing his second consecutive 1,000-yard season that wowed the Bengals' fans.
Chubb was held to 41 yards on a season-low 13 carries.
That left him just shy of the magical 1500-yard benchmark with 1494 rushing yards.
When word came that McCaffrey was shut down by the New Orleans Saints offense, it still looked like Chubb's rushing title was secured.
McCaffrey managed only 26 rushing yards, leaving him with 1387 on the year.
The only runner still to play who was within 200 yards of Chubb was Tennessee's Derrick Henry.
When Coaches Care About Things
Derrick Henry missed Week 16 with a hamstring issue.
Chubb's subpar games against Baltimore and Cincinnati left him within range of Henry.
It would take a monster game of more than 165 rushing yards, but Henry had topped that total before.
Tennessee head coach Mike Vrabel heard how Chubb and McCaffrey finished their rushing days.
Vrabel and every member of the Titans offense knew exactly how many rushing yards Henry needed to take the title.
Henry was his usual dominant self from the start.
Once the game was in hand for Tennessee, Vrabel called the offense to give Henry every chance to pass Chubb.
Left tackle Taylor Lewan told reporters the entire offensive line got regular updates.
Henry was within 7 yards of Chubb when he broke through the right side for a 53-yard touchdown.
Derrick Henry clinches the 2019 NFL Rushing Title AND a 1,500 yard season with this INCREDIBLE run! pic.twitter.com/HTm9aMcMnw

— NFLonCBS (@NFLonCBS) December 30, 2019
Vrabel fed Henry 32 carries to help his young star win the rushing title.
Freddie Kitchens ran Chubb 13 times.
His young running back's 41 yards left him in second place after an excellent season.
2019 NFL rushing leaders:
– Derrick Henry, 1540
– Nick Chubb, 1494
– Christian McCaffrey, 1387
– Ezekiel Elliott, 1357
– Chris Carson, 1230
– Lamar Jackson, 1206
– Leonard Fournette, 1152
– Josh Jacobs, 1150
– Joe Mixon, 1137
– Dalvin Cook, 1135

— RJ Ochoa (@rjochoa) December 30, 2019
Did Kareem Hunt impact Chubb's Title Chances?
When Kareem Hunt joined the team in Week 9, there was a lot of concern about how many carries he would take away from the league's leading rusher.
That concern was mostly unfounded.
Part of the criticism of Freddie Kitchens was how he wasted a pair of dual-threat running backs by turning Chubb into a runner and Hunt into a pass-catching specialist.
Hunt had only 3 carries for 4 yards Sunday.
There was a three-game stretch when Hunt averaged 8 carries per game.
But over those games, Chubb handled 18 carries and had a pair of 100-yard games.
Hunt had less than 4 carries per game in the other 5 weeks.
Kitchens' reduced use of Chubb over the last five weeks, when he averaged only 15 carries per game, had more to do with game planning than sharing the rushing load.
Four more carries per game in the second half might have resulted in enough yards to make a better run at the title.
But it might not have, either.
Will Chubb Do It Next Year?
Chubb's late-season swoon might have had little to do with Kitchens.
The young running back might simply have run out of gas as the season wound down.
Chubb will start next season with this year's 300+ touches on his body's resume.
Over two-thirds of Chubb's yardage came after initial contact, only adding to the wear and tear.
The NFL is full of running backs who exploded onto the scene only to fade in subsequent years.
But…anything is possible when it comes to the NFL.
Players like Le'Veon Bell, Barry Sanders, and Cleveland legend Jim Brown had long runs of dominance.
Chubb proved he has the skill to make a run at another title.
But an important variable will come into play before he takes the field again.
Cleveland will have a new head coach in 2020.
That coach's offensive philosophy or that of his offensive coordinator will have the biggest impact on any future rushing titles.
If he's lucky, a workhorse Chubb can be in position for another shot at a rushing title by the end of next season.