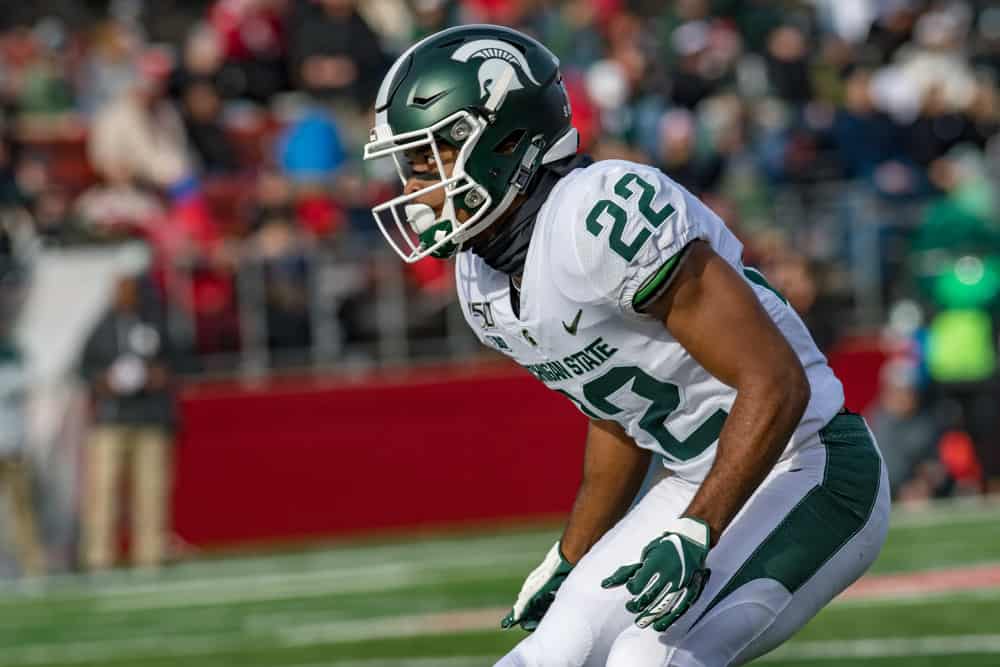 The Cleveland Browns held a pre-draft interview using FaceTime with Michigan State cornerback Josiah Scott, according to USA Today reporter Justin Melo.
Scott spoke with several other teams, including the Baltimore Ravens, Carolina Panthers, Las Vegas Raiders, Kansas City Chiefs, Miami Dolphins and San Francisco 49ers.
MSU CB Josiah Scott opened a lot of eyes w/ his 4.42 at the combine. I'm told that wasn't his best time throughout this process.

He's recently held pre-draft meetings over FaceTime with the #Ravens, #Browns, #Panthers, #Raiders, #Chiefs, #Dolphins & #49ers just to name a few.

— Justin M (@JustinM_NFL) April 20, 2020
NFL.com draft analyst Lance Zierlein projects Scott as a fourth-round pick, and compared Scott to Philadelphia Eagles cornerback Avonte Maddox.
"Affectionately nicknamed 'The Gnat' by teammates for his pesky, persistent coverage talent and playing style," Zierlein wrote about Scott. "He has no issues checking athletic boxes with quick feet, smooth hips and explosive speed. He has above-average recovery burst and athleticism, so he should be able to make the move to the slot despite limited reps there.

"He lacks play strength for matchups against size and will go ankle-biting in run support in order to avoid heavy collisions. He has ballhawking traits and coverage talent is not an issue. His ability to stay healthy and overcome his size/strength limitations could be the difference between being a starting nickel or solid backup."
At the NFL Combine, Scott ran his 40-yard dash in 4.42 seconds and had 17 reps of 225 pounds on the bench press.
Josiah Scott ran a 4.42 with his first attempt… #NFLCombine
pic.twitter.com/dbBdueIQtK

— Christopher Reiss (@ReissReport) March 1, 2020

The Hamilton, Ohio, native is listed at 5'9", he weighs 185 pounds, has an arm length of 29 3/8 inches and has hands that measure at 8 3/4 inches.
Northwestern was trying to throw the ball away and Josiah Scott went full Superman my God pic.twitter.com/pcGT0SaTzR

— Isaac (@WorldofIsaac) September 21, 2019

ESPN draft analyst Mel Kiper Jr. views Scott as Michigan State's top draft prospect in 2020.
"I think Josiah Scott – he's gonna help a secondary, whether he's gonna help a secondary whether he's a starter, nickel, fourth corner," Kiper said on a conference call with reporters who cover Michigan State. "He's gonna be a guy who plays in the league for a long time, I think, as I'd say a third- to fifth-round pick…

"He's 5-10, he's about 175. He's aggressive, he's a willing tackler, he's got good awareness, he was a really good recruit coming out. Played right away. He's got pretty good ball skills, seven career interceptions. I like the tape. I like what I saw of him. I like the way he turns, I like the way he flips his hips, like his feet."
Here is what the Draft Network's Kyle Crabbs wrote about Scott:
"Josiah Scott projects as a potential nickel defender at the pro level. Scott shows good combativeness, effective COD skills and a strong enthusiasm to play into contact. Those qualities make sense to put him in the nickel as a D-gap defender, but any team that takes him on will have to be willing with some tackling limitations on account of his lack of wingspan and lean frame. Coverage diverse defender who can bring value to any defense — just limited in boundary upside."
As a junior in 2019, Scott had 55 tackles, three interceptions, 11 passes defended, one forced fumble and one fumble recovery.
In three seasons at Michigan State, Scott had 98 tackles, two tackles for a loss, seven interceptions, 32 passes defended, two forced fumbles and one fumble recovery.
Josiah Scott gets his first interception as a Spartan against Western Michigan.

Thank you for everything, @JosiahScott7! pic.twitter.com/4Q5txtkid2

— Sparty Moments (@SpartyMoments) December 30, 2019

Scott's three brothers won national championships at Division III football powerhouse Mount Union.