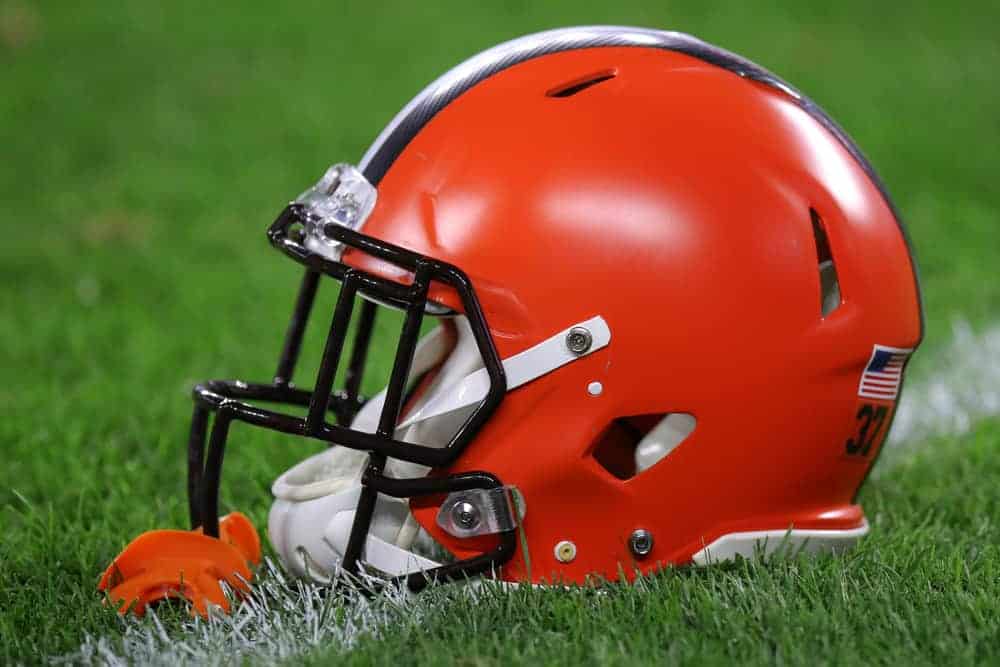 Before Sunday's Divisional Round loss to the Kansas City Chiefs, the Cleveland Browns elevated Kyle Markway from the practice squad.
On Monday, the Browns and Markway agreed on a two-year contract:
#Browns have signed TE Kyle Markway to a new two-year deal. He finished the season on the playoff roster. pic.twitter.com/atPwSpyB7s

— Browns Dispatch (@brownsdispatch) January 18, 2021
Heading into the game against Kansas City, both David Njoku and Stephen Carlson were sporting questionable tags.
Njoku had been dealing with a knee issue, and Carlson was nursing a groin injury.
Since they were uncertain for the game, Markway made his way to the active roster.
Markway ended up being inactive for the game against the Chiefs because both Njoku and Carlson were active at the tight end position:
#Browns inactives vs. Chiefs:

WR Marvin Hall
CB Brian Allen
S Jovante Moffatt
T Alex Taylor
WR Alexander Hollins
TE Kyle Markway
DE Joe Jackson

Conklin, Carlson, Njoku, Goodson all ACTIVE.

— Nick Pedone (@NickPedone12) January 17, 2021
Baker Mayfield found his tight ends for some completions, but they were not able to measure up to Travis Kelce's performance on the other side of the football:
Travis Kelce (KC): 11 targets, eight receptions, 109 receiving yards, and one touchdown
David Njoku (CLE): five targets, four receptions, and 59 yards
Austin Hooper (CLE): three targets, two receptions, and 16 yards
Harrison Bryant (CLE): one target, but no receptions
Rashard Higgins, who unfortunately fumbled the ball out of the end zone, and Jarvis Landry also helped in the receiving game.
However, it was not enough as the Browns fell to the Chiefs.
As we turn the page to the 2021 offseason, the Browns have already made a move, as they are bringing in a new tight end Kyle Markway.
Who is Kyle Markway?
Born in St. Louis, the 23-year-old tight end played high school football in the nearby suburb of Kirkwood, Missouri.
He then played three years with the South Carolina Gamecocks, and his final season was by far his most productive.
In 2019, Markway amassed 31 receptions for 349 yards and two touchdowns in 11 games.
Although the Gamecocks finished with a 4-8 record, Markway was signed by the New York Giants as an undrafted free agent.
Markway's 2020 in the NFL was not so glamorous, as he spent the season with three different practice squads.
After the Giants waived him in August, the Pittsburgh Steelers scooped him up before letting him go less than a month later.
The Browns signed him to their practice squad in September, and then again in November.
When the Browns elevated Markway to the practice squad on Saturday, it appeared that he was going to make his NFL debut:
Former @GamecockFB TE Kyle Markway has been elevated to the Browns active roster from the practice squad; which would appear to mean he is in line to make his NFL playoff debut tomorrow vs the Chiefs. Markway will wear No.86 @wachfox

— Mike Uva (@Mike_Uva) January 16, 2021
Unfortunately, it was not to be for Markway.
On the bright side, the two-year contract is a sign of things to come for the six-foot, four-inch 247 pounder.
While Markway was not activated for the Divisional Round matchup, he still had his picture featured on the Browns Twitter account on Saturday:
We've elevated two players from our practice squad

Details » https://t.co/nICSC8AjEL pic.twitter.com/2AiudVMl76

— Cleveland Browns (@Browns) January 16, 2021
It seems that Browns fans will be seeing more of Markway in the future.
He will hope to produce for a Browns offense that enjoys involving the tight ends.