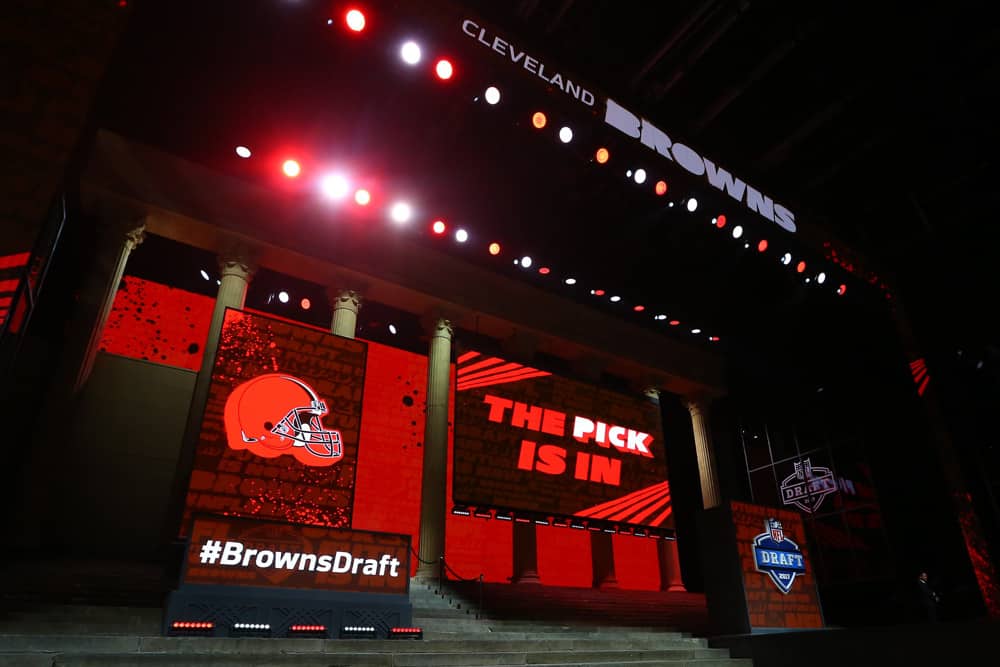 The Cleveland Browns will officially have the 26th pick of the first round of the 2021 NFL Draft after Sunday's 22-17 loss to the Kansas City Chiefs in the AFC Divisional Round.
The draft is scheduled for April 29-May 1 in Cleveland.
While the Browns and the Baltimore Ravens each finished the 2020 regular season with 11-5 records, Cleveland had an easier strength of schedule this season.
It means the Browns will have a better draft pick.
The Ravens have the 27th pick of the draft, the Pittsburgh Steelers (12-4) have the 24th overall pick and the Cincinnati Bengals (4-11-1) have the fifth overall pick.
In addition to the 26th overall pick, OverTheCap.com shows the Browns have about $24.63 million in salary-cap space.
The Browns need to make upgrades to their defense ahead of the 2021 season.
General manager Andrew Berry made three picks on defense in the 2020 NFL Draft: the 44th overall pick on safety Grant Delpit, the 88th overall pick on defensive tackle Jordan Elliott and the 97th overall pick on linebacker Jacob Phillips.
Delpit missed the entire season with an Achilles injury.
Phillips and Elliott are expected to play more in 2021.
The Browns might need to find a defensive end to pair opposite Myles Garrett.
Defensive end Olivier Vernon sustained an Achilles injury in the Week 17 win over the Steelers.
Vernon is also set to become a free agent.
While veteran Adrian Clayborn is under contract through the 2021 season, there's a reason he wasn't a starter over Vernon.
The Browns could also look to add depth at linebacker and in their secondary.
On the offensive side of the ball, the Browns could select a wide receiver considering:
Rashard "Hollywood" Higgins is set to become an unrestricted free agent.
KhaDarel Hodge is set to become a restricted free agent.
Odell Beckham Jr. is under contract through the 2023 season, but the Browns could look to trade him this offseason.
Jarvis Landry is under contract through the 2022 season.
Donovan Peoples-Jones is under contract through the 2023 season.
No. 26 is the latest first-round pick the Browns have had since selecting tight end David Njoku with the 29th pick of the 2017 NFL Draft.
In 2017, the Browns also selected Garrett with the first overall pick and safety Jabrill Peppers with the 25th overall pick.
2021 NFL draft order:
Jacksonville Jaguars
New York Jets
Miami Dolphins (via Houston Texans)
Atlanta Falcons
Cincinnati Bengals
Philadelphia Eagles
Detroit Lions
Carolina Panthers
Denver Broncos
Dallas Cowboys
New York Giants
San Francisco 49ers
Los Angeles Chargers
Minnesota Vikings
New England Patriots
Arizona Cardinals
Las Vegas Raiders
Miami Dolphins
Washington Football Team
Chicago Bears
Indianapolis Colts
Tennessee Titans
New York Jets (via Seattle Seahawks)
Pittsburgh Steelers
Jacksonville Jaguars (via Los Angeles Rams)
Cleveland Browns
Baltimore Ravens
New Orleans Saints