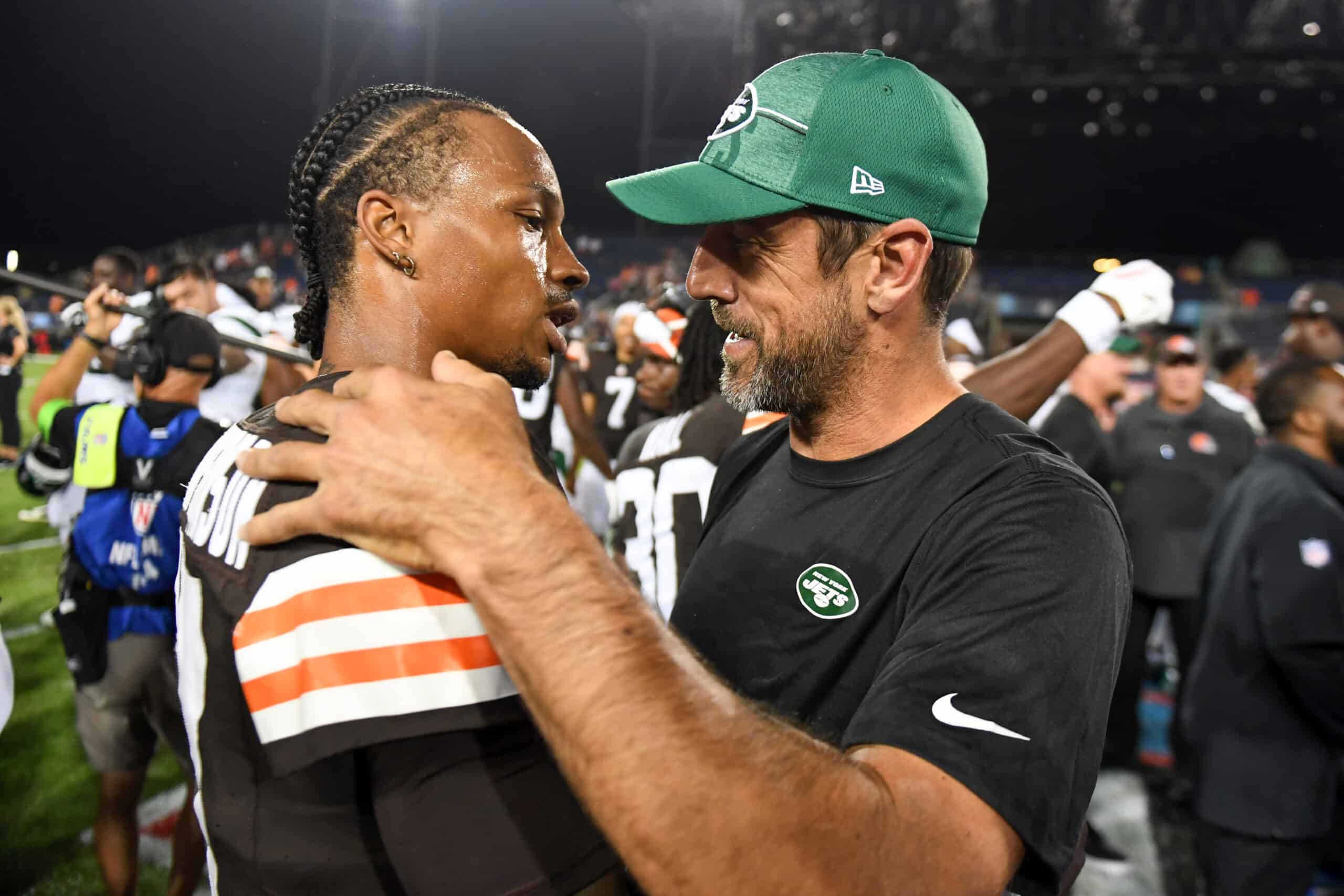 The Cleveland Browns kicked off the NFL preseason on Thursday night with a tune-up against the New York Jets.
As expected, neither the Jets' Aaron Rodgers nor the Browns' Deshaun Watson played a down in the Hall of Fame game.
Despite a 20-minute power outage between the third and fourth quarters, Cleveland outlasted the Jets in a 21-16 victory.
With Watson watching from the sideline, Kellen Mond started the first half and completed seven passes for 49 yards, a touchdown, and an interception.
Then, in the second half, rookie Dorian Thompson-Robinson experienced his first action as an NFL player.
Although he competed against Jets reserves, Thompson-Robinson looked sharp, completing eight of 11 passes for 82 yards and a touchdown.
Down 16-7 at halftime, Thompson-Robinson led the Browns on an 11-play drive in the third quarter that culminated in a Demetric Felton touchdown run.
Watch this block by Dorian Thompson Robinson pic.twitter.com/obWXRAsas5

— Fantasy Football Today (@FFToday) August 4, 2023
After handing the ball off to Felton, the quarterback helped block for his former UCLA teammate on his way to the promised land.
"All instincts," Thompson-Robinson said. "I'm out there playing as hard as I can for my teammates. I seen Felt was going to cut back and kind of how the hole was going to open up and all he had was one person to be back sideways was the corner. So I figured I'd stick my nose up there real quick."
In the fourth quarter, Thompson-Robinson tossed a 22-yard touchdown to Austin Watkins Jr, putting the Browns ahead for the eventual win.
a guy that's currently the talk of the league, and some dude named Aaron pic.twitter.com/3nUqr3gvrL

— Cleveland Browns (@Browns) August 4, 2023
When the game concluded, Rodgers and Thompson-Robinson posed for a picture and the Browns added a tongue-in-cheek caption.
"A guy that's currently the talk of the league, and some dude named Aaron."
Next up for Cleveland is a clash against the Washington Commanders on August 11.