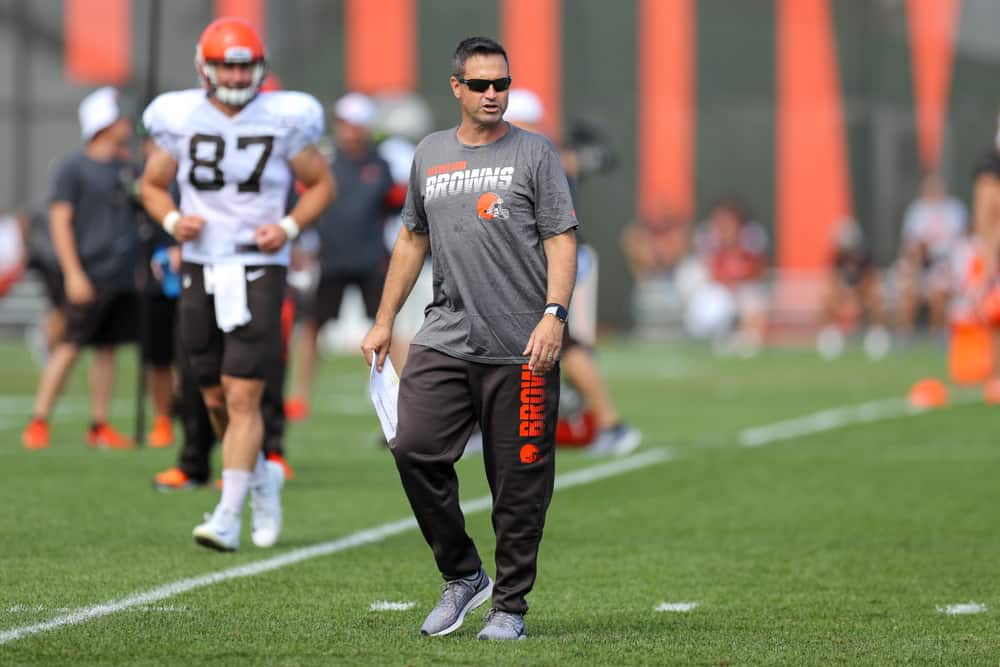 Amongst other forgettable legacies of the Hue Jackson era was the Browns' special teams performance.
In 2018, the Browns were rated 30 and 31, respectively, by Pro Football Focus (PFF) and Football Outsiders in overall special teams statistical metrics.
Upon taking over as head coach after the 2018 season, Freddie Kitchens emphasized the need for improvement in special teams play and the Browns' took significant action.
They brought in Mike Priefer.
With a 17-year career as a coach in the NFL with the last eight seasons as Special Teams Coordinator in Minnesota, bringing Priefer to the Browns was another noticeable move during the 2019 off-season.
This one did not disappoint.
#Browns Mike Priefer completely turned around the special teams unit in his first year with the team. Team special-teams grade and ranks:

2019: 73.5 (12th)
2018: 49.3 (30th)

— PFF CLE Browns (@PFF_Browns) January 6, 2020
Who is Mike Priefer?
Mike Priefer was born in Cleveland and the son of Chuck Priefer, a defensive and special teams coach for several college and NFL teams over a 30-year career.
Mike grew up in a football family, tagging along with his dad when he was the head football coach of Padua Franciscan High School in Parma.
Mike graduated high school in Green Bay, and went to the United States Naval Academy where he played quarterback and wide receiver for the Midshipmen from 1985 to 1988.
After graduation, Priefer flew helicopters in the U.S. Navy for six years, which included a tour in the Persian Gulf.
At a career crossroads in 1994, Priefer chose football over piloting and became a graduate assistant for the Naval Academy.
Priefer went on to coach at three other colleges, and five NFL teams before coming home to Cleveland last January to join the Browns' staff.
During his tenure in Minnesota, Priefer filled in as head coach for a 2016 game against the Cowboys when Vikings head coach Mike Zimmer required emergency eye surgery.
Keeping Priefer in Cleveland
With impending new management after the departure of Kitchens and GM John Dorsey, the future of much of the existing Browns' staff is murky.
But the improvement of the Browns' special teams under the direction of Priefer stands out as a glowing recommendation to retain him on staff.
The same outlets that ranked the Browns special teams play just above the threshold of a dumpster fire in 2018 painted a completely different picture after the 2019 season.
Football Outsiders ranked Cleveland's special teams 15th, while PFF bumped the unit all the way up to 12.
The turnaround is a testament to the focus, discipline, and attention to detail that Priefer brings from his military background, with a perfectionist's style developed through a seasoned career coaching special teams in the NFL.
The Browns would do well by making sure that Priefer is part of the new coaching staff, as the Cleveland native sets a tone for the type of organizational culture that translated into winning.
Is Priefer a Candidate to Replace Kitchens?
Currently, there are no reports of potential interviews with Priefer for the Browns' head coaching vacancy, and it seems unlikely that he gets serious consideration for the job.
Priefer has not been shy about his aspirations to someday be a head coach in the NFL.

"Now, would I like to be a head coach? Absolutely. Who wouldn't? I would love to be up in front of the team and be the leader of that team, but right now, my job is to be the best special teams coordinator that I can be for this football team and for this franchise. I relish that job." – Mike Priefer, 12/19/19
Of course, he was not referencing the Browns' head coaching position which was still held by Kitchens at the time.
But, Priefer may look at all options this off-season to potentially discover a path that could lead him to a future NFL head coaching job.
Staying in Cleveland doesn't necessarily hurt that pursuit, especially if he can orchestrate even more improvement of the Browns' special teams unit in 2020.