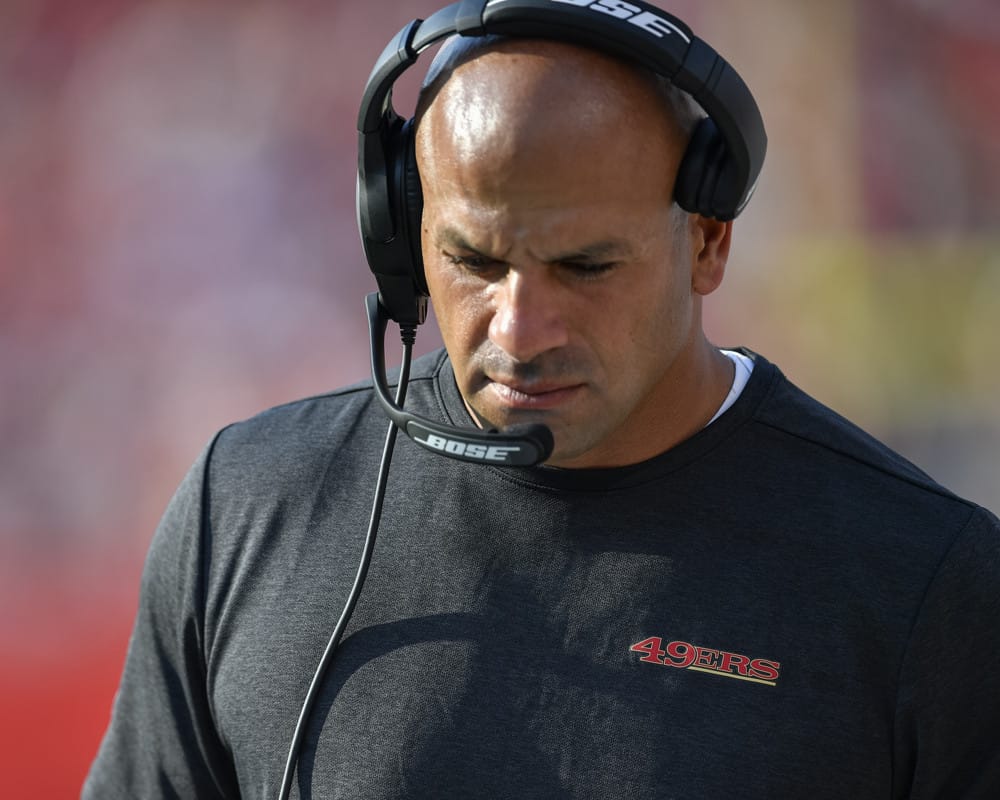 Josh McDaniel and Kevin Stefanski are still the frontrunners for the Cleveland Browns head coaching job.
But Robert Saleh's interview moved him within hiring range, according to Jeremy Fowler.
I'm told Robert Saleh's interview with Browns went very well — met with Jimmy Haslam and Paul DePodesta, had good football and staff ideas. Continue to hear Josh McDaniels and Kevin Stefanski are early favorites but Browns leaving room to be swayed.

— Jeremy Fowler (@JFowlerESPN) January 6, 2020
Saleh, the only defensive coach among seven announced candidates, reportedly impressed the search committee with his football prowess.
He also piqued the curiosity of Browns ownership with his ideas about staffing.
According to Fowler, Jimmy Haslam left "room to be swayed" by secondary candidates.
Saleh seems to have moved right into that room.
Who is Robert Saleh?
Saleh has an interesting story of how he got into coaching.
He worked for Comerica Bank when the World Trade Center attack happened in 2001.
David Saleh, Robert's brother, worked in the Twin Towers.
He was spared harm, but Robert started thinking about the fragility of life.
Robert Saleh was working for Comerica Bank on 9/11 in Detroit & his brother David was working in the WTC for Morgan Stanley. David survived but not knowing for hours if that was the case made RS realize he needed to do what he loves & that was coach 🏈. https://t.co/HsCYz6O9xT

— Zach Gelb (@ZachGelb) October 14, 2019
Banking was not his dream career.
With a little help from a community leader and friend, Saleh landed a coaching job at Michigan State.
Three years later, Mark Richt of the University of Georgia hired him as a defensive assistant.
When the Houston Texans invited Saleh to take a coaching internship, Richt couldn't get him there fast enough.
Professionally Speaking…
Gary Kubiak retained Saleh as a quality control coach when his internship was up.
Saleh worked stints as a linebacker coach and quality coordinator in Houston, Seattle, and Jacksonville.
He is credited with coaching up Defensive Rookie of the Year selections Demarco Ryan (2006) and Bryan Cushing (2009)
Pete Carroll named him defensive quality control coach for three Legion of Boom seasons, including the 2013 Super Bowl championship year.
Bobby Wagner, KJ Wright, and Super Bowl MVP Malcolm Smith were developed during those seasons.
After three years as a linebacker coach in Jacksonville, Kyle Shanahan tapped Saleh as his defensive coordinator in San Francisco.
San Francisco not only boasts a stellar defensive unit, they appear to have answers for all the latest offensive innovations.
Robert Saleh called a great game against Seattle. The D blitzed at nearly double their season rate, and played cover 1 behind it.

4 of the team's 5 sacks came on blitzes, just like this one. What makes it more impressive it that this came as SEA tried a quick snap. pic.twitter.com/tMQ7D5rOKx

— Oscar Aparicio (@BetterRivals) November 14, 2019
Hitting the Speaking Points
At Jimmy Haslam's press conference last week, he said the team was looking for five things from the next head coach:
1. Strong leader
2. Smart
3. Possesses good football acumen
4. Will work well within the organization
5. A continuous learner
Robert Saleh appears to hit all five points for the search committee.
5 things we learned from Jimmy Haslam's press conference on our search for head coach, general manager

📰 » https://t.co/5NrgPQcyOn pic.twitter.com/6bbLAnhh2g

— Cleveland Browns (@Browns) January 3, 2020
Coaches don't often jump into the professional ranks after four seasons as a college assistant.
Players don't develop into superstars under coaches they don't respect or consider leaders.
According to reports, Saleh showed smarts and football acumen in his interview.
At 40 years of age, he is young enough to be considered a continuous learner.
DePodesta with a Football Mind?
Jimmy Haslam gets excited by new ideas, especially outside-the-box thinking.
If Robert Saleh made Haslam take notice with proposals Haslam never heard before, he is an instant favorite.
Saleh's degree in Finance allows him to hold his own in non-football conversations with Haslam, too.
He is a smart guy with a history of developing star players and success as a coordinator.
His San Francisco defense ranks among the leaders in points, yardage, and turnovers.
Saleh is young enough to relate with his players, but has enough experience and results to command respect.
Hiring Saleh ahead of McDaniel and Stefanski shows open thinking.
Cleveland's 2020 offensive coordinator will have unquestioned control of his unit and call his plays, eliminating one source of last season's dysfunction.
Or… Maybe Not
Haslam, DePodesta, and the rest of the search committee should not worry about Baker Mayfield's opinion of their choice.
Mayfield gets paid to play for whoever is his boss.
But what if they worry about sending a wrong signal to their young passer?
Would they lean toward an offensive coordinator as a nod to the most important player on the team?
Then there is Saleh's current employer.
Shanahan said earlier this week:

"I'm pumped for Saleh to get this opportunity and Mr. and Mrs. Haslam are great people and I think they're great people to work for. We'll see how the interview goes for him." https://t.co/TlqF5C5sSJ

— Kyle Madson (@KyleAMadson) January 2, 2020
Browns fans undoubtedly remember the PowerPoint Resignation of 2014.
Kyle Shanahan is Saleh's head coach in San Francisco.
It is unlikely Shanahan will provide a ringing endorsement of Cleveland to Saleh.
While it is difficult to fathom an offensive coordinator turning down his first head coaching offer from any NFL team…
Cleveland is scheduled to interview Josh McDaniel on Friday.