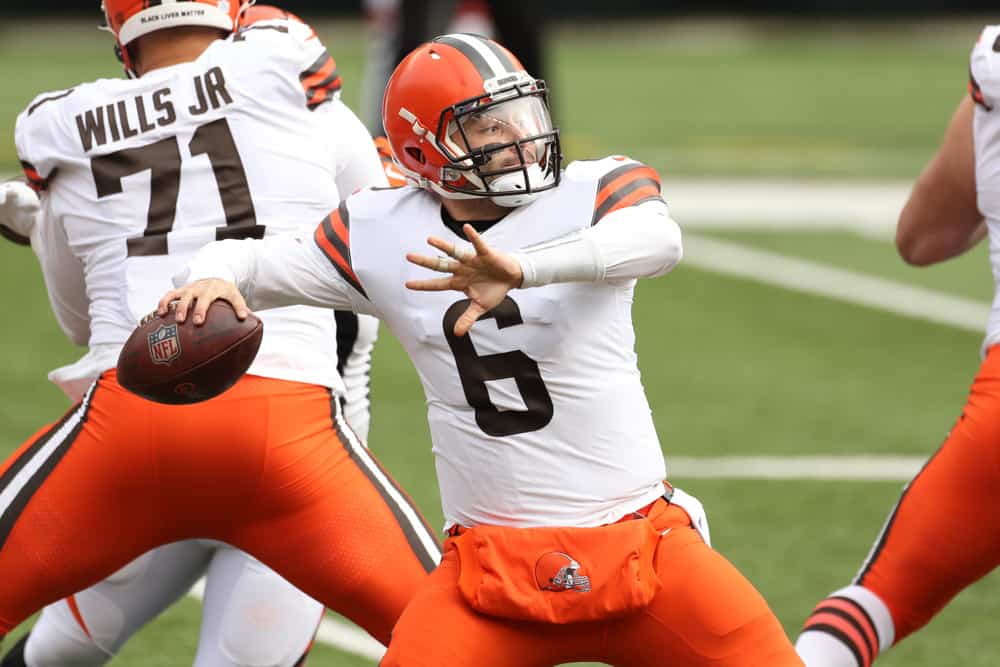 Cleveland Browns quarterback Baker Mayfield is coming off the best season of his career.
Going into 2020, his third year, the pressure was on Mayfield to be better, and he was.
Mayfield would be the first to admit there is always room for improvement.
Could one of those improvements be in the number of touchdown passes he throws?
Baker Mayfield is not done improving…

Browns rank 1st 3 seasons*
75 Pass TD 1st
11,115 Pass Yds 1st
89.1 Pass Rtg 2nd
61.9 Comp% 2nd
23 Wins 2nd

*Min. 300 pass att pic.twitter.com/9l5bDxpDPr

— CBS Sports HQ (@CBSSportsHQ) March 3, 2021
Mayfield threw 27 touchdowns in 2018, 22 in 2019, and 26 in 2020.
Buy or sell: will Mayfield throw 35+ touchdowns in 2021?
Buy
It will be Mayfield's second season in the Stefanski offense.
This is a luxury Mayfield never had before; none of his previous coaches made it past one season.
Mayfield and the Browns worked out all of the kinks last year and succeeded.
So it is realistic to assume Mayfield can do even better than last year's 26 touchdowns.
Though it is less discussed, Mayfield's footwork under offensive coordinator Alex Van Pelt has improved.
That led to him throwing better and more accurate balls last year.
His interception number dropped considerably in 2020; he only threw 8 as compared to 14 in 2018 and 21 in 2019.
Mayfield has improved in all areas of his game including maturity, mechanics, and accuracy so throwing over 35 touchdowns in 2021 is not outside the realm of possibilities.
It is worth mentioning that Mayfield's future with the Browns is always in question, but chronologically he will be in the fourth year of his rookie contract.
Either the Browns decide to extend him now or work through the fifth-year option.
Assuming he puts up good stats (and 35+ touchdowns would be a good personal stat for Mayfield), he will be in for a huge payday when the time comes to re-sign.
Sell
The Cleveland Browns offense is a run first and pass second offense.
A lot of the success the Browns enjoyed last year was because of excellent play by the offensive line and tough runs by both Nick Chubb and Kareem Hunt to move the chains.
Nick Chubb and Kareem Hunt had 18 rushing touchdowns in 2020 (Chubb: 12 and Hunt: 6).
Stefanski's ground game tends to chew up the clock, move the chains, and tire out opposing defenses.
Then, there are the trick plays that we can expect to see more of in 2021.
Recall that Jarvis Landry threw a touchdown pass to OBJ.
JARVIS LANDRY TO ODELL BECKHAM JR.❗️

📺: @foxsports pic.twitter.com/79gnFPgL99

— Cleveland Browns (@Browns) October 4, 2020
The Browns offense is so athletic and versatile, and the Stefanski/Van Pelt team is very creative in how to use all of the players.
This means that not everything has to fall on Baker Mayfield's shoulders or specifically his arm.
If Mayfield throws 35+ touchdowns in 2021, that could mean an injury to Nick Chubb and/or Kareem Hunt which forces the offense to deviate from the usual playbook.
Whether or not Mayfield throws 35+ touchdowns in 2021 is immaterial because what is really important to Cleveland Browns players and fans is winning.
The Browns want to improve their roster and lift their level of play to advance further in the playoffs with the ultimate goal being a Super Bowl appearance and victory.