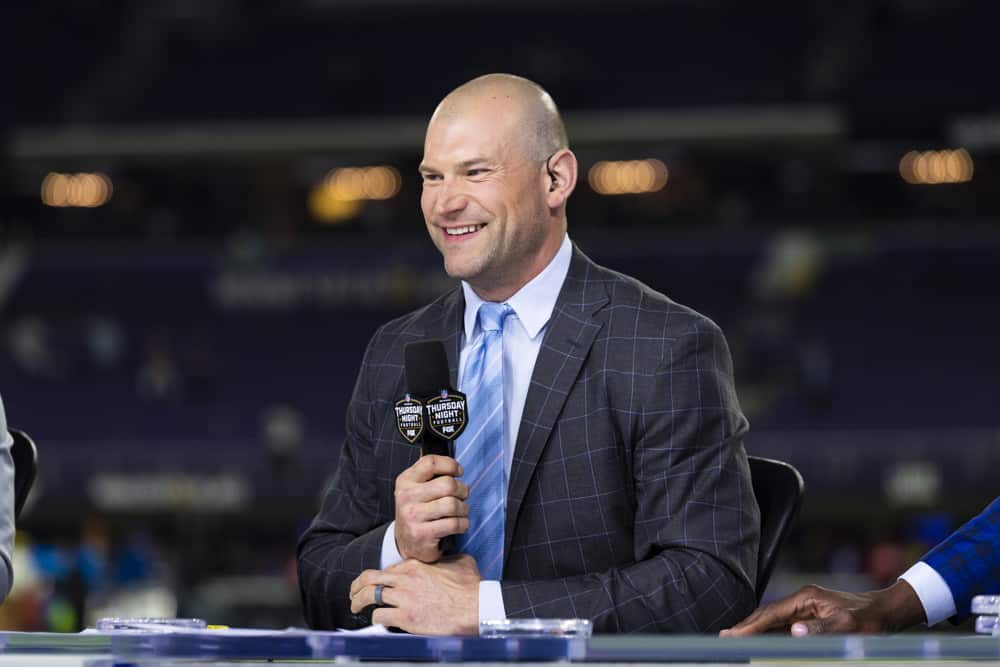 Cleveland Browns fans are loyal through thick and thin.
And they are not afraid to speak of when the situation warrants it.
The topic of a lengthy discussion on Wednesday's episode of The Dan Patrick Show was the fact that fans do not buy jerseys of offensive linemen.
Not every NFL franchise has a Joe Thomas.
A loyal Browns fan named Evan decided to set the record straight and let DP know that in Cleveland, Joe Thomas jerseys are a common sight, three years after Thomas retired.
They spent about eight minutes on the @dpshow talking about how uncommon it is for fans to buy jersey's of offensive linemen without bringing up @joethomas73, so I had to call in.

Long live JT73. #Browns pic.twitter.com/EEmjqDULpk

— evanrskilliter (@EvanRSkilliter) April 7, 2021
"Any fall Sunday in Ohio no matter where you are, could be a tailgate, could be a grocery store, could be your church service, you will find multiple Joe Thomas jerseys. If Baker is Cleveland's Jesus, Joe is Cleveland's God, an omnipresent force bringing Browns fans together through a tumultuous decade."
Dan Patrick applauded at the comment.
Joe Thomas Responds
Thomas found about the interaction and sent out a heartfelt thanks to the Browns fans.
This is precisely why he is so beloved in Cleveland.
He was the best player on a horrible team and yet he is never bitter and always humble.
.@browns fans are the best!

Still showing pride for an aging fat guy who played for your team more than 3 years ago 🥰🥰

…and that team he played on went 0-16!

You guys are like my kids, you're idiots, but your my idiots and I love you so damn much😂😂 https://t.co/B7cOkHSu1a

— Joe Thomas (@joethomas73) April 7, 2021
Canton Should Be Calling Joe In 2023
Thomas will be eligible for the Pro Football Hall of Fame in 2023.
LeBron James was calling Thomas a Hall of Famer when he announced his retirement.
Helleva career @joethomas73!!! Next stop Canton for you brother!! 🧥 https://t.co/QtoT0DKUwP

— LeBron James (@KingJames) March 14, 2018
Thomas leads a small group of first-time eligible players in 2023 including:
Dwight Freeney, defensive end
James Harrison, linebacker
Darrelle Revis, defensive back
Thomas is the only offensive player, and he is the only player that played his entire career with one team.
He is also the only player of this group who was named to the Pro Bowl ten times.
The other three are Super Bowl Champions, something Browns fans wish Joe Thomas had an opportunity to achieve.
In the meantime, Joe Thomas has not left the game of football behind.
Fans can catch him on NFL Network sharing his insights and analysis.