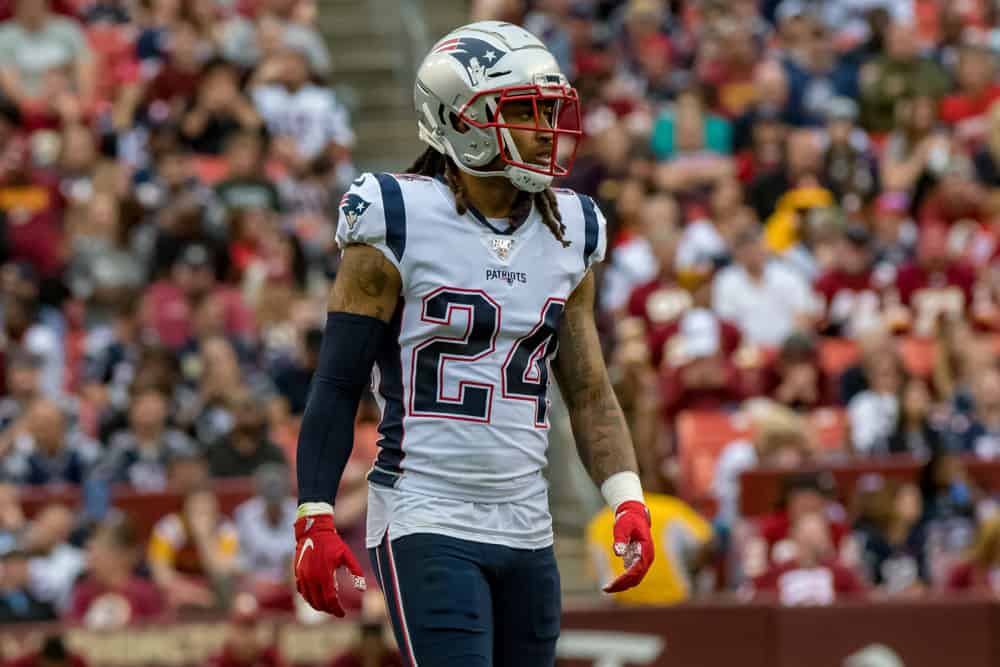 Spotting holes in the Cleveland Browns' roster might not be as easy as it used to be.
And positions that need a boost might not be as plentiful as years past.
But there is no shortage of trade, draft, and free-agent rumors making the rounds.
One popular trade making the rounds involves veteran cornerback, Stephon Gilmore.
#7 of PFF's 8 moves that make sense in the coming days:

BROWNS TRADE FOR STEPHON GILMORE

not the complete ballhawk in 2020 as he's been in years prior, but still a lockdown corner. Allowed just 0.87 yds per coverage snap on the outside last season, ranking 12th at the position.

— BrownsFreak51 (@BrownsFreak51) March 21, 2021
Gilmore is due to be paid $7 million in the final year of his contract with the New England Patriots.
It is fair to say he deserves more, but New England wants some team-friendly considerations in return.
Speculation spurred trade rumors involving every team that needs a cornerback.
That includes the Cleveland Browns who have the oft-injured Greedy Williams penciled in on the right side.
Would Andrew Berry consider adding an experienced cornerback to work with Williams and Denzel Ward?
It could be that Stephon Gilmore will be a Cleveland Brown in 2021.
Buy: Gilmore Provides Veteran Presence, Injury Insurance
Stephon Gilmore is a 9-year veteran with 4 Pro Bowls under his belt.
He is regarded as a smart and skilled cornerback and would be a great addition to most teams.
Cleveland will start a pair of 23-year-olds in Ward and Williams on the outside.
Williams in particular can use a savvy veteran as a role model in just his second playing season.
Garrett Bush: "The Super Bowl window for the @Browns is in the next 2 years, it's time to bring in veterans like J.J. Watt and Stephon Gilmore." 🎙

What's your thoughts? 🤔@Gbush91 x #Browns pic.twitter.com/ttMY37im7b

— BROWNS OR DIE 💀 (@BrownsorDie) February 21, 2021
With the injury history of both outside corners, a starting-caliber backup is a necessity.
That's not to say Gilmore will back up Williams or vice-versa.
Gilmore's presence allows Troy Hill to play his more natural slot cornerback position if Williams or Ward is hurt.
So the deciding factor is how much the 30-year-old Gilmore has left in the tank.
At first glance, his 2020 statistics and 5 games missed raise some eyebrows.
But in many cases, his statistics were consistent on a per-game basis with his All-Pro seasons of 2018-19.
And he certainly passed the eye test, earning his 4th Pro Bowl appearance last year.
Sell: Gilmore will cost too much and disrupt the plan 
Gilmore's salary of $7 million is affordable and below-market for an All-Pro cornerback.
But he carries a 2020 salary cap hit of over $16 million.
Before he joins the Browns, he would have to negotiate a deal that spreads that cap out.
But even with fake years and other techniques, the money still needs to hit the team's cap eventually.
If Cleveland is looking to rent a veteran for a year, they can target Richard Sherman.
Anyone out there hearing whispers of Stephon Gilmore and the Browns?

— Mark Dondero (@MarkDondero) February 3, 2021
There are younger corners still available who might be worth a shot, starting with former Steeler Stephon Nelson.
They could also take a chance on Gareon Conley coming off a terrible season, but now a year removed from an ankle injury.
And that assumes the Browns don't land a premier corner in this weekend's draft.
Berry might have to trade up to get the corner he wants, but he has the capital to do just that.
And in the long run, that will prove more beneficial to Cleveland's dynasty-building plan.