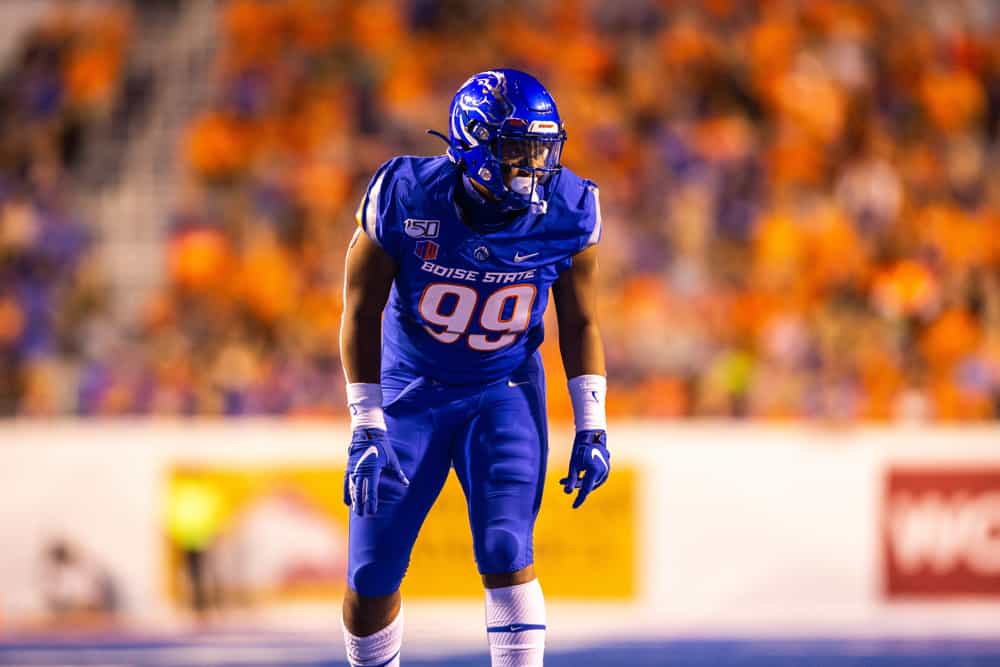 Andrew Berry landed an exceptional crop of impactful free agents for the Cleveland Browns.
And fans expect nothing less from Berry in this week's NFL Draft.
On top of those players, Andrew Billings and Drew Forbes return from the 2020 Covid opt-out status.
Coaches and fans are anxious to see how Grant Delpit and Greedy Williams fit into Joe Woods' defense.
Andrew Berry says Browns are "certainly excited" about DE Curtis Weaver entering training camp, but he'll have to earn his spot like everyone else.

— Andrew Gribble (@Andrew_Gribble) April 23, 2021
And Kevin Stefanski can throw Odell Beckham Jr back into the mix on the offensive side.
But there is another player returning to the field this season who could make an impact.
Former Mountain West Conference Player of the Year Curtis Weaver joins the mix of edge rushers.
Weaver received high grades from several draft analysis sites, along with some notable criticisms.
But the Miami Dolphins plucked him off the board in the fifth round of the 2020 NFL Draft.
I don't know much about Curtis Weaver but I can tell you Andrew Berry just outright stole a 2020 5th round pick from the Dolphins. Most Gms play checkers. Andrew Berry plays chess. pic.twitter.com/DolH2eMUhO

— Nick Karns (@karnsies817) August 25, 2020
Weaver never missed a game in college but suffered a season-ending foot injury early in the preseason.
When Miami tried to push him through waivers to their injured reserve, it backfired on them.
Berry claimed Weaver, just ahead of the Los Angeles Rams who had a lower waiver priority.
Why Coaches Are High On Weaver 
Cleveland was willing to pay Weaver's salary during his rehab year despite some question marks.
Berry told reporters this week that the edge rusher was on their draft board before Miami selected him.
On that press call, he said Weaver was:
"A very productive rusher at Boise State. Athletic guy. Probably more technically developed than most edge guys that we see come into the league. So when he became available, we felt like he was a good, young player to really add to the mix."
But despite his skills, NFL.com was among evaluators who noted Weaver's weak frame and below-average body type.
When we discuss the Browns and going after an edge in the draft I think we are forgetting about Curtis Weaver. The guy dominated at Boise and Berry claimed him immediately when Miami cut him. He could be an underrated guy and looked upon as another rookie this year

— TA (@ClevTA) April 22, 2021
They felt Weaver needed to improve his balance and strength in contact.
That is why Berry's follow up statement piqued some interest among Browns fans and pundits:
"I'm encouraged really since we've acquired him. He's done a great job rehabilitating his toe and then he's really done a great job of really, totally transforming his body throughout the offseason."
So it sounds like Curtis Weaver went to work addressing his biggest weaknesses during rehab.
But Berry toned down expectations by reminding folks Weaver is like every other young player on the roster.
He will have to show Joe Woods what he can do if he wants to see the field on Sundays.
What Weaver Might Bring To The Browns Defense
Curtis Weaver will face a level of competition he's never faced before.
While that can be said of most rookies, it is more pronounced coming from a conference like the MVC.
But coaches and trainers can work on the physical attributes needed to keep up.
I will not rest until Curtis Weaver gets the attention he deserves. The man is WRECKING offensive lines.

Among CFB edge defenders through Week 3 (per @PFF), Weaver has the:

– Most total pressures
– 4th highest pass-rush grade
– 5th highest pass-rush win rate pic.twitter.com/agLifdbZP7

— Anthony Treash (@PFF_Anthony) September 19, 2019
What makes Weaver so attractive is his football IQ and pass-rushing instincts.
The Draft Network agreed with most scouting analysts about Weaver's strong points:
"Does well to reduce, tilt, flatten and work around the outside hip of offensive tackles. Generally takes good rush angles and complements his rush with ideal footwork. He's slippery when working through gaps and around edges.  Rushes with a plan, showcasing an expansive array of moves to get home. Executes with good timing. He looked comfortable in any role, which speaks to his football IQ."
Weaver is set to compete with Porter Gustin, Joe Jackson, and Cameron Malveaux for spots in the edge rotation.
With a little more strength and improved agility, he could help push Jadeveon Clowney inside more often than planned.
And learning from Myles Garret and Clowney, won't hurt Weaver's NFL development, either.