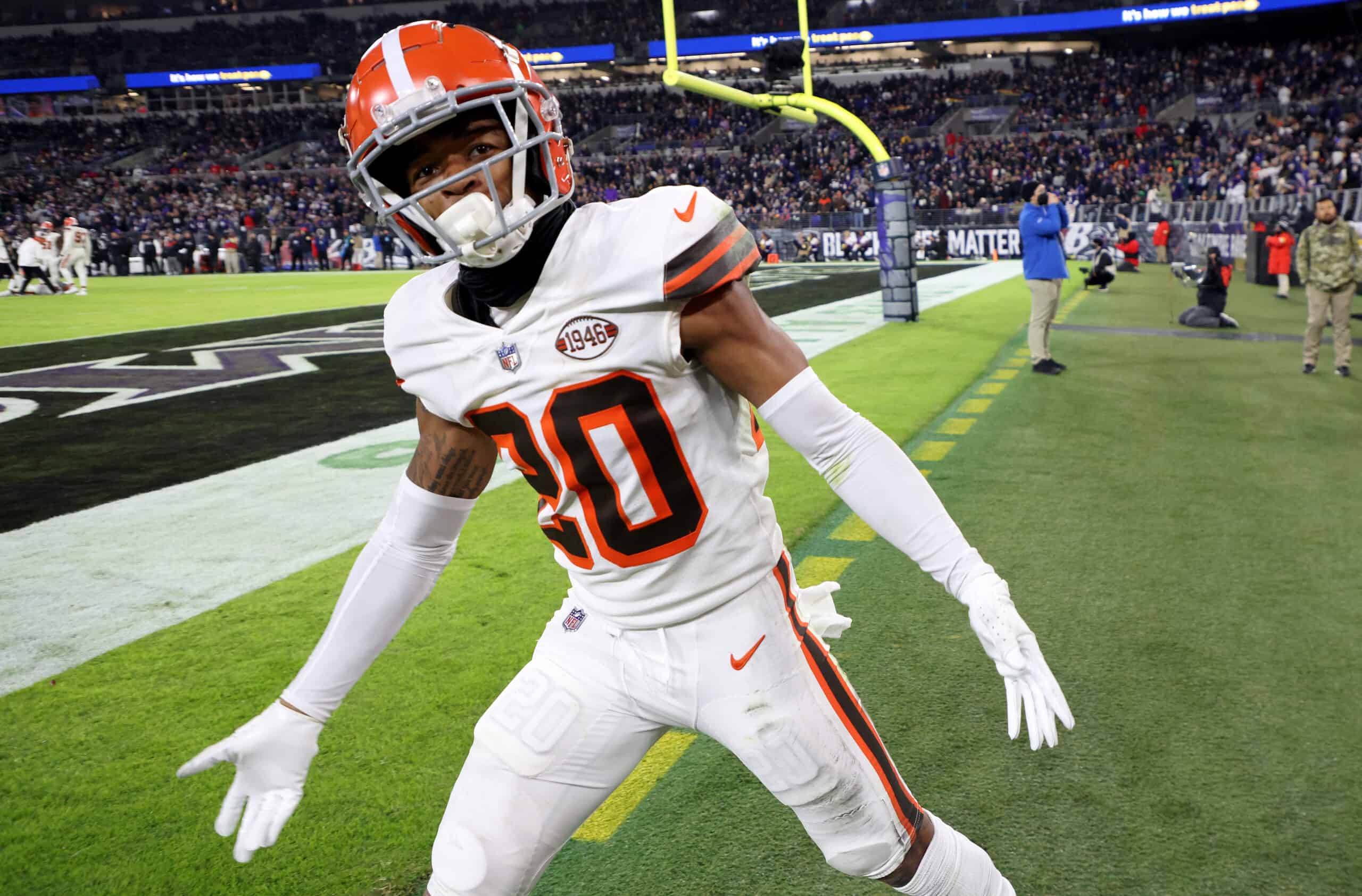 The Cleveland Browns have an unfortunate addition to the laundry list of players not available for the Week 14 Baltimore Ravens game.
Rookie cornerback Greg Newsome II suffered a concussion at practice on Friday.
Newsome reportedly fell and hit his head near the end of practice.
#Browns  CB Greg Newsome II ruled out of Ravens game after falling, hitting head at practice pic.twitter.com/Dpnv0GeHpM

— Cleveland Sports Talk (@CLEsportsTalk) December 10, 2021
#Browns Greg Newsome has been diagnosed with a concussion and is out for the #Ravens game, team announced. Flukey Friday last play injury

— Mary Kay Cabot (@MaryKayCabot) December 10, 2021
Greedy Williams Will Start In Newsome's Place
Williams is having a great season.
He has 22 solo tackles, and he has largely been playing in relief.
Williams has started in just 4 games this season.
In the games he has started, he has no less than 4 tackles in each.
Though losing Newsome hurts, it is slightly less painful knowing that Williams is available.
The silver lining to the #Browns losing CB Greg Newsome II to a concussion for the #Ravens game is that his replacement, Greedy Williams, is playing so well https://t.co/fBzrq2HVSH

— Mary Kay Cabot (@MaryKayCabot) December 10, 2021
Browns Are Missing Starters
Considering the fact that the Browns are coming off a bye week, they are without key players in this big game against the Ravens.
COVID-19 and injury are taking its toll.
Injury report for #Browns and #Ravens pic.twitter.com/kthvh6aLvQ

— Nate Ulrich (@ByNateUlrich) December 10, 2021
The Ravens are equally banged up and coming off a tough loss to the Pittsburgh Steelers.
It will be survival of the fittest at FirstEnergy Stadium on Sunday afternoon and throughout the final five weeks of the season.
AFC North Is Tighter Than Ever
With the Steelers' loss to the Vikings on Thursday night, the AFC North continues to be the division that no one wants to take hold of and run with to the finish line.
Wake me up when some team decides they want to actually WIN the AFC North. pic.twitter.com/IwQa2mWxEY

— Taylor Rosen (@T_Rosen_TPP) December 10, 2021
The Ravens are in the best position overall but have sputtered of late.
The Steelers and Bengals have been very inconsistent, and the Browns have been giving away games that should be in the win column.
What a strange season it is throughout the NFL and in particular in the AFC North?
May the best team (hopefully the Browns) start to pull away from the pack soon!