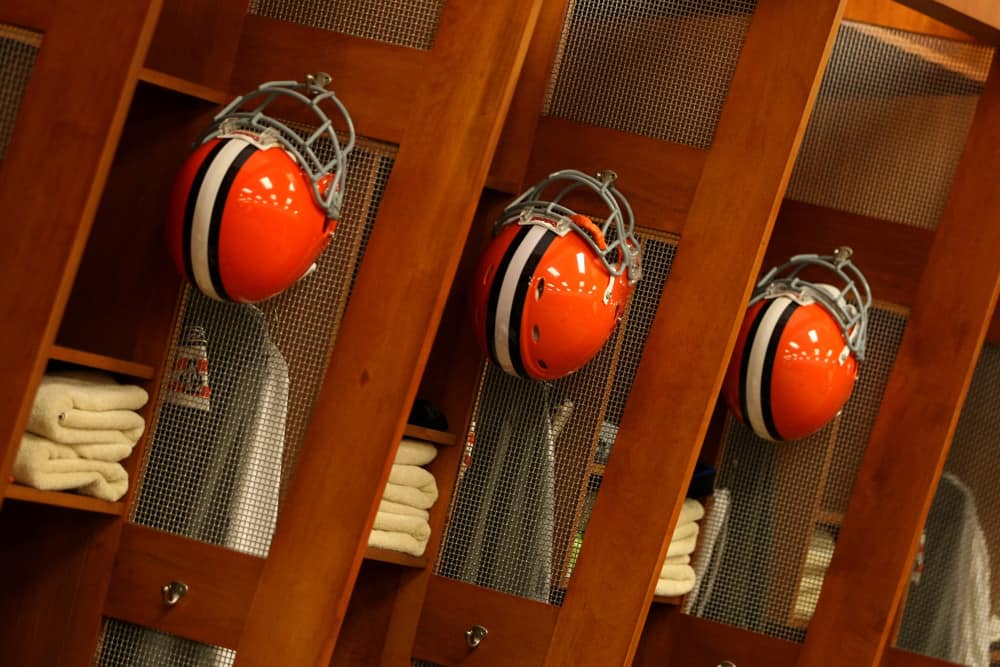 There is a familiar name on the Cleveland Browns' punter's uniform this week.
But that isn't Britton Colquitt taking the long snaps from Charley Hughlett.
Cleveland signed Britton's brother, Dustin Colquitt, to handle punting duties this week.
We've signed P Dustin Colquitt

— Cleveland Browns (@Browns) December 10, 2021
Colquitt punted for the Kansas City Chiefs for 15 years before bouncing around to his 4th team in 2 seasons.
Atlanta released him after Week 11 despite seeing some of his best punting numbers ever.
In Atlanta, Colquitt averaged 47 yards per punt in 6 games and 55 yards on his last 9 kicks since Week 10.
More importantly, Colquitt can handle snaps for placekicker Chase McLaughlin.
Special teams coordinator Mike Priefer hopes experience offsets the short window for the two to get comfortable.
Browns Rule Out 5 Players For Sunday 
Head coach Kevin Stefanski told reporters none of the 3 Browns on Covid Reserve will make it back this week.
David Njoku, as well as Anthony Walker, and Jamie Gillam apparently tested positive on Friday.
The situation is particularly aggravating for David Njoku, who remains asymptomatic per his social media.
Kevin Stefanski discusses the plan for the Browns offense without David Njoku and Harrison Bryant. #Browns pic.twitter.com/YIk9pGmrux

— clevelanddotcom (@clevelanddotcom) December 10, 2021
All three are fully vaccinated and none report any serious illness.
Stefanski also ruled out Anthony Schwartz due to lingering concussion concerns.
Schwartz is taking longer to recover than fans are used to, and his absence removes the Browns' best speed threat.
Cleveland will also be without tight end Harrison Bryant (high ankle sprain).
Earlier this week, Stefanski wouldn't rule out an injured reserve designation for Bryant.
Harrison, Smith, Elliott Among Questionable
Coming off a bye week, the Browns are expected to be healthier than they were for the first Ravens game.
But the team still lists 3 players as questionable heading into the weekend.
Ronnie Harrison, Jordan Elliott, and Malik Jackson all make the list but are expected to play.
#Browns LB Jacob Phillips continues to practice as the team monitors him to determine when he'll be activated from IR. pic.twitter.com/vx91HXZA9h

— Camryn Justice (@camijustice) December 10, 2021
Cleveland designated Linebacker Jacob Phillips for return, opening a 3-week window to be activated.
Phillips won't appear on the injury list until he is active, but there is mild speculation he could return.
Most importantly, Baker Mayfield is moving better than he has in a while.
His shoulder is a chronic thing for the season, but his legs and groin certainly benefitted from the week off.
No other players carry a designation on the Browns injury report.
What It Means For The Browns 
Linebacker Mack Wilson is the emergency punter, and Case Keenum handled long snaps before.
But Colquitt has more recent experience and veteran savvy that makes Stefanski more comfortable.
Undrafted free agent rookie Miller Forristall joined Austin Hooper in the tight end room this week.
Stefanski could call up recently-signed veteran Ross Travis from the practice squad.
Touchdown 2️⃣ today… 🔥

FB TD 👉 JOHNNY STANTON 👊#DENvsCLE x #Browns 
pic.twitter.com/VtpsLIKp5q

— BROWNS OR DIE 💀 (@BrownsorDie) October 22, 2021
But Johnny Stanton, who played some tight end in the preseason, is also available after a stint on the Covid list.
Cleveland used 3-tight end sets far more than any other team before their bye week.
Veteran Malcolm Smith wore the green dot earlier this year in Anthony Walker's absence.
That seems a safer option than expecting Phillips or another option to take Walker's snaps.