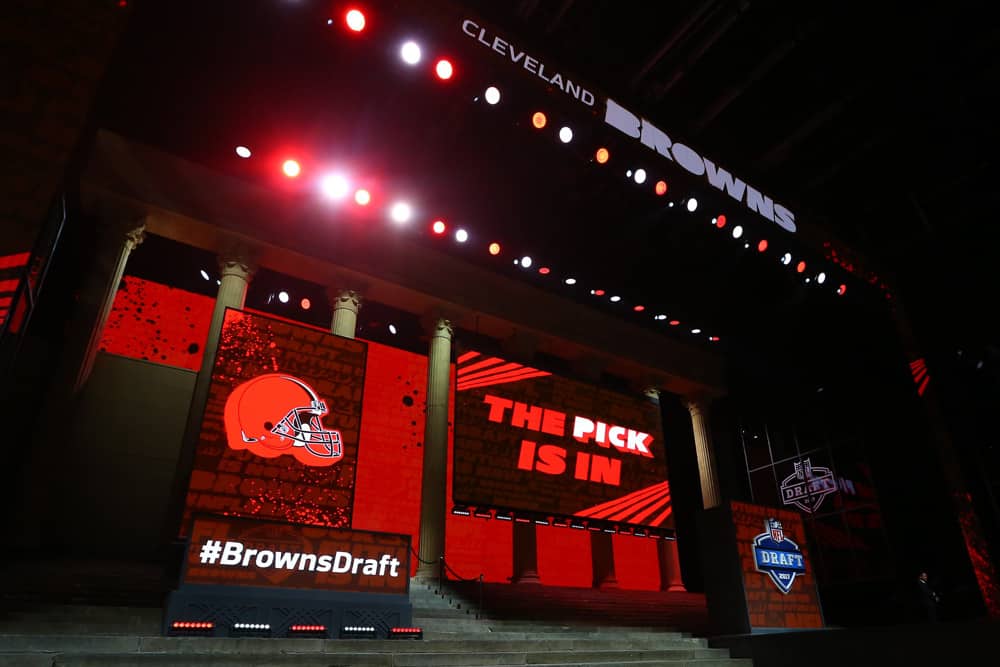 The 2021 NFL Draft begins on April 29, 2021.
In light of this week's free agency signings, analysts are updating their mock draft boards.
Before we look at the mock drafts, let's review when the Cleveland Browns will be drafting.
There are nine draft picks occurring in the following order:
First-round, 26th overall
Second round, 59th overall
Third round, 89th overall
Third round, 91st overall (from New Orleans Saints)
Fourth round, 110th overall (from Philadelphia Eagles)
Fourth round, 132nd overall
Fifth-round, 159th overall (from Los Angeles Rams)
Sixth-round, 211th overall
Seventh round, 257th overall (from Buffalo Bills)
In free agency, the Browns have made defense a priority signing away safety John Johnson III and cornerback Troy Hill from the Los Angeles Rams as well as former Atlanta Falcon defensive end Takk McKinley.
CBS's mock first round continues on the same theme of the Browns improving the defense and projects a defensive lineman will be added to the Browns roster.
CBS Mock Draft Predicts Jaelan Phillips Will Go To The Browns.
Most QB pressures in the ACC last season:

🔸 Rashad Weaver, Pitt – 48
🔸 Vitcor Dimukeje, Duke – 46
🔸 Chris Rumph II, Duke – 44
🔸 Jaelan Phillips, Miami FL – 42 pic.twitter.com/E5cq9tcSlS

— PFF Draft (@PFF_College) March 17, 2021
At the 26th pick, CBS projects that the Browns will draft Miami (Florida) defensive lineman Jaelan Phillips.
Phillips is 6'5″ and 255 pounds.
He is a California native who started his career at UCLA in 2017 before transferring to Miami in 2019.
His time at UCLA was filled with highs and lows.
He got a lot of playing time as a true freshman in 2017; however, his career at UCLA was abbreviated in 2018 when he suffered a season-ending concussion.
Jalen Phillips also dealt with ankle and wrist issues during his time at UCLA.
Phillips medically retired in 2018, left UCLA, and took classes at a community college in California.
His body healed, and he realized his college football career was not over leading to his transfer to Miami.
In 2020, Phillips reemerged and played the best college football of his career.
He earned second-team All-American and second-team All-ACC honors.
Regarding Phillips, The Draft Network says:
"A balanced defender, Phillips is a playmaker against the run and pass, where his exciting blend of size, length, power, technique, and athleticism make him a challenge for offenses to neutralize. Phillips is a versatile player that has experience playing with his hand in the dirt on the edge, rushing from interior alignments, and playing in space in a standup role—which makes him a fit for all teams in the NFL."
Because Phillips only played one blockbuster season (2020) over his collegiate career, there is concern that the sample size of his work is small.
Emory Hunt's CBS Mock Draft projection that the Browns take Phillips is consistent with Lance Zierlein of NFL Network's latest mock draft.
As with all matters related to the NFL Draft that is over one month away, everything is subject to change especially with first-round mock draft picks.
Stay tuned for more updates and speculation.