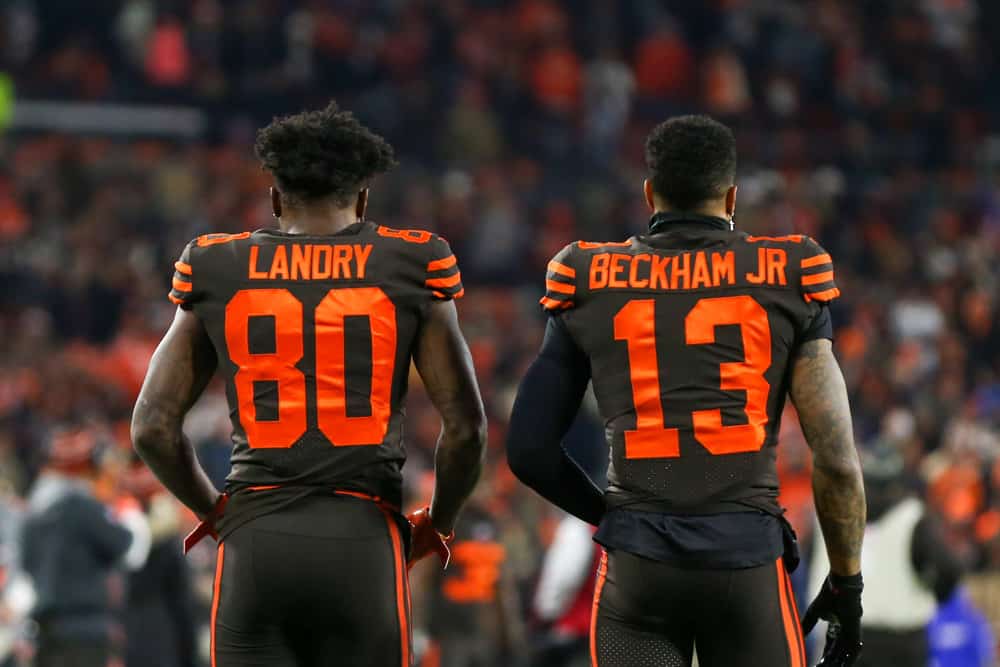 The Cleveland Browns star power at wide receiver doesn't end after Odell Beckham Jr.
Another Louisiana native, Jarvis Landry is one of the most reliable targets in the NFL.
Through six seasons, Jarvis Landry is one of the most underappreciated players in football.
He's never missed a game and is the only player in history to total at least 80 receptions and 700 receiving yards in each of his first six seasons.
In this second of a three-part series, we'll take a look at the players lining up opposite Odell Beckham Jr. in 2020.
Jarvis Landry
2019 Season: 83 receptions / 1,174 receiving yards / 6 receiving TD
Best Season: (2017) 112 receptions / 987 receiving yards / 9 receiving TD
2020 ESPN Projection: 75 receptions / 976 receiving yards / 6 receiving TD
Madden Rating: 85 (8th on Browns)
JARVIS. LANDRY.

What a catch and run!#CINvsCLE #ProBowlVote pic.twitter.com/pCX1j14nDb

— Cleveland Browns (@Browns) December 8, 2019

Landry actually had more catches, yards and receiving touchdowns than Beckham in 2019.
But Landry is a much different player.
He's a possession receiver, best out of the slot.
Landry might be the Browns most reliable option on 3rd down but he should not the lead team in receiving yards when Odell Beckham is on the same team.
Make no mistake, Jarvis Landry's consistency is a blessing for the Browns offense.
It can also be argued that he's the perfect complement to the big-play Beckham.
"One of the league's most productive slot receivers since entering the league in 2014."
Production + Consistency is one of the best combinations in sports and Landry has it.
He will hope to continue his trademark consistency following offseason hip surgery.
Jarvis Landry, on recovering from hip surgery: "The rehab process is going great. … I can't predict when I'll be back on the field, whether it's July, August or September." Did add August is the target.

— Jake Trotter (@Jake_Trotter) May 20, 2020
Another interesting factor for this season is how many targets new tight end Austin Hooper takes over the middle of the field.
The Browns are paying Hooper $11.5 million this season to catch passes and make plays.
It remains to be seen how that will affect Landry's streak of 80-catch seasons.
One thing we do know is Landry but will be there, most likely open, if Baker Mayfield needs him.
Rashard Higgins
2019 Season: 4 receptions / 55 receiving yards / 1 receiving TD
Best Season: (2018) 39 receptions / 572 receiving yards / 4 receiving TD
2020 ESPN Projection: 9 receptions / 123 receiving yards / 1 receiving TD
Madden Rating: 74 (24th on Browns)
Baker Mayfield's targets in 2019 were funneled to Beckham, Landry and nearly no one else.
The duo combined for 271 targets, an unsustainable amount for any potential playoff team.
The Browns were expecting Rashard Higgins to step up behind Beckham and Landry following his breakout 2019 season but that did not happen.
Instead, Higgins battled injury and logged just four catches.
One of them was this game-winner.
"TOUCHDOWN! IT'S RASHARD HIGGINS!"

🗣 Jim Donovan's call of our game winner pic.twitter.com/dk2JOTagr2

— Cleveland Browns (@Browns) November 11, 2019
ClevelandBrowns.com explains Higgins this way:
"It started at the beginning of 2018 training camp. Working with the second-team offense, Higgins quickly became Mayfield's favorite target, hauling in a number of big catches and touchdowns to secure his spot on the 53-man roster. He followed with a career year and was particularly effective after Mayfield took over as the starter. It just didn't carry over to 2019, as Higgins dealt with a knee injury and then rarely saw the field."
Training camp will be critical for Higgins to gel with Mayfield like he did two summers ago.
If he can, the third wide receiver spot is his.
If he doesn't, it opens the door wide open for the next group of receivers.