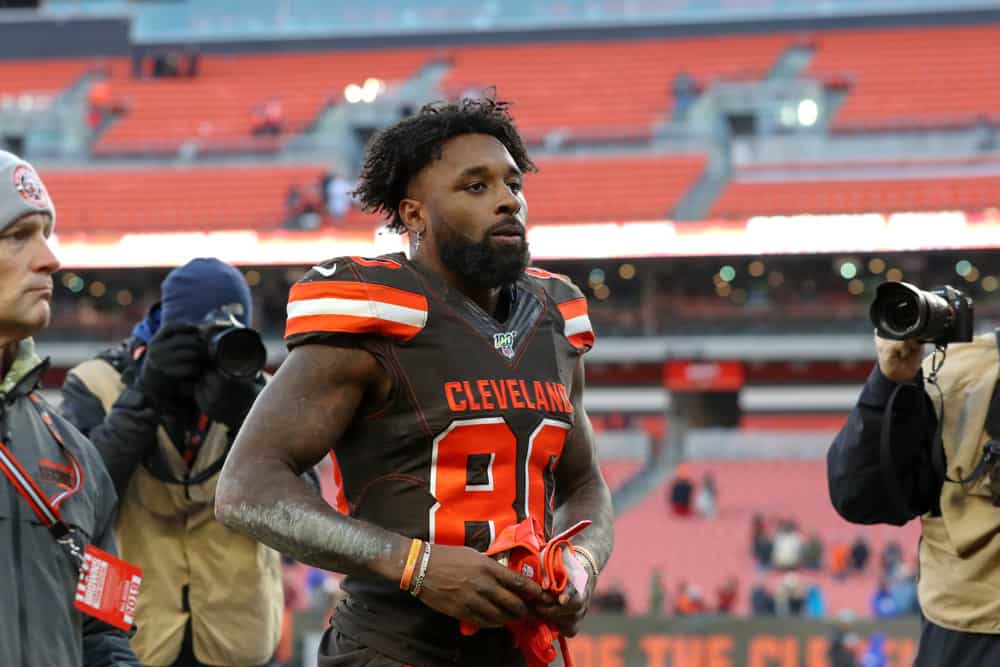 Rapid-fire question: Who is the best wide receiver on the Cleveland Browns?
Some of you instantly think Odell Beckham Jr.
It's understandable because Beckham is a pure talent of his own.
However, how many times does Jarvis Landry have to live in a shadow before experts appreciate his worth?
In 2019, Landry silently made history and it begs the question.
Do we not appreciate Landry as much as we should?

Setting Milestones
In 2019, Landry finished the season with 83 receptions for a career-high 1,174 receiving yards.
Since coming out of LSU in 2014, Landry has been a steady wide receiver.
84 receptions for 758 receiving yards in 2014
110 receptions for 1,157 receiving yards in 2015
94 receptions for 1,136 receiving yards in 2016
112 receptions for 987 receiving yards in 2017
81 receptions for 976 receiving yards in 2018
83 receptions for 1,174 receiving yards in 2019
According to CBS Sports, Landry is in a league of his own.
Keep thinking Jarvis Landry doesn't deserve a seat at the table.

Landry is the ONLY player in NFL history to record at least 80 receptions and 700 receiving yards in each of his first 6 seasons.

— CBS Sports HQ (@CBSSportsHQ) July 19, 2020
Under-Appreciated?
Even though Landry has consistently put up numbers, he might be a product of a poor quarterback.
In fantasy football rankings, Landry is considered an eighth-round prospect.
Round 8:
1. Sammy Watkins
2. Robbie Anderson
3. A.J Green
4. Will Fuller V
5. Jared Cook
6. Dede Westbrook
7. Austin Ekeler
8. Jarvis Landry
9. Aaron Rodgers
10. Tarik Cohen

— Fantasy Football (@Fantasy2020news) July 14, 2020
While top-5 wide receivers like Julio Jones (Matt Ryan), DeAndre Hopkins (Deshaun Watson), and Michael Thomas (Drew Brees) have had a premier quarterback, Landry's story has been different.
Landry had the likes of Ryan Tannehill and Baker Mayfield thrown to him.

Blamed For QB Play
Landry has made the best of having Mayfield throw to him despite Mayfield's sophomore slump.
Most slot catches of 15+ yards since 2018:

➤ Tyler Boyd – 38
➤ Travis Kelce – 33
➤ Robert Woods – 31
➤ Jarvis Landry – 31
➤ Larry Fitzgerald – 31 pic.twitter.com/ws9kE3Fohv

— PFF Fantasy Football (@PFF_Fantasy) July 19, 2020
It's safe to say that Landry has been downplayed for his career because he has never had a true "elite" quarterback throwing to him.
However, that's even more reason to believe that Landry should be propped up.
Most receiving yards on play-action passes among WRs in 2019:

A.J. Brown – 646
Odell Beckham Jr. – 536
Jarvis Landry – 521
Stefon Diggs – 452 pic.twitter.com/FVYxwqBQ6c

— PFF CLE Browns (@PFF_Browns) July 13, 2020
Instead, according to the 2020 Fantasy Football Pros, Landry is ranked the No. 29 best receiver, while Beckham is ranked No. 10.
What they forget is that Landry finished as the No. 10 ranked receiver in PPR leagues according to ESPN. 
The proof is in the pudding.

Final Thoughts
It's hard to believe that Kenny Golladay, JuJu Smith-Schuster, AJ Brown, and Terry McLaurin should be rated higher than Landry.
It proves that Landry is viewed based on who is throwing the ball and having a "star" on the other side.
Think Scotty Pippen.
Then again, Pip was undervalued during his time with the Chicago Bulls before time showed he was one of the best "sidekicks" to have on a team.
Maybe, there could be a resemblance.