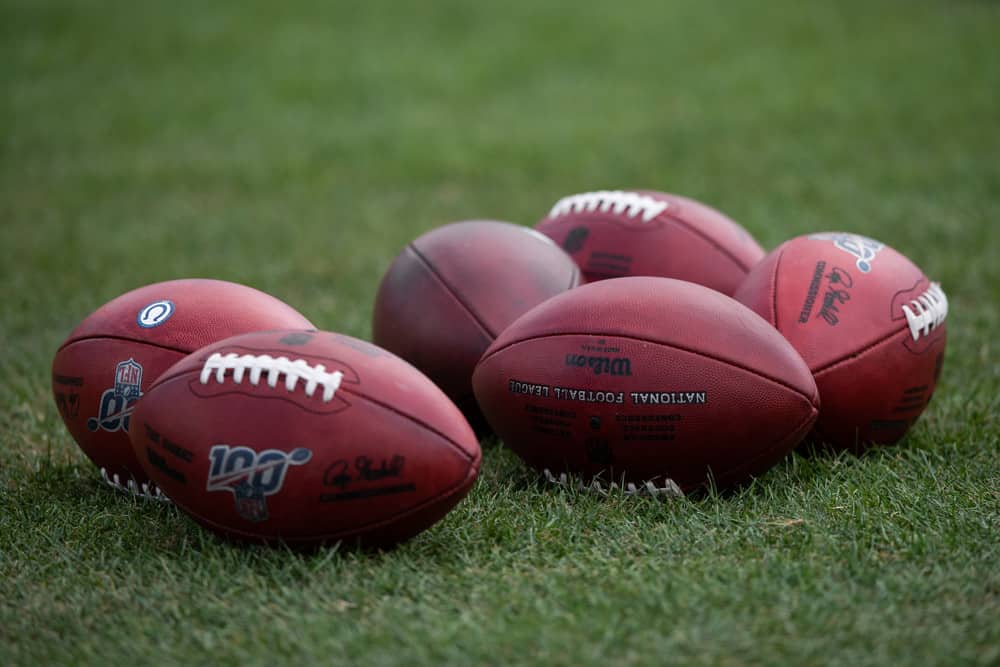 The Cleveland Browns boasted the running back with the second-most rushing yards in the league last year.
But one can argue they still under-utilized their running backs.
After a couple of early-season blocking miscues, Freddie Kitchens all but benched Dontrell Hilliard and D´ Ernest Johnson for the year.
Fans expected great things when former rushing title holder Kareem Hunt joined the team in Week 10.
But his was primarily a passing role in an offense shifting toward Baker Mayfield.
The Browns three rushers not named Chubb combined for 249 rushing yards.
Justice Hill, the fourth leading rusher in Baltimore, had 225 by himself.
So it was that despite Nick Chubb´s heroics, the Browns wound up ranked 12th in rushing yards.
Cleveland Browns:
2019 Browns stats:
Rushing att: 341 (not QB or trick plays)
Passing att: 534

Having two elite RB's, better line, also taking into consideration Baker's interception history, would of not be wise to reverse those stats in 2020!

541 rushing att
241 passing att pic.twitter.com/BdXniCUZwH

— al (@al_asifyouknow) July 9, 2020
Things should change under Kevin Stefanski.
Despite running Dalvin Cook as his clear workhorse, Stefanski got 850 rushing yards from a trio of others.
Who can pick up those yards for Cleveland in 2020?
Kareem Hunt wants a chunk of them.
But Stefanski inherits a roster with a bunch of rushers ready to prove their worth.
Will a newcomer step in to bump one or two of the incumbents out of the picture?
Cleveland will use a fullback this season, so one addition is certain.
Who else might force Kevin Stefanski to put them on the field?
Andy Janovich, FB- 6´1″ 238# entering 5th season (Nebraska)
Things can change pretty fast in the NFL.
Barely 10 months ago, Andy Janovich was enjoying another solid season- his fourth- for the Denver Broncos.
His newly-signed 3-year extension would kick in during the offseason, affording unusual security for an NFL player.
But, in November, Janovich landed on injured reserve with a gruesome elbow injury.
After the season, Denver hired a new offensive coordinator in Pat Shurmur.
Shurmur is not among the fading number of coaches who utilize fullbacks.
Denver GM John Elway called Janovich in March and spoke only one sentence.
Janovich was traded to the Cleveland Browns.
.@AndyJanovich ready to work with a "dream offense" for fullbacks 😤

📰 » https://t.co/vNUyH6bGJZ pic.twitter.com/EsOdoOtVlW

— Cleveland Browns (@Browns) May 20, 2020
Kevin Stefanski is elated to have a proven fullback for his offense.
Minnesota put their fullback on the field more than just one other team in 2019.
Janovich knew nothing about the Browns or Stefanski.
But after a conversation with the coach and Andrew Berry, he was elated by his good fortune.
Barring a setback, Janovich is a lock to make the Browns roster.
He brings the intelligence and toughness modern day fullbacks need.
Janovich was not asked to touch the ball much in Denver.
There it is: Andy Janovich's first career touchdown #Huskers pic.twitter.com/2OMqUuzZTg

— Josh Planos (@JPlanos) September 9, 2016
But his first NFL carry went for a 28-yard touchdown.
With just 35 touches in parts of 4 seasons, he owns 284 total yards and 4 touchdowns.
He expects to be more involved in Cleveland.
Johnny Stanton, FB- 6´2″ 240# entering 2nd season (UNLV) 
Much was made of the Stefanski-Stanton connection when Cleveland signed the free agent.
But in his two years with the Minnesota Vikings, Stanton never saw the field.
His rookie preseason ended with a torn ACL and a spot on the injured reserve for al of 2018.
In 2019, he sat on the practice squad until his release in December.
Still, he is familiar with the Stefanski language and could help Janovich in that regard.
Stefanski played quarterback and linebacker in college.
Minnesota signed him as an undrafted free agent planning to give him a shot at tight end.
They converted him to fullback almost immediately.
He is a longshot to make the Browns roster, even if Stefanski is a fan.
However, he will probably land a practice squad spot with the expected addition of positions.
Brian Herrien, RB- 5´11″ 208#  Rookie UDFA (Georgia)
Brian Herrien found his name on more than a few mock draft boards as a mid-round 2020 pick.
With 277 carries for 1413 yards and 13 touchdowns for a major college team, that seemed low.
But Herrien ran up those stats across his career, not in one season.
Herrien is a solid athlete with the misfortune of sharing the field with superstars.
Besides being a former teammate of Nick Chubb, he also played behind Sony Michel and DeAndre Swift.
This catch by Brian Herrien … still ridiculous. @UGAAthletics | #SECNTakeover pic.twitter.com/CFe2tgXdHy

— SEC Network (@SECNetwork) March 20, 2020
One can argue he brings talent without the mileage of some of his peers.
But one can also argue he is unproven in extended game situations with its wear and tear.
That eventually worked out well for Kenyan Drake.
It is no guarantee Herrien brings enough to beat out Dontrell Hilliard or D´Ernest Johnson for a roster spot.
Herrien returned 10 kickoffs at Georgia.
Making his mark on special teams might be his best hope of avoiding a practice squad stint.
Benny LeMay, RB- 5´8″ 220#  Rookie UDFA 
Benny LeMay didn´t have to fight for touches in his collegiate career.
He was the man at UNC-Charlotte for the past two years.
LeMay tallied 2325 yards and 20 touchdowns on 425 carries in 2018-19.
Benny Lemay could be a decent late round selection. Usually shows great patience running the ball and runs hard. pic.twitter.com/rOqKdzaf0W

— Pro Football Magazine (@ProFootball_Mag) January 18, 2020
He also grabbed 40 passes for over 500 yards and 4 more touchdowns.
That pass-catching ability might help overcome the odds he faces to make the roster.
LeMay is considered a little slow for a running back (4.75 second 40-yard at the combine).
UNC-Charlotte´s schedule was not loaded with powerhouse defenses, either.
But he is considered a tough runner with a great attitude.
He will almost have to contribute something to special teams to have a shot at sticking.
Herrien will have the toughest time of the running back group to find a spot.
The Variables and Intangibles
This is head coach Kevin Stefanski´s first gig as the boss.
We do not know how he operates or how the altered preseason will affect decisions.
All four of the players outlined above are part of the first "Berry-Stefanski guys" group.
Does that give them an advantage over Dorsey guys like D´Ernest Johnson and Dontrell Hilliard?
Or will the input of special teams coordinator Mike Preifer flip that around?
.@EAMaddenNFL Ratings adjuster says there's a legitimate case for both Kareem Hunt and Nick Chubb as top 5 RBs 👀

📰 » https://t.co/A4Pd5U0msV pic.twitter.com/WiQlqtS20d

— Cleveland Browns (@Browns) July 23, 2020
With no preseason games to test rookies, guys with film likely have an advantage.
But the analytics geniuses manning the Browns´ facility could have a workaround.
The luxury of Nick Chubb and Kareem Hunt as starters affords some chance-taking, too.
So, we´ll have to see how it pans out.
But my call is Chubb, Hunt, Hilliard, and Janovich on Sunday, with Herrien, LeMay, and Stanton on the expanded practice squad.