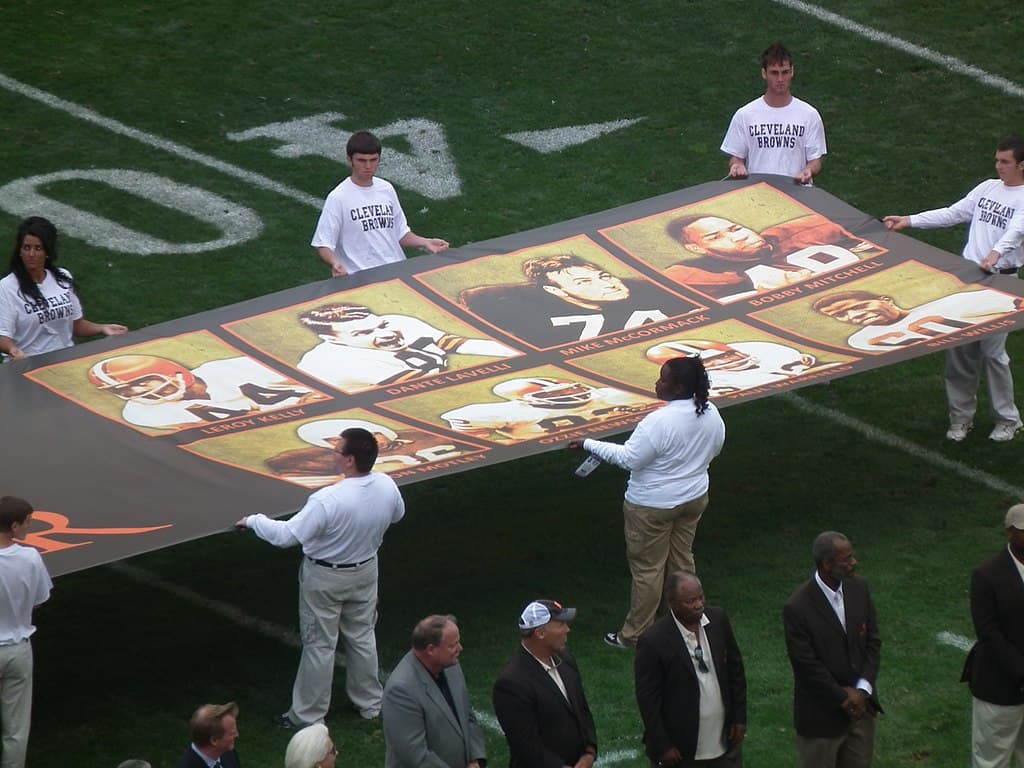 NFL Hall of Famer Bobby Mitchell passed away Sunday in Washington DC.
Mitchell was a 1958 7th-round draft pick of the Cleveland Browns.
He teamed up with the legendary Jim Brown to form the NFL´s most dangerous rushing duo.
Bobby Mitchell 1935-2020 @NFL @NFLAlumni @Ol_TimeFootball @EbbetsVintage @ProFootballHOF @Browns @Redskins pic.twitter.com/Y38IGHduPt

— NFL Classic! (@79_nfl) April 6, 2020
Despite playing second fiddle to Brown, Mitchell rushed for over 500 yards in each of his four seasons in Cleveland.
He was also an adept receiver and a dangerous return man.
Mitchell racked up 5917 total yards as a returner and halfback with 38 touchdowns.
He was the Browns record-holder for kickoff returns for touchdowns until Josh Cribbs passed him in 2009.
Mitchell still holds the team record for rushing yards-per-carry by a rookie (6.3 yards).
Mitchell Was Part of a Tragic Trade
In 1962, Mitchell was traded to the Washington Redskins for their first-round draft pick, Ernie Davis.
Davis would tragically die of leukemia before ever playing professional football.
But Mitchell switched positions to flanker and gained over 1300 receiving yards two years in a row.
Mitchell was the first African-American signed by the Redskins, the last NFL team to integrate.
Hall of Fame Halfback/Flanker Bobby Mitchell has passed away at the age of 84. He was the first black player to play for the Washington Redskins. He'll be deeply missed #RIP pic.twitter.com/VWfwtzKYlY

— Four Verts 🏈 (@FourVerticals_) April 6, 2020

Off the field, Mitchell was a respected activist for equal rights.
He finished his playing career in Washington as a 4-time Pro Bowler.
Then, he went on to spend 35 years in the Washington front office.
When he retired, he was an assistant general manager for the Redskins.
Bobby Mitchell was enshrined in the NFL Hall of Fame in 1983.
Remembering Hall of Famer Bobby Mitchell. #RIP pic.twitter.com/Hl9zbIPbyi

— Pro Football Hall of Fame (@ProFootballHOF) April 6, 2020
Mitchell Could Have Played Baseball
The St Louis Cardinals wanted to sign Mitchell to a minor league baseball contract out of high school.
But he decided to attend the University of Illinois and play football.
In his sophomore season, Mitchell was the second halfback on the depth chart until an injury put him on the field.
The first time he touched the ball, Mitchell scampered 64 yards for a touchdown.
He wound up with 173 yards on 10 carries as the Illini upset then third-ranked Michigan.
There were two more games in the season.
Mitchell went over 100 yards rushing in each of them and gained 8.6 yards-per-carry.
He also played defensive back.
Junior year was wiped out by a knee injury.
But he was good enough as a senior to play for the College All-Stars.
Back then, college all-star teams played exhibitions against NFL teams.
Mitchell scored two receiving touchdowns, including an 82-yarder, as the collegiates upset the Detroit Lions.
Football Wasn´t Mitchell´s Best Sport
Bobby Mitchell was determined to make his mark as an athlete after college.
But it wasn´t the NFL he had in mind.
Mitchell was also a world-class track athlete.
For 6 days in 1958, Mitchell owned the world record for the 70-yard low hurdles.
He scored 11 points in the Big Ten Track Championship, leading Illinois to the league title.
Bobby Mitchell set his sights on the 1960 Olympics.
Saddened to hear football Hall of Famer and NFL legend Bobby Mitchell has passed away today at age 84. Prayers to his family and friends. #RIP #NFLTwitter #RIPBobbyMitchell #Browns #Redskins #topps pic.twitter.com/7W7AojmFD4

— Dave's Vintage Baseball Cards (@gfgcom) April 6, 2020
But, in what was definitely a different era, Paul Brown lured Mitchell to the NFL with a $7,000 rookie contract.
Brown got his money´s worth.
In his rookie season, Mitchell ran back a kickoff 98 yards.
The following year, a 78-yard punt return and a 90-yard scamper off tackle highlighted his touchdown tally.
Mitchell´s first Pro Bowl appearance was as a Brown in 1960.
Bobby Mitchell was 84 years old.
He is survived by his wife, Gwen, and two children.