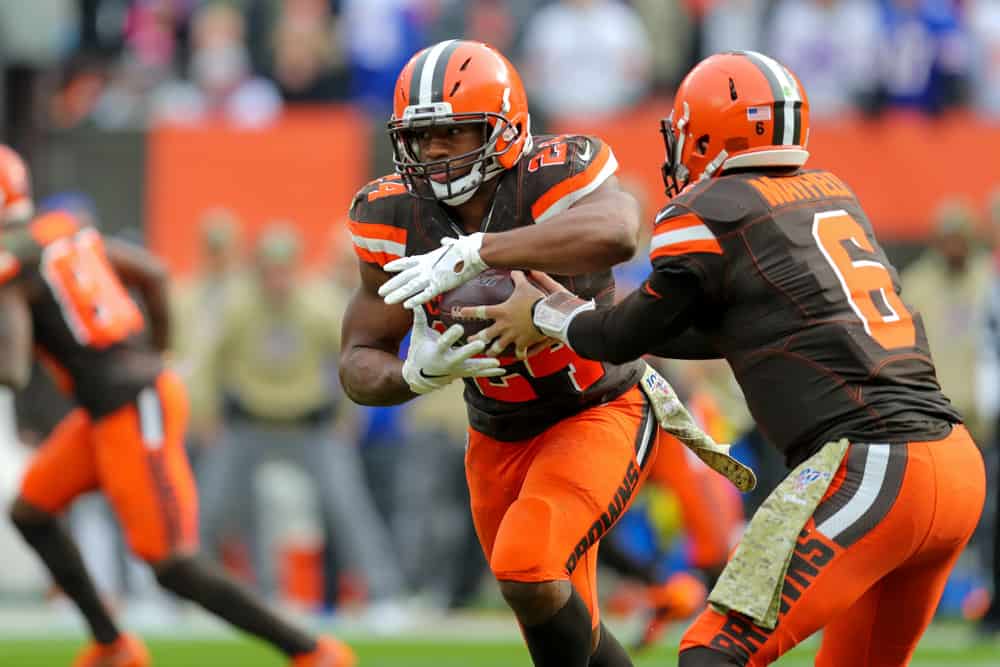 Time heals all wounds… even sore ribs and knees.
So it is that the Cleveland Browns expect to look healthier after their Week 9 Bye.
GM Andrew Berry anticipates returning and rested players will improve the team's second-half performance.
5-3 at the bye. Ill take it. We should get teller and Chubb after bye. Hopefully myles is just a bruised injury.

We get Houston. 6-3 calling ma shot.@Browns @ESPNCleveland

— King Alvarez (@KingAlvarezPR) November 1, 2020
He offered that thought on his mid-season press call while discussing why he made no deals at the trade deadline.
So, who is coming back to make Berry optimistic about matching or beating the Browns' 5-3 start?
NFL teams tend to be a little vague when it comes to injury updates, especially during a bye week.
But here are some details on healing players expected to return in Week 10.
Players Back on Offense: Hooper, Chubb, Teller updates 
Austin Hooper returned to practice Wednesday, not even two weeks after his appendectomy.
There were no complications and he will be 100% against the Texans in Week 10.
Nick Chubb and Wyatt Teller are officially questionable this week as they recover from knee and calf injuries respectively.
But Head Coach Kevin Stefanski told reporters the pair hit all recovery targets during their rehab so far.
It is expected both will return to the field to take on Houston.
Before suffering an injury, #Browns Nick Chubb was averaging a 10+ yard run ~every four carries, and a touchdown ~every 14 carries. pic.twitter.com/b5KTVnYALD

— Sam Penix (@Sam_Penix) November 4, 2020
Chubb had a moderate MCL sprain and might be a little uncomfortable making lateral cuts.
But his burst and speed should not be affected, with the biggest risk of reinjury being a direct hit on the outside of his knee.
Teller had a calf injury which can affect his ability to hold back rushing defenders.
He was questionable right up until game time heading into Week 8.
With the extra rest from the Browns' bye week, Teller is likely to be near full-strength against the Texans.
Baker Mayfield did not throw a pass to Khadarel Hodge in his Week 8 return.
But it was good news that Hodge survived 34 snaps on a messy field without exacerbating his hamstring.
Players Back on Defense: Garrett, Phillips Updates
Cleveland reported that an MRI this week showed no significant structural damage to Myles Garrett's knee.
But "significant damage" doesn't rule out some injury and Garrett obviously felt enough pain to sit out much of the Raiders game and warrant the MRI in the first place.
The Week 9 bye might have been the perfect timing for Garrett to rest his sore knee.
Reports from the team are that Garrett will be ready for a full load in Week 10.
Myles Garrett: Man on a mission. (And apparently, "the straw that stirs the drink," says #Browns head coach Kevin Stefanski.) pic.twitter.com/Q8jlANc8wE

— Aditi Kinkhabwala (@AKinkhabwala) October 30, 2020
Jacob Phillips was limited to some time on the bikes during Wednesday's practice.
There have been no detailed updates on his injury, listed as "lingering knee injury."
Phillips missed the three games leading up to the bye week and is listed as questionable this week.
It makes sense to take advantage of the bye and rest the knee further.
Next week's practice status will provide a better idea in Phillips can return in Week 10.
Stefanski did not have information on Greedy Williams and his shoulder injury.
Williams is eligible to come off injured reserve, but it does not appear his return is imminent.
The Walking Wounded Who Can Use a Rest 
Like every NFL team, the Browns have many players working through less serious injuries.
Larry Ogunjobi was limited in practice last week due to a hamstring issue.
Linebacker Mack Wilson continues to recover from his knee injury.
Week 10 will mark the first week he plays without a knee brace and hopes to be on the field for more snaps.
Time to separate and lead the pack. 🙏🏾💯 #BlockOutTheNoise #5ive1 pic.twitter.com/9MJxric2HL

— Mack Wilson (@5mackwilson1) November 5, 2020
Center JC Tretter skipped some practices last week, although he played against the Raiders.
Tretter and Jack Conklin (knee) are not complaining about a week off.
Time to rest is all that will heal the rib injuries of Kareem Hunt and Jarvis Landry.
Eight weeks of hard practice and the contact of NFL games would leave anyone a little achy and tired.
But the Week 9 Bye Week should recharge the Browns for a second-half push to the playoffs.