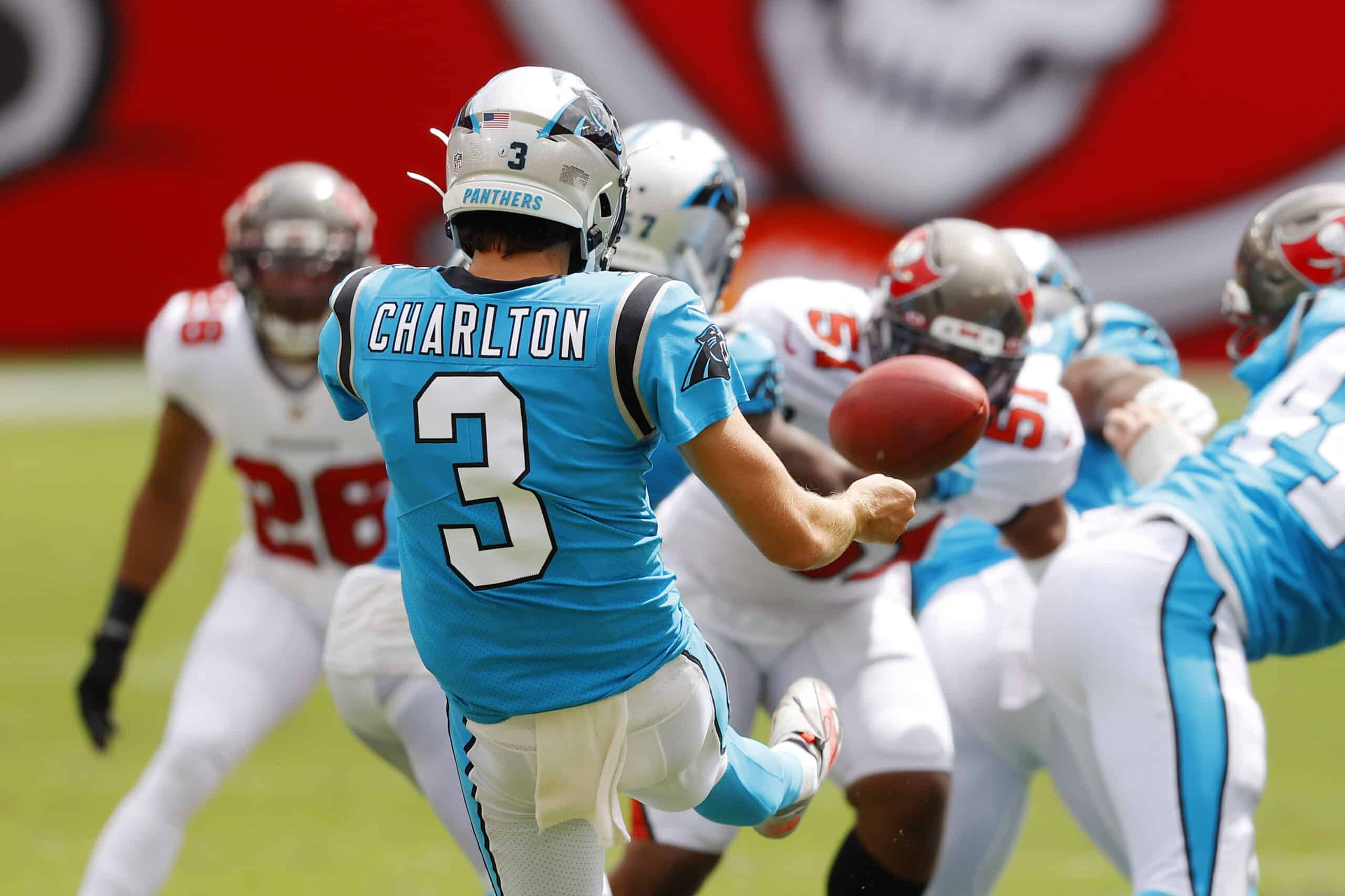 It looks like the Cleveland Browns are already focusing resources on special teams after a mediocre showing by the special teams unit in 2021.
Today, the Browns signed former Carolina Panthers punter Joseph Charlton.
#Browns signed punter Joseph Charlton to a futures contract. He was with Panthers the past two seasons, slowed by back issues this season.

— Tom Withers (@twithersAP) February 1, 2022
Who Is Joseph Charlton?
Charlton was an undrafted free agent out of the University of South Carolina in 2020.
The 24-year-old was signed by the Carolina Panthers and spent the entire 2020 season with the team.
#Browns signed P Joseph Charlton to a reserve/futures contract. Charlton was originally signed by the Carolina Panthers as an undrafted free agent in 2020. He appeared in 21 contests with the Panthers and one with the Jacksonville Jaguars over the course of the last two seasons.

— P.J. ZIEGLER (@PJFOX8) February 1, 2022
He punted 45 times as a Panther for a total of 2,082 yards for an average of 46.3 yards per punt.
His longest punt in 2020 was 67 yards in Week 16.
That capped off a great game against the Washington Football Team with five punts inside the 20-yard line.
Charlton was named the NFC Special Teams Player of the Week for that Week 16 performance.
#Panthers P Joseph Charlton wins NFC Special Teams Player of the Week

📰: https://t.co/fonuLaUR1P | #KeepPounding pic.twitter.com/ZvyXMCjlCh

— ThePanthersWire (@ThePanthersWire) December 30, 2020
In 2021, he was off to a good start with the Panthers with 21 punts for 821 yards including a 57 yarder through Week 5.
Following that, he was placed on injured reserve due to back problems and eventually released.
He ultimately signed with the Jacksonville Jaguars on December 28, 2021.
Charlton appeared in 1 game as a Jaguar punting 3 times for 152 yards.
Browns sign punter Joseph Charlton to reserve/futures contract — https://t.co/2m0u55GxoA

— Ryan Lewis (@ByRyanLewis) February 1, 2022
Could Charlton Snag The Starting Punting Job?
The Browns starting punter position is up for grabs.
Jamie Gillan was the punter at the beginning of 2021.
Gillan performed poorly, contracted COVID-19, and got released.
His 39-year-old replacement, veteran Dustin Colquitt, was likely a temporary fix for the final 5 games of the season.
One Of Many Holes To Fill On Browns Special Teams
AFC North makes a pretty convincing argument for best division of kickers: Justin Tucker, Chris Boswell and Evan McPherson 🔥🔥🔥

— Brooke Pryor (@bepryor) January 30, 2022
The AFC North is stacked with excellent kickers.
Rookie Evan McPherson for the Bengals is performing extremely well in big-game situations.
Everyone knows what Ravens kicker Justin Tucker is capable of; he is the epitome of kicking greatness.
Pittsburgh's Chris Boswell is also reliable under pressure.
In 2021, the Browns had Chase McLaughlin who was inconsistent.
The Browns need to find their steely nerved kicker and watch him blossom over a long career.