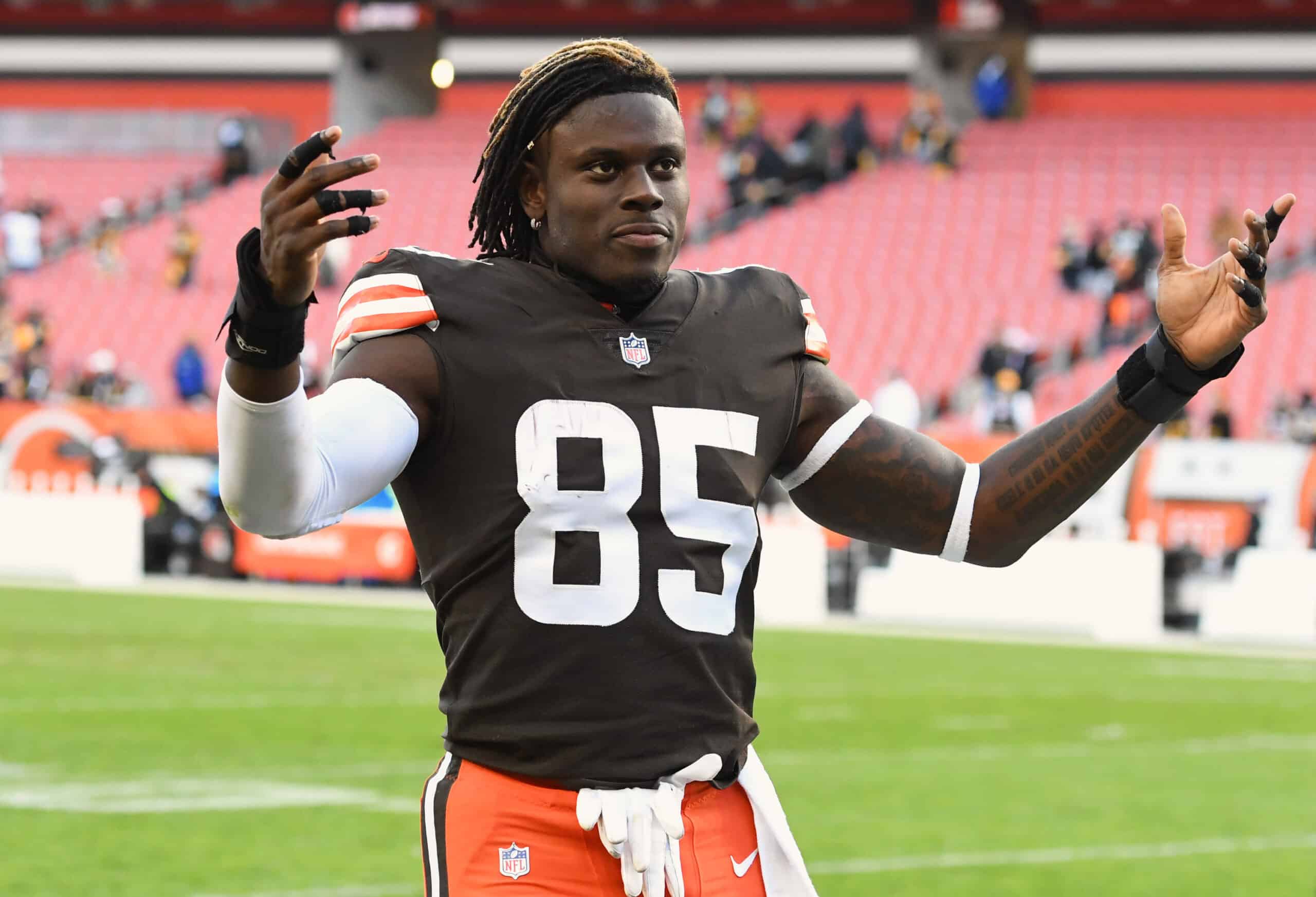 David Njoku is one of the most popular players on the Cleveland Browns football team.
The pending free agent told the team, their fans, and his agent he wants to re-sign with the club.
Spotrac projects he is worth $7 million per season, just a bit more than the $6 million he earned for 2021.
And the Browns need another tight end or two to run Kevin Stefanski's offense.
TE David Njoku: "I love it here to the core. I want to be here for the rest of my career." #Browns

— Jake Trotter (@Jake_Trotter) January 10, 2022
This should be as easy a decision and negotiation as any on GM Andrew Berry's plate.
But nothing is ever as easy or as obvious as it seems.
Berry has several high-profile free agents, as well as some urgent contract extensions to consider.
And that throws some potential monkey wrenches into the process.
Is Njoku Worth $7 million per season? 
David Njoku finished with the most receiving touchdowns among all Browns players.
He hauled in Cleveland's longest pass of the year, 71-yards, and averaged more yards per catch than any wideout.
When the Browns needed a big play, Njoku was a reliable target and a favorite of both Browns' quarterbacks.
But his stats are not that impressive on their own, including just 36 catches on 53 targets (68-percent).
Looking at free agent TEs today for the #Cowboys. David Njoku is estimated to cost $6.9M annually per @spotrac had only 2 drops last year and is just 25. He's extremely athletic and has been a late bloomer. Buy-low investment #DC4L pic.twitter.com/c0riG6VZlL

— Reid D Hanson (@ReidDHanson) January 26, 2022
And 7 of those catches, along with almost one-third of his total 475 yards came in Week 5 against the Chargers.
He is also 1 of 3 pass-catching tight ends, with Harrison Bryant ready to step into Njoku's role.
With good hands, speed, height, and strength at the point of the catch, Njoku is worth $7 million or more.
But he might not be worth that much to the Cleveland Browns, unless…
The Austin Hooper Factor 
Andrew Berry gave a huge contract to Austin Hooper a couple of years ago.
And just as Njoku is looking for a big raise, Hooper's cap hit jumps to over $13 million.
Cleveland has 4 options on Hooper, 2 of which bode well for a Njoku return and 2 of which don't.
Trading or releasing Hooper before June only saves $2 million in each of the next three seasons.
DAVID NJOKU WHAT A CATCHpic.twitter.com/DWHmIOgpyM

— PointsBet Sportsbook (@PointsBetUSA) January 4, 2022
After June 1st, Berry can release Hooper and save $9.5 million in 2022 and 2023.
Berry can also do Hooper a solid by releasing him in March with a post-June 1st designation.
That allows Hooper to negotiate with other teams and still saves Cleveland the cost of his salary after June.
If Hooper offers to renegotiate his deal, Berry can move enough cap costs to keep Njoku and Hooper in the fold.
If Not David Njoku, Then Who? 
Cleveland signed Miller Forristall and Nick Guggemos to minimum contracts for 2022.
But the only experienced tight ends on the roster are Hooper and Bryant.
Stefanski made do with only 3 tight ends for most of this season, but Hooper appeared gassed by January.
It would seem 4 is a better number if Stefanski continues to use 2- and 3-tight end sets as he has to date.
David Njoku got 🆙 pic.twitter.com/seKkDT5em0

— PFF CLE Browns (@PFF_Browns) November 7, 2021
Over 50 tight ends are listed as pending free agents, ranging in value from Stephen Carlson to Rob Gronkowski.
But that pool will dwindle significantly before the March 11 signing period as teams re-sign their own.
Some "names" could still hit the open market, including Evan Engram, Zach Ertz, and OJ Howard.
So if Berry balks at paying Njoku full value, he can still land 1-2 experienced tight ends.
The Verdict: Buy! Browns Sign Njoku 
Cleveland and David Njoku present a rare combination of a motivated buyer and a motivated seller.
It is almost unimaginable that Andrew Berry will let Njoku and his fans down.
Austin Hooper's contract is obviously a point of contention.
But it is unlikely fans will see their demand to cut Hooper to sign Njoku come to fruition.
Browns' David Njoku asked about having a healthy Baker Mayfield back at quarterback for the Browns next season: "Yes, I am excited to have everybody healthy and ready to go next season."

— Ben Axelrod (@BenAxelrod) January 10, 2022
Hooper will defer or accelerate bonuses and salary and Njoku will do the same as needed to fit the budget.
Berry is adept at manipulating the cap to get what he needs.
Even with all the mid-season signings and practice squad elevations, he came in well under the low cap of 2021.
So rest easy, David Njoku fans- he'll be with the Browns a few more seasons.