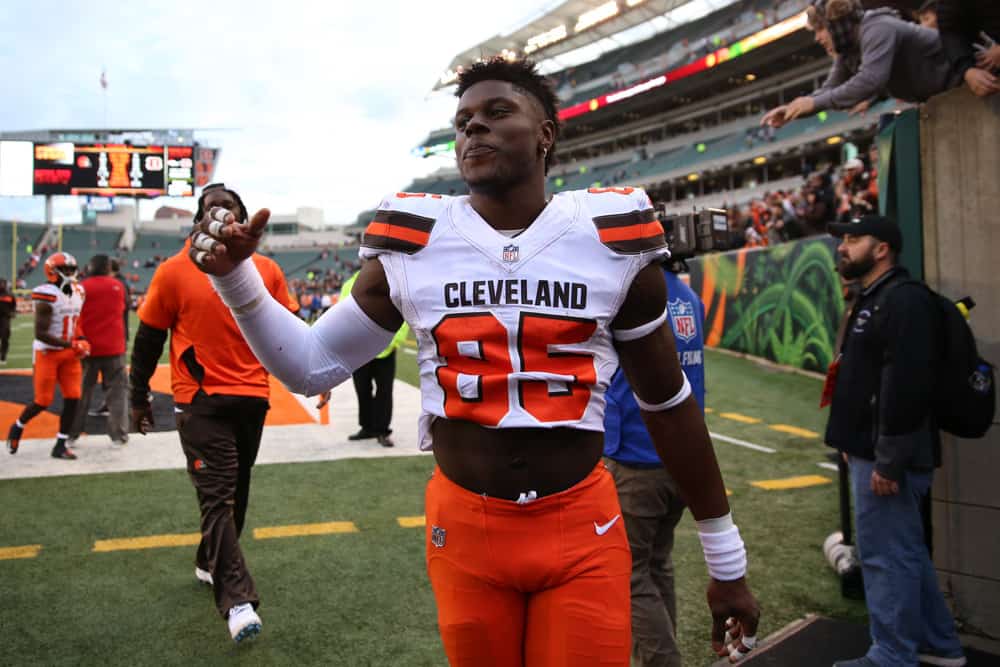 There wasn't anything cryptic about David Njoku's tweets this week.
He bluntly and directly rebutted criticism over a meme he posted after his 5th-year option locked in.
The Cleveland Browns tight end posted a popular "toast" meme, Leonardo DeCaprio raising a glass in salute.
— Chief David Njoku (@David_Njoku80) March 17, 2021
Apparently, there were some who thought Njoku was saluting the money he was guaranteed.
But the player denies that emphatically.
For what it is worth, this writer saw the meme as Njoku celebrating his return to the Browns.
After months of trade and even cut speculation, he continues his pursuit of a Browns Super Bowl ring.
I been here w/ the 0-16 team along with a couple of my teammates. We've seen this ship turn around completely and y'all think I'm contempt w/ reaching the playoffs and 6 million? U got me bent if u think I'm happy w that. F outta here

— Chief David Njoku (@David_Njoku80) March 25, 2021
But it is understandable some folks might not believe Njoku celebrated returning to Cleveland.
His two reported trade demands last season certainly raised some doubts.
And cryptic tweets about an uncertain future along with a recent interview with Jim Rome also raised questions.
In the Rome interview, Njoku stated he wasn't on the same page with the Browns most of last season.
But when fans asserted Njoku's meme showed he was all about the money, he responded angrily.
Not that I need to explain myself but I'm hearing a lot of talks about me only in this shxt for the money. Looking at the grand scheme of things.. is 6 million really that much to brag about?

— Chief David Njoku (@David_Njoku80) March 25, 2021
Njoku maintains he plays for the love of winning and competing.
And he followed up each of the above tweets with calmer statements to back his claim up.
That includes this one that walks back the claim $6 million dollars isn't much to brag about.
I don't bust my ass everyday just for cash. Yes it is a blessing and it takes care of the family but I do it for the love of winning and competing

— Chief David Njoku (@David_Njoku80) March 25, 2021
Is David Njoku Happy To Play in Cleveland in 2021?
Of course, we can't read David Njoku's mind or discern his motives.
But we just saw several free agents choose Cleveland over other teams, with at least one accepting less money.
David Njoku sees the same things those free agents see and even experienced it firsthand.
The money will come regardless I want a damn ring

— Chief David Njoku (@David_Njoku80) March 25, 2021
Why he asked for a trade last year and what he meant by not being on the same page might never be known.
But the team says they are unaware of any gripes from Njoku or his agent.
Not a single player talks ill about their teammate, in fact, quite the opposite.
And there is no reason to believe Njoku wants out of Cleveland at this point in the Browns' resurgence.
Remember when folks didn't like David Njoku's blocking? He's become a very good one. This is beautiful 💪 https://t.co/u7dafqNnxh

— The Browns Wire (@TheBrownsWire) January 11, 2021
Despite the trade talk and limited usage last season, Njoku worked hard and noticeably improved his game.
Specifically, Njoku became an above-average blocker, turning a weakness into a strength.
While some asserted correctly that his hard work improved his trade value, he is still a Brown for a reason.
Why Is Njoku Still With The Browns?
Austin Hooper, Harrison Bryant, and David Njoku boasted similar statistics percentage-wise last year.
Baker Mayfield threw 34 times to Hooper over the last 4 weeks, accounting for much of his larger target share.
With 3 reliable pass-catching tight ends, speculation that one might be trade-bait was understandable.
#Browns coach Kevin Stefanski said tight end David Njoku played well, especially late in the season as he became healthy, provided us great value

— Nate Ulrich (@ByNateUlrich) January 18, 2021
Njoku's $6.13 million dollar salary made him the obvious option.
But Kevin Stefanski is a big fan of multiple tight ends on the roster.
And tight ends made some serious progress when it comes to salaries recently.
Cleveland is not the only team paying a 5th-year option to a tight end who might be a backup this season.
New York's Evan Engram and Tampa Bay's OJ Howard will earn the same $6.13 million as Njoku.
And if you think Njoku is third in line behind Harrison, Cameron Brate gets $6.5 million behind Howard and Rob Gronkowski.
TE David Njoku's $6.013 million, 5th-year team option tender became fully guaranteed at 4 pm today.

He will remain with the @Browns. Welcome back, @David_Njoku80! pic.twitter.com/lH1OLEVN2k

— Everything Cleveland (@everythingcle_) March 17, 2021
There were also some who thought Njoku was disruptive and should be let go for that reason.
When players quietly ask for a trade, it isn't usually much of an issue as long as he continues to work and play hard.
In the feel-good locker room of Cleveland, Njoku might be the closest thing the Browns have to a distraction.
But his actions only seem to distract fans and pundits outside the confines of Berea.
The Browns seem much more interested in how well Njoku plays tight end.