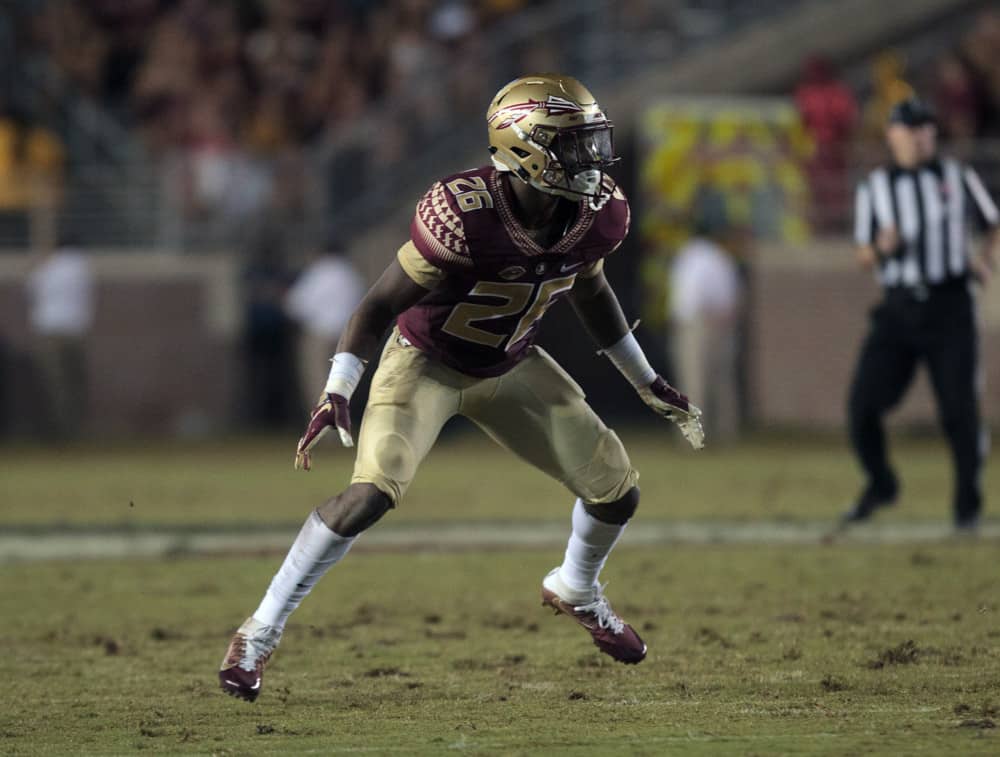 Florida State cornerback Asante Samuel Jr. is a promising draft prospect for the Cleveland Browns in the upcoming NFL Draft.
The Browns have spent the offseason improving the defensive roster.
Cornerback is a position where they lacked depth.
Signing Troy Hill as a free agent from the Los Angeles Rams will definitely help Denzel Ward, but more cornerback help is needed.
Who Is Asante Samuel Jr.?
The 21-year-old junior declared for the draft after a great 2020 season where he earned first-team ACC honors.
He is 5'10" tall and weighs 184 pounds.
Do not let his size fool you, draft scouts report that he plays like someone bigger than he is.
An added benefit is that he possesses tremendous breakaway and burst speed and has great instincts.
Asante Samuel Could Go In The First Round
Pro Football Focus ranks Samuel as the fourth-best cornerback in the draft.
In front of him are Caleb Farley of Virginia Tech, Patrick Surtain II of Alabama, and Jaycee Horn of South Carolina.
Regarding Samuel PFF says:
"He may be the single most gifted mover in the cornerback class when you consider speed, burst, agility, change-of-direction ability and leaping ability. He could be described as "plus" in all of those categories."
Some mock drafts have him going in the bottom third of the draft whereas others have him falling out of the first round.
Asante Samuel Jr. is on the smaller side (5-10, 184), but his speed/quicks are great.

He's sticky in coverage with football IQ that stands out, also very aggressive/strong tackler — big fan of his game. pic.twitter.com/GJo8pBe3tB

— Austin Gayle (@PFF_AustinGayle) July 20, 2020
Asante Samuel Talks About His Game
Size can be an issue in the NFL so Samuel has to answer questions about how he compensates for his smaller size.
Of course, I feel that I'm an outside guy. I've been playing outside all my life. I've played nickel sometimes, in my freshman year (when he allowed seven catches in the slot on 10 targets for 81 yards and a touchdown), but at the end of the day, I make my plays on the outside. I feel that I'm a dominant corner on the outside. They try to look at my height and things of that nature, but I'm the same size as Jaire Alexander, and he's a dominant NFL cornerback right now – one of the best in the league. I feel like size doesn't matter; it's about the heart, and the dog mentality you have on that field."
What Teams Are Interested?
Of course, the Browns are not alone in evaluating if and how Asante Samuel fits into the team's defense.
Other teams expressing interest are the Green Bay Packers (where Samuel would be paired with the aforementioned Jaire Alexander), Los Angeles Rams (as a replacement for Troy Hill whom the Browns signed), Los Angeles Chargers, and the Pittsburgh Steelers.
Famous Father
Asante Samuel Jr. is following in his father's footsteps.
His 40-year-old father and namesake played cornerback also.
Asante Samuel is a two time Super Bowl champion with the New England Patriots and enjoyed an eleven season career with the Patriots, Eagles, and Falcons.
He is a four time Pro Bowler and a member of the Patriots All 2000s team.
Find out which team selects Asante Samuel Jr. when the NFL Draft begins on April 29, 2021.