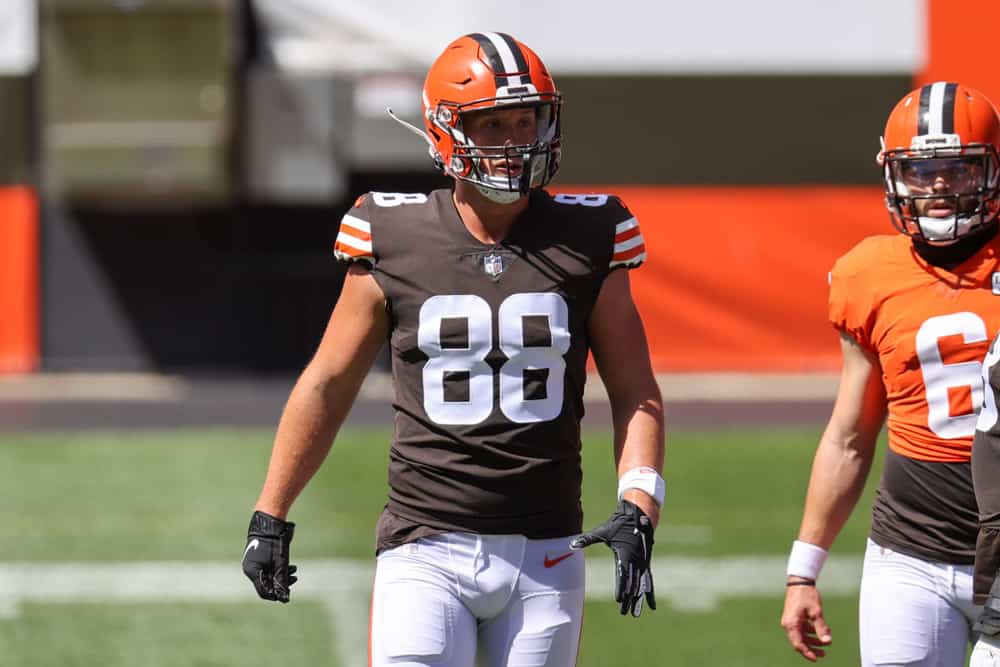 The injuries continue to pile up for the Cleveland Browns early in the season.
The organization placed tight end David Njoku on the injured reserve after he suffered a knee injury during Sunday's blowout loss to the Baltimore Ravens.
Browns placed TE David Njoku on injured reserve with a knee injury.

— Adam Schefter (@AdamSchefter) September 14, 2020
This is a shame since Njoku seemed to be one of the few players doing well on offense for Cleveland.
He caught all three of his targets for 50 receiving yards and the lone Browns touchdown of the game.
Njoku will be forced to miss at least three games because he was placed on the injured reserve.
However, the team has not announced the severity of the injury yet.
What Does This Mean For Cleveland?
Luckily, the Browns added tight end depth this offseason.
They signed free agent Austin Hooper to a massive deal.
He'll remain the No. 1 tight end and probably see a heavier workload now.
Fourth-round rookie Harrison Bryant is likely going to be asked to step up.
He almost won the No. 2 tight end job during training camp, but now he'll get a chance to prove he deserves it.
Bryant was impressive during camp and earned the Maurice Bassett award for being the best rookie in training camp.
He didn't see much action during their first contest of the year.
Bryant only hauled in one reception for five yards during the entire game.
However, the Browns offense failed to click as a whole, so don't read too much into Bryant's first game.
Bryant will now be asked to step up and prove he can be the No. 2 for Cleveland.
Can Bryant Win The Job Long Term?
There was some speculation that Bryant would win the No. 2 tight end job out of camp.
The Browns liked what they saw from Bryant, but continue to believe in Njoku.
They exercised his fifth-year player option for next season, so clearly Cleveland wants to keep him around for now.
#Browns Andrew Berry, on picking up the fifth year options of Myles Garrett and David Njoku, says he envisions both being here for years to come.

— Mary Kay Cabot (@MaryKayCabot) February 25, 2020
That being said, the Browns drafted Bryant for a reason.
Njoku was injured for a majority of last season and it hurt Cleveland.
The front office made it a focal point to add depth at the position this offseason.
It appears head coach Kevin Stefanski wants to find a way to get all three into the mix together.
Bryant has a chance to really set himself apart during the next few weeks.
A few strong performances could be enough to push him over Njoku on the depth chart.
Bryant has a long term future in Cleveland, while Njoku is likely going to be a trade candidate at some point.
The Browns like Njoku, but injuries continue to hinder him from having success.
Cleveland might decide to move onto Bryant as the No. 2 tight end, assuming he can prove that he's capable of doing the job.
The Browns offense didn't do much right during Week 1, so hopefully things get better.
This is Bryant's chance to take control and grab the starting job, so we'll see if he is able to do that.
Njoku could be a possible trade deadline candidate if Bryant is able to have success.