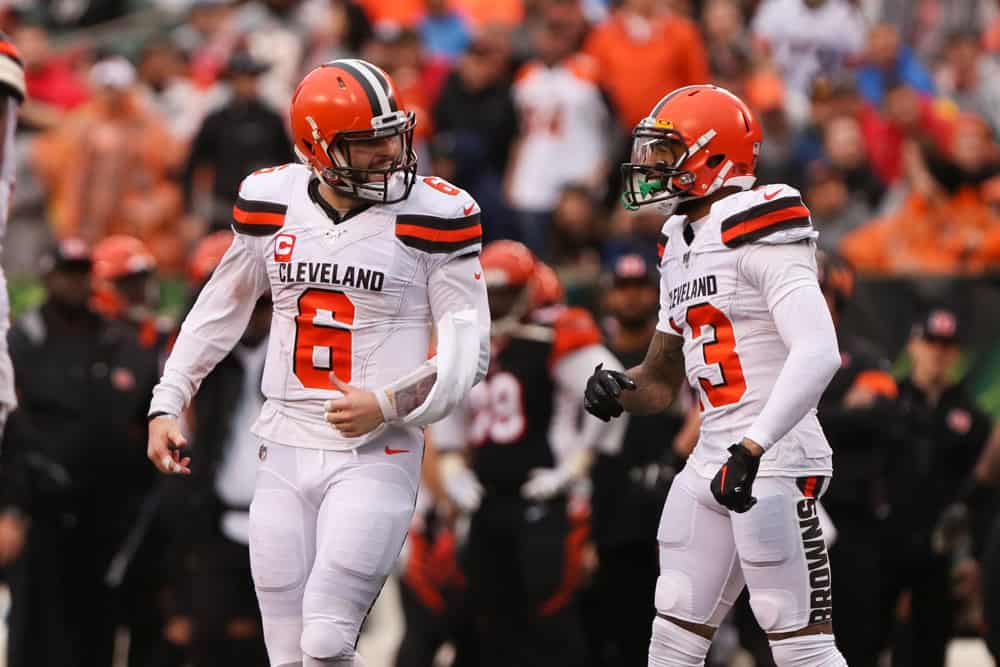 Chemistry between the NFL quarterback and wide receiver is essential to their mutual success.
For the Cleveland Browns, QB Baker Mayfield and WR Odell Beckham Jr. have played together last season and the first game of this season.
And chemistry seems to be lacking.
Or is it something else?
2019
#Browns fans have blamed..

-coaching

-OLine

-Defense

-OBJ

I've seen it all, but at some point you've got to say to yourself,

Is the problem Baker Mayfield?

— matthew king (@kingm_7) September 14, 2020
The postmortem on the 2019 season involved heavy accusations cast in the direction of Freddie Kitchens.
Baker also took heat for a poor season with too many interceptions.
And OBJ had a serious sports hernia injury so his practice time was severely limited.
So one could argue that all three of these issues made it very difficult for Baker and OBJ to get on the same page.
Other outsiders like to weigh in with their opinions such as TO who blames Mayfield for issues that arose last year.
"You break down the game tape, like yeah, the guy was open and the ball was thrown high, thrown behind him, thrown low," Owens says. "This guy's catch rating is equivalent to Julio Jones."
2020
Kitchens is gone, and the 3rd new coaching staff in Baker's 3 years at Cleveland is in the building.
Alex Van Pelt wants to change Baker's footwork.
OBJ has surgery and requires time to heal.
Then, the pandemic hits.
No one can practice together; the preseason is a blur of events that led to the opening week of the season.
So you could argue the disconnect has to do with all the changing variables surrounding these two players in their short time together.
And it has nothing to do with chemistry.
Baker on OBJ
When asked in August 2020 about his chemistry with OBJ, Baker said:
"It's sure as hell going to be a lot better than last year. We're just on the same page, things we talked about. There was a lot going on within the building last year. We're not going to get into that, but we're both in a better state. He's healthy; surgery was successful, thank God. He's feeling great. He's in a great state of mind."
OBJ on Baker
In August 2019, OBJ said:
"Once you get on the same page, I just feel like it's going to be scary.''
OBJ with Eli Manning
I refuse to think OBJ still isn't a top 10 WR. I saw what that man did with bum ass Eli Manning. We all saw it. Baker Mayfield has to face repercussions for this.

— Finn Balor Stan Account (@Hendo968) September 13, 2020
Eli Manning and OBJ created some memorable moments in OBJ's first 3 years with the Giants.
In 2014, 2015, and 2016, OBJ had double-digit TDs each season and at least 1,300 receiving yards.
OBJ was the star, the phenom, and the premier receiver.
2 consecutive seasons (2017 and 2018) were injury-laden for OBJ so Eli and he never really recreated that early magic.
It is worth noting that Tom Coughlin was the Giants head coach for the 2014 and 2015 seasons before the Giants started their coaching carousel.
Pressure
Now that everyone is talking about their chemistry or lack thereof it seems to add to the pressure on Mayfield.
He knows OBJ has a large talent and ego, but he is one of several stud targets that Mayfield has to work with.
They have never worked together in what would be a normal situation; 2020 could have been their new normal.
But the pandemic threw a wrench in that too.
Hopefully, Baker and OBJ can figure things out in 2020 so they can enjoy a successful partnership.
What If It Doesn't Happen?
Baker Mayfield and OBJ both overrated https://t.co/hn3CFN3Fow

— kyle © (@TheOneN0nly) September 13, 2020
If their disconnect is not a factor of all the time and change they've endured as Cleveland Browns, then one of them will have to go.
Or here's a crazy thought, both of them might go.
And neither will be Cleveland Browns next year.