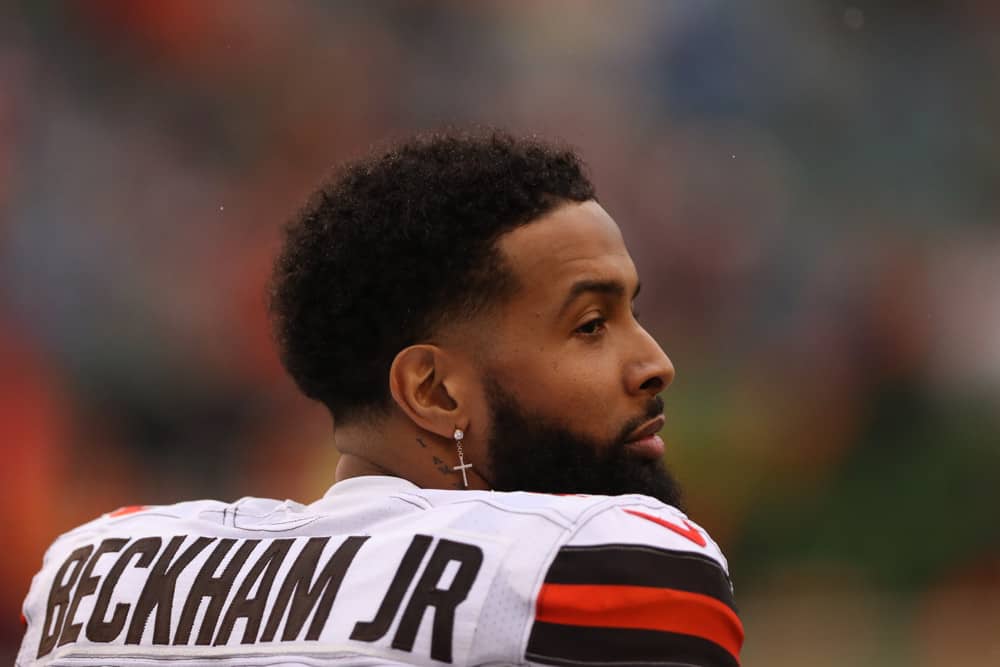 Even though Cleveland Browns wide receiver Odell Beckham Jr. has been a little quieter on social media these days, we are still getting glimpses of what he is up to.
Prior to this, we saw him catching one handed passes, lifting weights, and running on the treadmill.
Basically, he has been in a full force attack on his rehab from the ACL injury and surgery that sidelined him since late October.
The latest update is provided by Dez Bryant who shows us how OBJ is progressing at open field running.
Spoiler alert:  He looks good.
My brotha @obj sent this to me.. what acl? He's looking real scary… this will be is best year yet.. I'm calling it!!! 🔥 pic.twitter.com/ZJXBLqfVFn

— Dez Bryant (@DezBryant) May 2, 2021
Timing Of Video
Conspiracy theorists will wonder about the interesting timing of this video.
It is just one day after the NFL Draft.
Though the Browns focused mainly on defense with their draft picks, they also drafted wide receiver Anthony Schwartz with the 91st pick.
Anthony Schwartz was coined the fastest man in the draft.
I can't stop watching this video of Anthony Schwartz's 40. doesn't even look real pic.twitter.com/Wk0316WZyd

— Jordan Zirm (@JordanZirm) May 1, 2021
Schwartz vs. OBJ
There doesn't appear to be an either or situation here.
Schwartz is a track star and very much a player that needs to develop.
Assuming Schwartz can step into OBJ's shoes or roster position is a leap of faith at this point.
#Browns GM Andrew Berry on addition of WR Anthony Schwartz: "What attracted us to Anthony is his ability to stretch the field." Adds they believe he's very early on in his development curve in his career

— 92.3 The Fan (@923TheFan) May 1, 2021
OBJ Trade
The trade rumors have been present for years, but the Browns have never given any public indication that an OBJ trade is on the horizon.
In fact, both GM Andrew Berry and Coach Kevin Stefanski have talked about getting a healthy OBJ back on the field in 2021 since the loss to the Kansas City Chiefs in the divisional playoff game in January.
It appears they will get their wish, judging from the video shared by Dez Bryant.
OBJ 2021
The Browns and OBJ hope for a healthy and complete season.
Despite his raw athletic talent, OBJ has been riddled with injuries over the years.
Those injuries required surgery and rehab.
Much like the rest of the Browns team, 2021 is the time for OBJ to shine.
It appears the pieces are in place for success so it's up to the players to execute and live up to the expectations.
That includes OBJ.