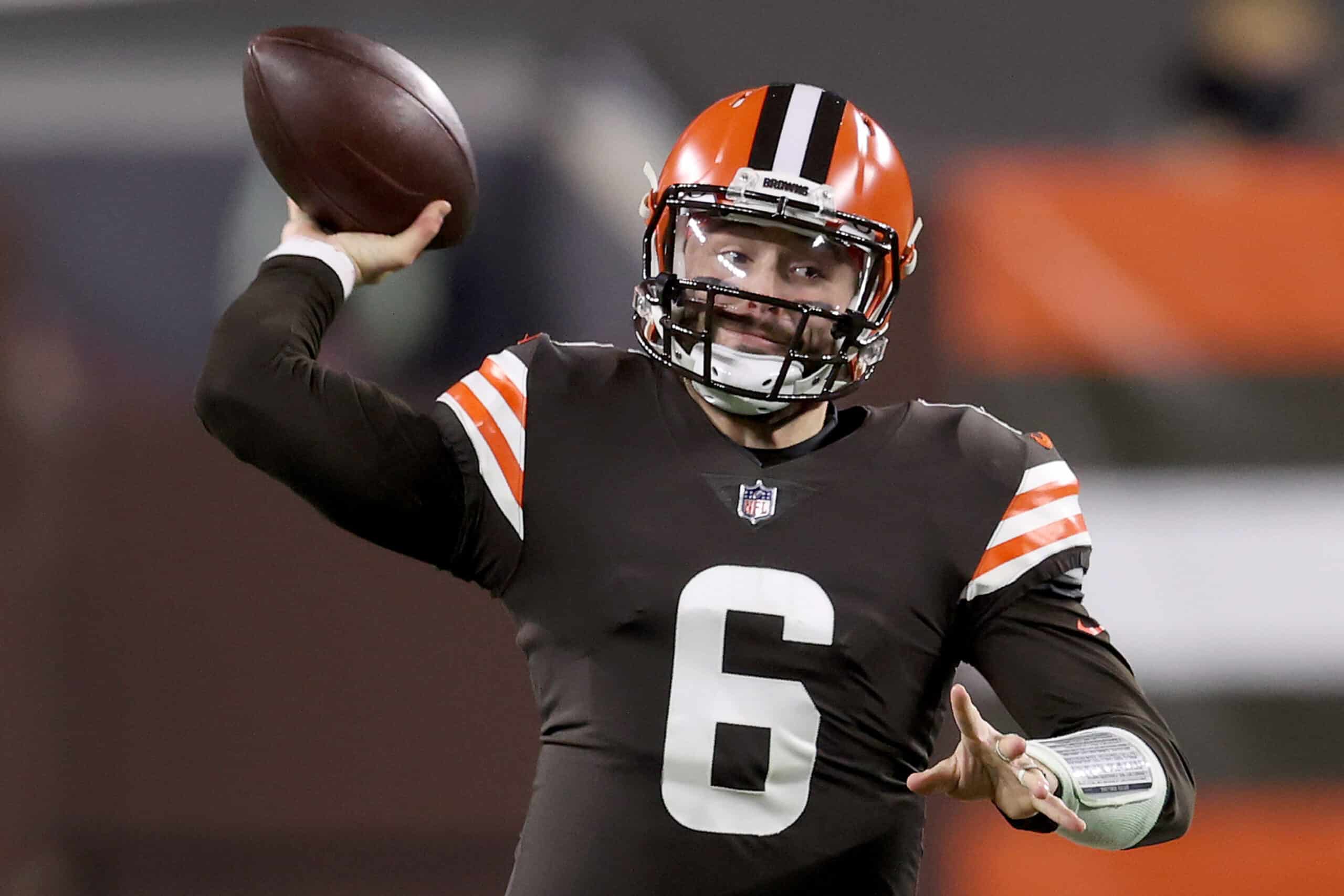 In the weeks leading up to the beginning of training camp (July 27), everyone is in the business of making predictions.
That includes Draft Network who recently published its list of quarterbacks who will achieve 4,000+ yards of passing in 2021, for the first time in their careers.
In 2020, Josh Allen and rookie Justin Herbert made this list.
Draft Network believes the list of first-timers in 2021 will include three quarterbacks.
Which QBs are poised to have their first-ever 4,000-yard passing season in 2021?@TheJoeMarino names 3 players he believes will cross that threshold this season (and will average enough yards to do it even without the extra 17th game).#FrontOffice33https://t.co/B2n2F6UVFI

— The Draft Network (@TheDraftNetwork) July 14, 2021
One is Cleveland Browns QB Baker Mayfield.
It does seem possible for Mayfield to attain this milestone, and here is why.
1. He Has Never Thrown Less Than 3,500 Yards In A Season
While there is plenty of emphasis (and rightly so) on the powerful running game of Nick Chubb and Kareem Hunt, Mayfield does also put the ball in the air often.
His lowest number of passing yards in his three seasons was 3,563 in 2020.
Prior to that, he had 3,725 in 2018 and 3,827 in 2019.
Draft Network notes that Mayfield was less effective in the first nine weeks of the 2020 season, something that cannot happen if he is to achieve 4,000 in 2021.
It should be factored into Mayfield's stats during the beginning of 2020 that he had a new coach and offensive coordinator and less than usual practice time, with limited training camp and no preseason games, to work out the kinks.
Baker mayfield goes to the playoffs with his 4th HC and 4th OC in 3 years.

doesn't even have a real off-season to learn his new system.

After taking his team to the playoffs anyway people be like "well he just benefits from being in a good situation"

— USMCSooner (@USMCSooner) July 8, 2021
With all of this in mind, throwing for 4,000 is likely.
Draft Network also mentions the playmakers Mayfield can throw to this season.
Just gimme one season with the best version of Baker Mayfield combined with the best version of OBJ please @god

— Ian Hartitz (@Ihartitz) July 10, 2021
In addition to a healthy OBJ and Landry, Draft Network mentions DPJ who had a good rookie season and the 2021 rookie speedster Anthony Schwartz who adds even more speed than his teammates bring to the table.
2. He Now Has A 17 Game Regular Season
Throwing one additional regular-season game into the mix for the first time in 2021 will alter many offensive stats including this one.
Given how close Mayfield was in previous seasons with 16 games, the extra game is a factor.
With a 17 game regular season in his other three seasons, he likely would have already accomplished this milestone.
Who Are The Other Two Quarterbacks On The List?
Draft Network projects that Cincinnati Bengals QB Joe Burrow and Arizona Cardinals QB Kyler Murray will also attain this milestone in 2021.
In 10 games in his rookie season (before getting injured), Burrow threw for 2,688 yards.
Kyler Murray fell just shy of 4,000 in 2020.
He had 3,971 yards.
Mayfield in 2021
Mayfield is used to the scrutiny.
The Browns were predicted to succeed in 2019, and we know how that turned out.
This is a different Browns team with a different coaching staff.
The perceived holes in the roster appear to be few and far between at this point in the offseason.
Would Mayfield like to join the 4,000+ yard club?
Of course, he would, but it is not the top priority.
As with all the other Browns individual players statistics that are being prognosticated right now, they just do not matter.
What matters is how this team plays.
Mayfield has an explosive offensive and a stellar offensive line, and there is great coaching behind this group.
Playing well and winning often are the most important barometers of a successful season.